South Haven Building on Memorable Run
April 23, 2019
SOUTH HAVEN — When A.J. Jeffries injured her shoulder during basketball season, she was devastated, afraid that she would be watching her teammates instead of playing this softball season.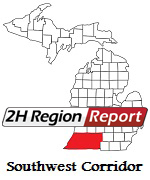 But the South Haven junior catcher opted for physical therapy instead of surgery and, although she missed tryouts in March, she was ready to take her place behind the plate for the Rams after spring break.
Senior Olivia Ellis, who goes by "Gracie," did miss the first day of tryouts, but not because of injury.
The reigning Miss Bangor competed in, and won, the Miss Blossomtime pageant, quite a different experience than suiting up for a softball game.
Instead of wearing spikes for tryouts on March 11, Ellis was wearing dress shoes and walking across a stage.
"Being an athlete, I had to buy heels and I did horrible (walking in them)," she said, laughing. "I never wore heels before, and they hurt my feet.
"I didn't know how to do makeup. It was bad."
Coach Wilma Wilson said she knew Ellis planned to compete in the pageant.
"I actually have Miss South Haven (junior Liz Johnson) on my team as well," Wilson said. "It's one of those things where the kids who are usually good at a lot of things, do a lot of things.
"You have to try to be flexible. It can hurt. We missed her at our tournament (a week ago), but I also know that is going to be a great experience as well in the whole scheme of life."
Wilson looks at sports as well as preparation for life, and South Haven softball has been living well over the last 10 months.
The Rams are the reigning Division 2 runners-up, making last season's MHSAA Finals championship game – their first since 1979 – after finishing just third in their league. South Haven is off to a 5-3 start this spring, with five starters returning from that run including Jeffries and Ellis – although the team lost its entire infield to graduation and almost lost its catcher for this season.
Jeffries, who has played on the varsity team all three years, injured her labrum in the Rams' first basketball scrimmage in December. The original diagnosis called for surgery.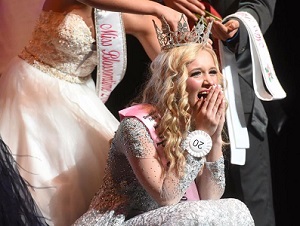 "I was on vacation in Hawaii and she called me, bawling her eyes out," Wilson said.
"I could hardly understand what she was saying because she said 'I'm not going to be able to play this year. I have to have surgery, and I'm not going to be good."
Wilson recommended a second opinion, which suggested physical therapy. Jeffries opted for that and finally was cleared to play after spring break.
"During a team meeting, she said she will not let one minute be taken for granted because basically when you think the opportunity is going to be taken away from you, then you can appreciate the opportunity so much more," Wilson said of Jeffries.
"AJ is that dirty, gritty, sparkplug catcher," she added. "If you watch her play, it's joyful because she plays the game hard, like it should be."
Still, Jeffries was surprised at the team's run last year.
"I had no idea we'd be in the state finals (for the first time since 1979)," she said. "It was just an unexpected thing, but we just played game by game and took everything that we learned from each game and applied it to the next.
"This year, I expect to play every game like it's our last game for our seniors and for everybody that came up because I think we can do really good things this year."
Ellis, who is headed to Manchester College in the fall to play softball, is one of those seniors.
"My advice to the girls coming up is give it your all because in two months or so, I'm going to be done with high school and softball," said the second baseman, who played left field a year ago. "I know I'm going to regret not putting in as much effort as I could have.
"We actually lost five from last year and three of them were starters pretty much since freshman year, so we lost a lot. We're all, especially the returners, itching to be just as good as we were last year."
Wilson said Ellis has grown a lot over the last four years.
"She's one of those quiet freshmen who came up and didn't play a lot those first couple years and then this year, she's been a great leader on our infield and is very vocal in a positive way but (by) also letting the kids know when they have to step it up a little bit," she said.
Joining Jeffries and Ellis among returning starters are junior Torie Loikits – who earned all-state honorable mention last season – junior Holli Dannenberg and sophomore Jordyn Holland. Holland led off and played center field in last season's championship game against Escanaba, and Dannenberg played right field. Holland also hit the eighth-inning home run that pushed South Haven past top-ranked Stevensville Lakeshore in last season's Regional Final.

Other seniors on this year's team are Grace Lyons, Paeton Hayes, Jules Stuckum, Macy Jenks and Courtney Kelly. Juniors also include Mallory Dorow and Opal Eddy, and sophomore Lexi Young is another contributor.
While Wilson is listed as the head coach, "there are really three of us who are co-coaches," she said.
Dave Gumpert pitched professionally with the Chicago Cubs, Detroit Tigers and Kansas City Royals from 1982-87. Mike Sweet has "coached softball for a long time and has been a head coach in different sports," Wilson said.
All three coaches played sports at the high school and all three are members of the South Haven High School Athletic Hall of Fame.
"I think the three of us each bring something different to the program, but it helps us be cohesive and look at the game from different angles," said Wilson, who was on the Rams team that lost in the Class B Semifinals in 1982, her senior year.
"Between the three of us, we bring a ton of experience."
Wilson not only coaches, but also drives the bus to away games, "which is really nice because we have that time together with no interruptions with another team or a boys team," she said. "When we do our 'remember whens' at the end of the year, almost all of our memories come from our time on the little bus."
As noted above, Wilson looks at sports as a preparation for life. And South Haven sees this spring as another chance to build on last season's dream run and the lessons learned along the way.
"One of my perspectives is that you're probably going to end up involved in your life the same way you are involved in sports," she said.
"You're going to have to learn to get along with people, you're going to have to learn to have some self-judgment, you're going to have to make adjustments, you're going to have to try to improve on things that you don't do well in."

Pam Shebest served as a sportswriter at the Kalamazoo Gazette from 1985-2009 after 11 years part-time with the Gazette while teaching French and English at White Pigeon High School. She can be reached at pamkzoo@aol.com with story ideas for Calhoun, Kalamazoo and Van Buren counties.
PHOTOS: (Top) South Haven catcher A.J. Jeffries fires the ball after a strikeout during last season's Division 2 Final. (Middle) Gracie Ellis is crowned Miss Blossomtime last month. (Below) From left, South Haven coach Wilma Wilson, Ellis and Jeffries. (Middle photo by Don Campbell/St. Joseph Herald-Palladium.)