Thank You for Standing Up for 'Oxford Strong'
The MHSAA recently received the following letter from Oxford athletic director Tony DeMare, thanking the tens of thousands across Michigan who contributed to the nearly $310,000 recently presented to Oxford student-athletes as part of this winter's "Oxford Strong" efforts.
Dear Colleagues and Friends,
Teamwork and camaraderie are words that are often associated with Athletics. Seeing those words personified is sometimes a rarity. However, we all witnessed firsthand those words coming to fruition right before our eyes.
On February 4th, you were competitors, neighbors, friends, teammates and, uniquely, you were all "Oxford Wildcats." Together, we stood, cheered, sang and played. And because we were on the same team, we did those things in unison.
It was not magic; nor was it a collection of Superheroes. It was simply our student-athletes, coaches, officials, administrators, faculty, staff and greater communities putting their hearts on full display.
Please know that those of us in Oxford saw you and heard you all very clearly. For that, we are beyond humbled. It is important for you to know that your efforts went directly to the victims of the unspeakable tragedy.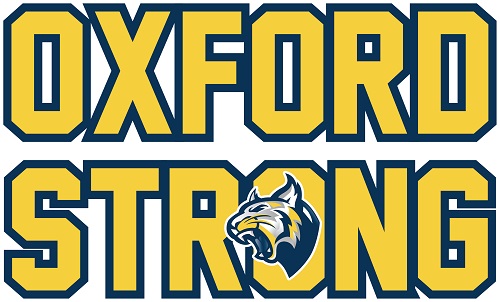 Every effort and gesture that has been extended to the Oxford community has helped us. This was the ultimate expression of the phrase, "We have your back!"
The unparalleled power of School Sports should never be underestimated. It is impactful and even life-altering. School Sports is organically educational, and it molds each of us in ways we could never imagine.
In Oxford, we have come to know that love and support transcend hate and fear. This has allowed our student-athletes and coaches to overcome when they thought it might not be possible. They are now learning, training, preparing and competing again, and you have helped make that happen.
Thank you for being "All In" and thank you for "Standing Up For Oxford!"
Sincerely,
Tony DeMare
***
The "Oxford Strong" effort to support Oxford Community Schools this winter showed that the Michigan's athletic community is much more tightly-knit than might be expected from a state with 750 MHSAA-member high schools.
Schools all over Michigan rallied to raise nearly $310,000 for the district and its student-athletes as they continue to mourn the deaths of four classmates during a shooting at the high school Nov. 30.
E.A. Graphics, based in Sterling Heights, printed and provided T-shirts and sweatshirts for sale in communities and then donated the price of the apparel, after costs, directly to Oxford High School student-athletes and their community. Many of these were purchased in advance of "Oxford Strong" games Feb. 4 or later that month. A check was presented to Oxford for $302,000 at last month's Michigan Interscholastic Athletic Administrators Association annual conference, with additional donations then augmenting the total.
"Unbelievable, the whole thing, and how well received it was, and everything that transpired over January and February – to me, it was really the power of sport. In times of crisis, our athletic community rallied together to support one of our member schools," said Royal Oak athletic director Brian Gordon, who with the Oakland Activities Association (of which Oxford is a member) was among primary organizers of the event along with the Kensington Lakes Activities Association and Detroit Catholic High School League.
"The support of the MHSAA and Mark Uyl's staff getting behind our effort, supporting us and getting the word out, as well as the MIAAA with Karen Leinaar jumping on board. And most of all Bob Artymovich and E.A. Graphics; without his support and generosity, this whole initiative does not exist."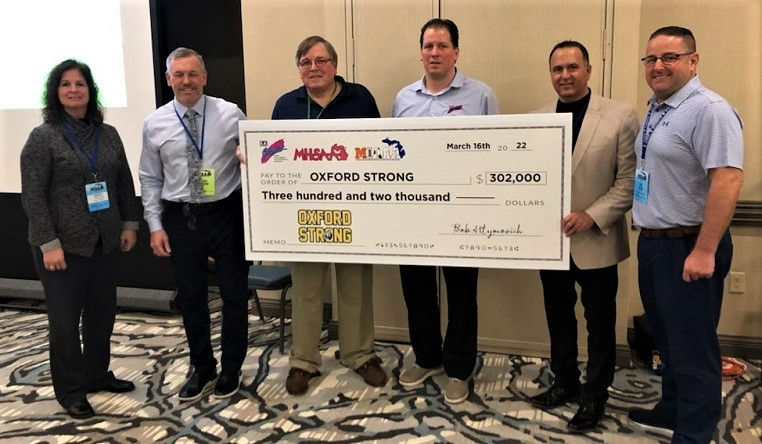 PHOTO From left: MIAAA president Nikki Norris, Royal Oak athletic director Brian Gordon, E.A. Graphics president Bob Artymovich, E.A. Graphics vice president of sales and marketing Rich Artymovich, Oxford athletic director Tony DeMare and MIAAA past president Jeff Kline hold up the check presented to "Oxford Strong" during last month's MIAAA annual conference. (File photo.)