2-Sport All-Stater Ringler Eyes Repeat
January 23, 2019
By Dean Holzwarth
Special for Second Half
CEDAR SPRINGS – Ryan Ringler's wrestling journey has spanned nearly 14 years and included countless miles on the road traveling to tournaments, practices and college recruiting visits.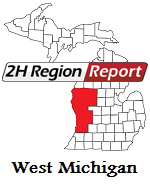 These experiences came with costs, both social and monetary, and the Cedar Springs senior standout has done what he could to help fund his dream.
Mowing lawns, roofing, painting and installing sprinklers are some of the odd jobs Ringler picked up to earn money.
"I do whatever jobs I can get to raise money because these trips are very expensive," Ringler said.
All of Ringler's hard work on and off the mat was rewarded as he recently committed to wrestle at Central Michigan University.
A dream was finally realized, and it took the help of a small town community to make it a reality.
"I'm really happy for him and his whole family because it's been a goal he's had for a long time," Cedar Springs wrestling coach Nick Emery said. "The goal was to get Ryan to a Division I school to see what he could do and to prove that all the hard work and time and money and his parents driving all over the country was worth it.
"Just everyone coming together, and going out of their way to raise money. A lot of people were involved, and it was a community project at times."
Ringler's passion for wrestling started at age 3 when he would go to practices with his older brother, Jordan.
He started competing himself shortly after and quickly developed into a young talent.
For Ringler, traveling to various tournaments is fun.
"I like to travel around, and just getting to know the different guys from different schools and getting to see different styles and techniques of wrestling intrigued me," Ringler said. "That's what made me fall in love with the sport."
Ringler competed in MYWAY wrestling and earned five state championships on the circuit. He garnered attention the summer before his freshman year – he took part in several national tournaments, and went unbeaten at the prestigious Virginia Beach duals.
Ringler's success continued at the high school level.
As a freshman making his first trip to the MHSAA Individual Finals, Ringler lost his first match but rallied to win the next five en route to a third-place finish.
He also placed third as a sophomore, but broke through last season and won a Division 2 crown at 171 pounds with a 9-4 decision over Holly's Cade Dallwitz to finish the winter a stellar 53-1.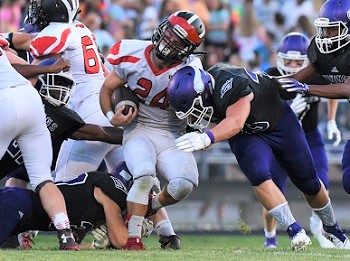 "I was really expecting to be at the top my sophomore year, but that loss really motivated me and I wanted to be at least a two-time state champion," Ringler said.
As a senior, Ringler is eyeing a repeat performance at the Finals. He's currently 31-0 and nearing 200 career wins.
"Right now it's more about getting ready for college wrestling," Ringler said. "As a senior it would be cool to win another state title to end my career."
Ringler has another talented teammate beside him this season. Sage Serbenta, a junior, finished fifth at the Finals last season competing for Grand Rapids Christian and wrestles at 189 pounds.
"He's gotten bigger and he's pushing me with his speed and strength," Ringler said. "It makes us both better with conditioning, and we push each other mentally and physically."
Emery has high hopes for both wrestlers.
"Sage has pushed Ryan in practices, and I think both of those guys could win state titles at either 171 or 189 pounds," Emery said. "They have as good a chance as anybody else."
Ringler's wrestling prowess matches his elite skills on the football field.
A four-year varsity football player, he helped lead the Red Hawks to a 10-2 record in the fall. As a fierce linebacker, he racked up 110 tackles while rushing for nearly 1,000 yards and 13 touchdowns. He received all-state honors to go along with his all-state accolades in wrestling.
"Ryan has been a very successful multi-sport athlete, and his success on the field and on the mat is not by accident," Cedar Springs athletic director John Norton said. "He's a tireless worker, always doing extra to gain the competitive edge. The most exciting thing is that he is showing a generation of athletes that it is possible to be a standout in multiple sports at the highest level and earn a college scholarship without specialization."
Achieving all-state status in multiple sports is another level of accomplishment, and Ringler is humbled by the honors.
"It's very unique, and a lot of people don't get all-state in both wrestling and football," he said. "It's a tough thing to do in two very difficult sports. It's a nice accomplishment, and something I can put on my wall when I'm older."

Dean Holzwarth covered primarily high school sports for the Grand Rapids Press and MLive for 16 years and more recently served as sports editor of the Ionia Sentinel and as a sports photojournalist for WZZM. Contact him at dream100@comcast.net with story ideas for Allegan, Kent and Ottawa counties.
PHOTOS: (Top) Cedar Springs' Ryan Ringler prepares to make his first move during last season's Division 2 championship match at 171 pounds at Ford Field. (Middle) Ringler (24) pushes ahead this fall against Saginaw Swan Valley. (Click to see more from HighSchoolSportsScene.com.)