Ace Paces Richard's Championship Triumph
June 16, 2018
By Jason Schmitt
Special for Second Half
EAST LANSING – He'd seen a dropped third strike 100 times before Saturday's championship game.
Excuse Riverview Gabriel Richard's Matthew Silka for getting caught up in the moment.
With two outs in the seventh inning, the junior got a swinging third strike to seemingly clinch his team's first MHSAA baseball title. But his biting breaking ball ended up in the dirt – so he looked at the catcher, then glanced at first. Finally, he turned and looked at his second baseman, who was charging toward him to celebrate.
At that moment, he figured it out. His team had just won the Division 3 championship, defeating reigning champ Madison Heights Bishop Foley, 3-0.
"I was so confused," said Silka, smiling with a championship medal hanging from his neck. "That's not an ideal way to end the game, because I'm not sure if we won or not. I was looking at the first base ump to see if he was going to call him out or not. We were all waiting for someone to say something."
The game-ending strikeout was his seventh of the game, one he dominated from start to finish. Silka, a junior, allowed just one hit, that coming in the seventh inning. Prior to that single, he was on his way to becoming the first pitcher to toss a complete-game no hitter in MHSAA Finals history.
Instead, he became just the fifth pitcher in Finals history to allow just one hit in a complete game.
"I was trying to keep (the ball) to the corners, and not make too many mistakes and leave the ball over the heart of the plate," Silka said. "I was just trying to throw strikes and help my teammates out."
His teammates helped him out early on, scoring a run in the second, third and fourth innings to stake him to a 3-0 advantage.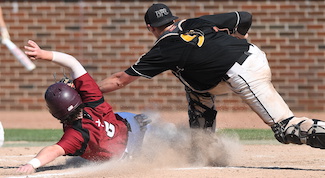 The Pioneers scored their first run unconventionally. Leadoff batter Hayden Burke reached on a dropped third strike. The junior then moved over to second base on a walk to fellow junior Frank Klamerus. Those two advanced to second and third thanks to a pair of wild pitches. Burke then scored on a fielder's choice by junior Hayden Flynn to make it 1-0.
In the third inning, Richard pieced together three singles – the last by Flynn plated junior Niko Maloney. In the fourth inning, the Pioneers used a walk, sacrifice bunt and an RBI-single by sophomore David Zubor to cap off their scoring, giving Silka more than he needed to get the job done.
"I think momentum is one of the biggest parts of the game," Silka said. "That was really huge for us to get out in front. I knew once we had a lead and we got rolling, it was going to be a lot easier to pitch."
Richard coach Mike Magier said Silka's success was due to his ability to keep the Ventures off balance.
"He went through the lineup one time and he gained a little confidence, and he could use his secondary pitches a little bit more," Magier said. "(Silka) has been a workhorse for us. He's really been a competitor.
"He's been our ace. He's pitched against all our tough teams."
Bishop Foley (19-18-1) could muster just one hit – from sophomore Liam Pollock to lead off the seventh inning. 
"That's baseball," Foley coach Tim McEvoy said. "We ran into a stud pitcher who threw strikes. He kept us off balance, and we weren't able to get out in front of his fastball. That was the main issue. 
"I want to congratulate their coaching staff. They have a great staff and a great pitcher."
For Richard (29-3), this could be just a taste of what's to come next year. There are no seniors on the roster, so everyone should be back for another title run in 2019.
"I guess it's kind of unusual," said Magier, talking about a lack of seniors on his roster. "That (junior) class, as soon as they came in in ninth grade, we had three or four guys come up on varsity and we knew we had a pretty good class there. 
"It takes a lot to win a state championship, so we won't take it for granted. We're going to enjoy this one, and hopefully next year we can do the same."
VIDEO: Gabriel Richard pitcher Matthew Silka finishes his seventh strikeout, which wrapped up the 3-0 win over the Ventures.
PHOTOS: (Top) Gabriel Richard ace Matthew Silka makes his move toward the plate Saturday. (Middle) A Pioneers runner tries to slide in under the tag of Bishop Foley catcher Mason Minzey.