Aces Lead Holland Christian, Linden in D2
June 16, 2016
By Geoff Kimmerly
Second Half editor
EAST LANSING – Mike Mokma had four innings Thursday morning to scout DeWitt's lineup as he watched his school's first MHSAA Semifinal from his post at first base.
As if the Holland Christian ace needed help, he also appears to take exceptional mental notes.
Mokma moved to the mound for the fifth inning, relieving teammate David Williams, and struck out five of nine batters he faced over three innings as the Maroons rallied to claim a 4-3 win over DeWitt and their first championship game berth.
Mokma, a senior who has signed with Michigan State University, improved to 14-0 this season and almost surely will get the call at McLane Stadium to pitch Saturday's 9 a.m. Final.
"(Coach Jim) Caserta said entering the fifth inning to get ready, to start being ready mentally. Just staying in the game with every pitch, knowing what the hitter's doing," said Mokma, who struck out the side upon entering in the fifth inning with a runner on and a run just scored for DeWitt.
"The momentum swung from them to us," Mokma added, "so it was good."
Holland Christian (35-6), ranked No. 3 at the end of the regular season, will face No. 5 Linden on Saturday. Caserta, who led Holland West Ottawa to the Division 1 title in 2003 and is in his third season with the Maroons, will have the opportunity to become the first coach in MHSAA history to lead two programs to baseball titles.
His team advanced with a late and opportunistic rally after DeWitt took a 2-0 lead during the bottom of the fourth inning.
Holland Christian came back with two runs in the top of the fifth to tie the score. DeWitt scored its second go-ahead run in the bottom of that inning off Williams, leading to the pitching change.
Holland Christian tied it up again in the top of the sixth as junior Brady Brower singled home senior Josh Sterenberg, who had moved to third base on a passed ball. After Mokma retired DeWitt in order in the bottom of the sixth, Sterenberg had a hand in the winning run as well with a sacrifice fly to drive home junior pinch runner Cam Schut, who had made it to third on an error.
Mokma retired DeWitt's final three batters in order to end the game.
"We had confidence in David. He's been throwing great, so we felt coming in he was a little more rested than Mike was," Caserta said. "(Mokma) could've started the game, but Mike will do what we need for the team. He'll start, he'll relieve; he'll do what we need. He's also carried us at the plate all year."
Williams, who will play next season at Xavier University, gave up only one earned run over his four innings before moving behind the plate when Mokma came on in relief. DeWitt had only five hits, including two by sophomore catcher Kade Preston.
DeWitt junior Michael Stygles gave up only one earned run throwing all seven innings for the Panthers (30-10-1), who made their second Semifinal appearance in three seasons and graduate only two starters from Thursday's lineup.
"It's great to see the kids accomplish what they set out to do, especially when you set your goals this high," DeWitt coach Al Shankel said. "To get here was great. We wanted a couple more.
"We felt we could get to their starter, and we started hitting the ball pretty hard off him. Credit to them that they went to (Mokma), because I think that would've continued."
Linden 5, Dearborn Divine Child 2
While the rain began to fall harder Thursday, Linden's spirits soared as it earned its first championship game berth since 2004 with a comeback win over the five-time champion Falcons.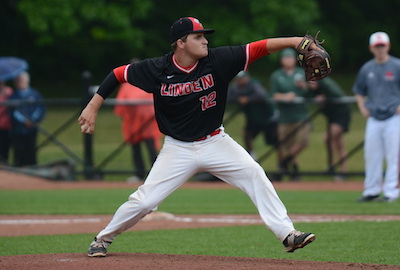 Junior pitcher Lucas Marshall allowed only one earned run and struck out four in tossing a complete game for the Eagles (29-9-1), who increased their postseason run margin to a combined 23-3 over six opponents.
"It just shows that we're not really the little guy anymore," Marshall said. "We're here to play anybody; it doesn't matter. We're going to give them our best game."
Divine Child (27-16) scored the game's first run in the top of the first inning. But Linden came back with three in the third inning and two in the fourth to put the game away.
Sophomore Nick Koan had a two-run single, the only player on either team to drive in more than one run. Junior Nick Gurney gave up only six hits for Divine Child.
"These guys are just blowing me away," Linden coach Steve Buerkel said. "Because we lost a strong senior class last year. We had six kids that went on to play college baseball. We returned two starters. … We've just got a lot of kids that have a lot of heart and never give up and play hard."
PHOTOS: (Top) Holland Christian's Chris Mokma lays down a bunt during his team's win over DeWitt at McLane Stadium. (Middle) Linden's Lucas Marshall prepares to unload a pitch during Thursday's Division 2 Semifinal win over Divine Child.