Allen Park Ends Carlson's Record Streak
March 4, 2017
By Dean Holzwarth
Special for Second Half 
GRAND RAPIDS – The final round of a competitive cheer meet has the ability to sway emotions one way or another.
On Saturday, Round 3 proved to be the deciding factor in the end of an incredible MHSAA record-breaking run and the extreme jubilation of a team finally getting over the hump.
Allen Park delivered a stirring Round 3 performance and rallied past six-time reigning champion Gibraltar Carlson to win the Division 2 Final at the Grand Rapids DeltaPlex.
The Jaguars collected their first MHSAA Final since 2010 by the slimmest of margins. They posted a score of 787.96 and knocked off the top-ranked Marauders (787.90) by six hundredths of a point.
"Every little thing counts," an elated Allen Park coach Julie Goodwin said. "I've never won a meet that was this close, but I'll take this one. Round 3 has been a great round all year, and I knew if they came out fighting we would be able to take it. I knew it would be close, but I knew our Round 3 could do it for us."
It appeared as if Gibraltar Carlson was headed toward a seventh straight Division 2 title after grabbing a three-point lead entering the final round.
However, the Jaguars were within striking distance of their Downriver League foe and needed a clutch effort.
"Our coach told us that if we wanted this right now then we had to go out there and do what you do best," said Allen Park's Delaney Millner, one of six seniors on the team.
"We went out there, and I think that's exactly what we did. I could feel their energy on the mat, and ever since I was a little kid I wanted to be on this team and it's the most humble feeling in the world knowing that my senior year I was able to go out with a bang."
The Jaguars finished with a score of 321.4 in Round 3, while the Marauders had a 318.4.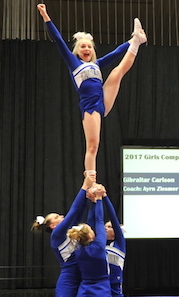 "Round 3 is our favorite round and we have so many different things going on," senior Olivia Grab said. "We knew going into Round 3 that if we put everything we could on the mat then we knew we could take it home.
"We worked so hard from the beginning of the season and so many girls returned from last year when we were runner-up. We knew how hard we had to work, and we broke the streak."
Allen Park had been knocking on the door. It finished fourth in 2015 and runner-up to Gibraltar Carlson a year ago.
"I kept telling this team that, 'you are close, you are almost there', and this is the one that counts," Goodwin said. "They battled and they wanted it. It's the hardest-working team I've coached, and I couldn't be more proud.
"After Round 1 we were down and that was a bummer, but it takes three rounds. I knew our Round 2 and Round 3 could pull us through if they did what they needed to do, and they did. They're the six-time defending champions, and they're very good."
Added Millner: "I knew with this team that we had the ability, we had the talent and we had the work ethic. We just had to go out there and kill it."
It was an emotional outcome for Gibraltar Carlson, which has been a perennial powerhouse in Division 2 for almost a decade.
The Marauders, who were young this season with only one senior, had won eight titles over the last nine years, including setting a new MHSAA record for consecutive titles in any division last season.
"I thought they did great, and I'm very proud of them," Gibraltar Carlson coach Ayrn Ziesmer said. "Round 1 we came out with a very strong lead, and we could've done a little better in Round 2, but we still ended up winning the round. Round 3 was great, and I couldn't have asked anything more from them.
"Allen Park did great today. I thought today was the best I've ever seen them, and I'm really excited for them. They've had to go through watching someone else win for six years, and I really hope they enjoy this time because it definitely goes by so fast before you start preparing for another."
Muskegon Mona Shores (778.94) placed third for its highest finish in school history, while Dearborn Divine Child (775.76) was fourth.
PHOTOS: (Top) Allen Park performs a routine during Saturday's Division 2 Final. (Middle) Gibraltar Carlson finished second at the Grand Rapids DeltaPlex.