Bay City Western Finishes 1st Title Run
June 14, 2014
By Kelsey Pence
Special for Second Half
EAST LANSING – Hannah Leppek tried not to think about last year.
Easier said than done.
After leading and then losing last year's Division 1 championship game to Mattawan, Leppek was determined not to let this one slip away.
The senior pitcher struck out six, walked two and gave up just three hits through seven innings as Bay City Western held off Portage Central 4-2 in the Division I Final on Saturday at Secchia Stadium at Michigan State University.
"I tried not to think about it, but obviously it was in my mind," Leppek said of last year's loss. "I had that extra motivation, like, I need to finish it out this year. I really don't know how to describe it. It's just awesome. I have no words for how good I feel right now. I'll probably be up all night just smiling."
The MHSAA title is the first in softball for Western (41-3), after last season's championship game appearance also was a first.
Meredith Rousse was hit by pitch in the bottom of the first inning to get things started for the Warriors, and Kaylynn Carpenter brought her home with a double to centerfield.
"That hit boosted (my confidence) up a lot, and I think it boosted up the girls' a lot," Carpenter said. "Once our first, second and third girls get hits, it just riles everyone up. That's how we win the game."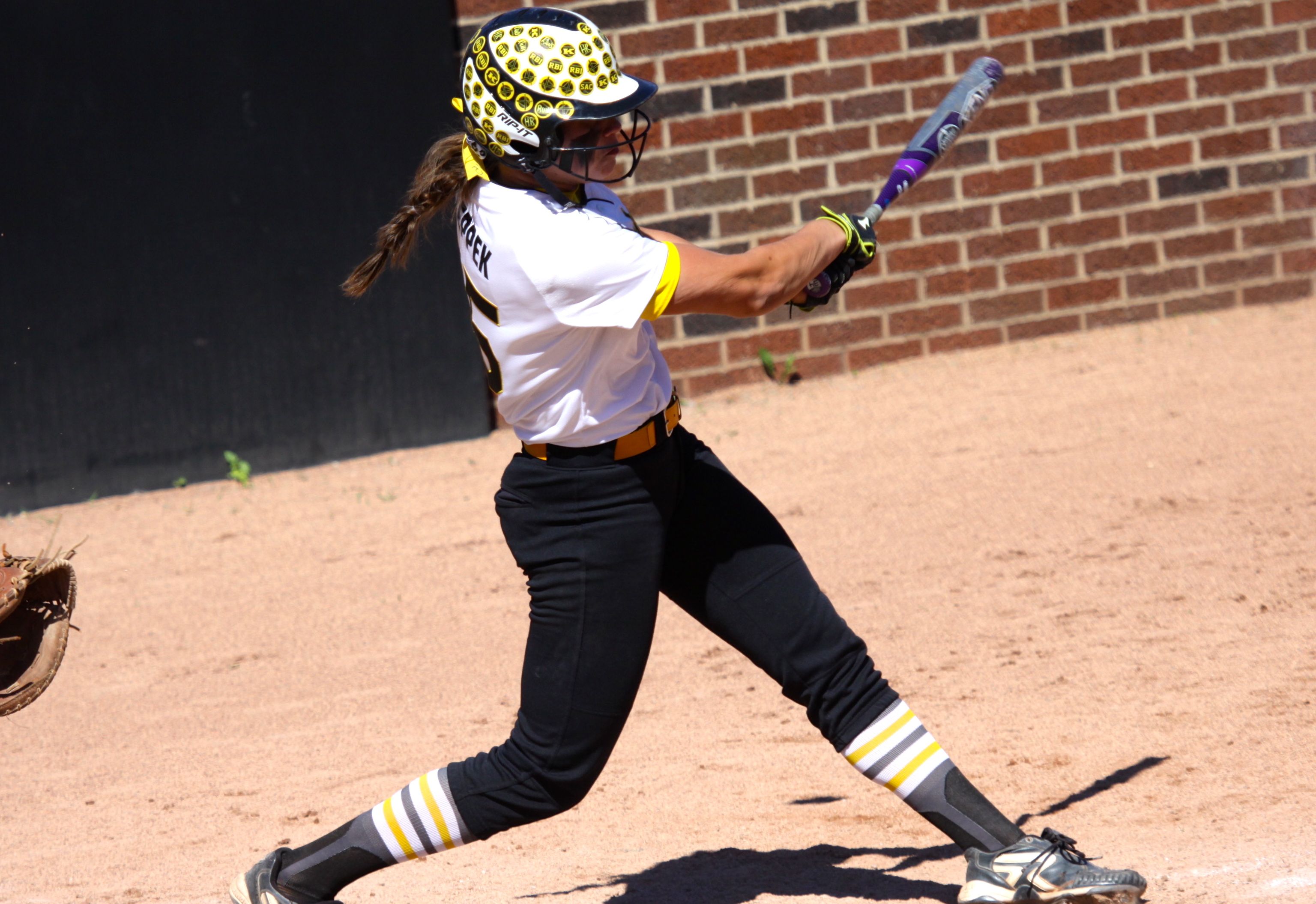 Leppek then hit a foul ball to the first baseman that was caught, but Portage Central's Meredith Adams fell into the dugout on the catch, and Carpenter came home for the second run.
The Mustangs (42-4) got on the board in the top of the third with a home run to right field by Lea Foerster.
Bay City Western built some cushion in the sixth inning when Leppek singled to left field and Kelsie Popp doubled to center. Blair Miller brought home a run with a single to short right field and Melissa Wegener singled to increase the lead to 4-1.
Portage Central found some fire in the top of the seventh inning. Brooke Wyman walked and Adams doubled to center to put runners in scoring position.  With one out on the board, and the memory of last year's loss lingering, Western coach Rick Garlinghouse rallied his team around the pitcher's circle.
"We had a 4-1 lead, so we could allow those runs to score, but we wanted the batter to stay at first base," Garlinghouse said. "Our throw from the outfield was going to second base. The infielders were going to first base. We weren't worried about any tag plays at the plate. We wanted to get outs."
Cole grounded out, scoring Wyman, but Leppek then got a strikeout to end the game.
"Honestly at the beginning I felt a little off, and then I found my groove in the middle of the game," Leppek said of her performance. "That last game tripped me up a little bit, but I got it back."
Foerster, Adams and Cole picked up Portage Central's three hits. Gina Verduczo pitched six innings, striking out two, while allowing seven hits and no walks.
"This has been a fun year win or lose at the end," Mustangs coach Tom Hamilton said. "You get someone crying or someone going home smiling, and we're going home crying today. I'm going to go home crying too because these kids are wonderful kids, and that is what it's all about. They've made it special. The kids will come back.  I hope they look back on this and realize how special it is."
Carpenter finished 1 for 3 with a run and an RBI for Portage Central, while Miller and Wegener each had a hit and an RBI.
"She has had two great years," Garlinghouse said of Carpenter. "She drove in the first run and scored the second one. She's a gritty player.
"It's a very surreal feeling. I am real happy for the kids. They did all we asked them to do all year, play 21 outs. They wanted to get here after losing last year's game."
Added Carpenter: "It feels good going in my senior year and actually coming here and winning it. (Last season) wasn't on my mind at all. I knew that was behind me. I had support, and I knew we could get it."
PHOTOS: Bay City Western's Meredith Rousse crosses the play during the Warriors' Division 1 Final win. (Middle) Western's Hannah Leppek finished 1 for 3 at the plate and threw a complete game.