Beal City Primed to Make History Again
June 14, 2013
By Geoff Kimmerly
Second Half editor
BATTLE CREEK – About three weeks into this season, Beal City coach Brad Antcliff began noticing strong similarities between this team and those that won MHSAA titles in 2009 and 2010.
It started with the speedy outfield of senior Joseph Rau, junior Carson Salisbury and freshman Chase Rollin – a pair of running backs and a tight end during football season – who range far and wide to take away what would be hits against many other defenses.

Of course, there are differences as well – but not in focus. These Aggies fully understand the historical significance of the opportunity at hand and how they can become part of the program's recent run of success.
Beal City earned another championship opportunity with a 15-0 Semifinal win over Maple City Glen Lake on Friday. 
"It's funny, because every spring our goal is to win the Highland (Conference) and make a long tournament run. And the kids understand that," Antcliff said. "It's great winning 35 games. Butt with our schedule, we want to play the Grosse Pointes, we want to play bigger schools. If we lose 10-12 games, we're fine. It gets us ready for this."
Beal City has lost only twice this season, against 35 wins. But consider the No. 3 Aggies ready for No. 1 University Liggett, their opponent in Saturday's 6:30 p.m. Final.
They sure appeared primed after the fifth inning Friday. Beal City, up 1-0, put up five more runs and then added nine in the sixth inning to end the game.
Senior Ryan Marshall gave up only two hits and struck out eight for the Aggies. He also scored two runs, drove in a third and had one of the team's seven stolen bases.
Beal City had 10 hits, but only junior Ryan Tilmann had more than one; he finished 2-for-3 with two runs scored, three RBI and two stolen bases.
Glen Lake, making its first Semifinal appearance since 2001, got three innings of one-run pitching and one of its two hits from sophomore Austin Odziana. The Lakers finished 28-8.
Grosse Pointe Woods University Liggett 1, New Lothrop 0
The top-ranked Knights didn't score the game's lone run until the sixth inning. But pitcher Connor Fannon needed only that one to get University Liggett back to the Final for the third straight season.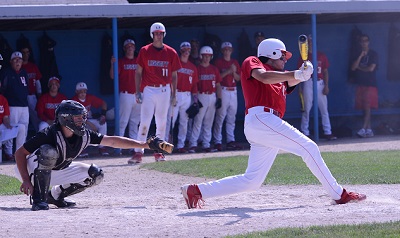 Fannon, a senior, gave up only two hits, didn't walk a batter and struck out eight.
He out-dueled also-solid Mitch Perizzolo, who gave up only five hits, didn't walk a batter and stuck out four for New Lothrop. Perizzolo also had one of the Hornets' two hits.
The Knights scored that lone run when shortstop Nicholas Azar hit a sacrifice fly to score centerfielder Mark Evan Auk from third base. Auk had reached on a bunt single. Catcher Nathan Gaggin was the only player, from either team, with more than a hit; he finished 2-for-3.
New Lothrop, making its first Semifinal appearance since 1998, finished 25-6. University Liggett improved to 30-4.

PHOTOS: (Top) Beal City junior Ryan Tilmann gets in safe under the throw in the Aggies' win over Maple City Glen Lake. (Middle) A University Liggett hitter drives a pitch in the Knights' Semifinal win over New Lothrop. (Click to see more from Hockey Weekly Action Photos.)