Bluestreaks' Run Thrilling, Unforgettable
June 29, 2017
By Geoff Kimmerly
Second Half editor
Dawn Forter will never forget Brooklyn Woelmer's knowing smile with Ida's championship hopes one strike from being dashed.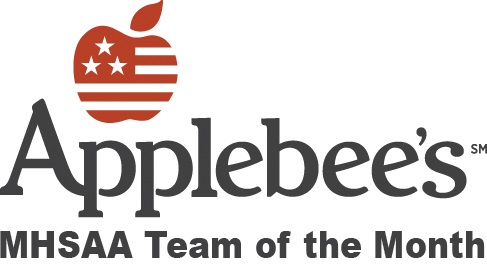 The senior shortstop faced reigning champion Richmond and a two-strike count, her team down 3-1 with two outs in the seventh inning of the Division 2 championship game June 17 at Secchia Stadium.
If Ida's run would've ended there, it still would've been worth celebrating. Seeking their first MHSAA title in the sport since 1994, the Bluestreaks had advanced to their first Final since 2006 despite entering the playoffs unranked and overlooked.
"I don't know how many she fouled away. That last one barely touched (the bat)," Forter, her coach, said of Woelmer's crunch time effort. "She stepped out of the box, took a deep breath, looked in the dugout and smiled.
"I'll never lose that image. I knew when I saw her face that she was going to get on base."
Woelmer ended up driving a double down the right-field line that brought in a run, and she crossed the plate as well on an error to tie the score at 3-3. The teams traded runs in the eighth inning before Ida put up four runs in the ninth to finish off the Blue Devils in the most thrilling conclusion from a tournament season packed with them.
There were a number of strong candidates for the final MHSAA/Applebee's Team of the Month award for the 2016-17 school year. But it was impossible to look past Ida, which downed No. 10 Carleton Airport on the way to Michigan State, then No. 6 Stevensville Lakeshore in the Semifinal and the No. 2-ranked Blue Devils to earn a title at least a decade in the making.
Forter, who took over the program in 2004, had been part of an MHSAA runner-up finish as a player at Monroe St. Mary Catholic Central in 1989, and enjoyed a nice share of accolades playing shortstop at University of Detroit Mercy before also coaching at the college level and then returning to guide the Bluestreaks.
She has led the program to 349-131 record over 14 seasons and three league titles over the last four springs. This Ida team enjoyed something special from the beginning – although Forter had only 12 players, she said all could've started at any time – and together with three junior varsity call-ups, they won the program's first District title since 2010 and first Regional title since 2009.
She said after the Semifinal win she was proud of all 15 of her players, and she meant it. All three of those call-ups had contributed in the Quarterfinal shutout of Flint Powers Catholic, 10 players saw the field in the Semifinal and 12 played in the championship game.
Ida had only three seniors and seven underclassmen on the postseason roster. But they showed they belonged at that late stage in the tournament – and showed some impressive poise conquering it.
"We were down a couple times during the postseason, after the other team scored first, but we chipped away," Forter said. "We did what we do, we didn't lose our minds, we stayed cool. We had confidence all along that we could battle back. We have extremely powerful bats, and we relied on the fact that that carried us all year. So there was no panic, even down 3-nothing in the seventh inning of the state finals. My assistant coach (Cheryl Hoffman) and I were more freaked out than they were.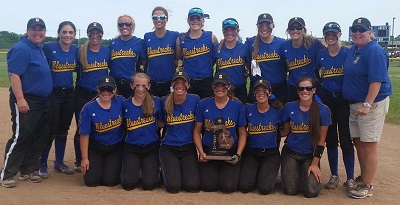 "Where did they get that (composure)? I don't know. We were a nervous mess."
Ida had a little extra juice entering the postseason thanks to the rankings slight. Like many coaches in many sports, Forter said she doesn't pay much attention to the weekly coaches association polls. But some of her players and their parents do. And when the Bluestreaks didn't crack even the honorable mention list at the end of the regular season, Forter found herself a little irked too.
No doubt, that fueled the fire a little bit. "But I'd take that path again if it happens," she admitted.
Ida finished 37-7, and after the season Woelmer, junior outfielder Karlee Lambert and junior second baseman Hannah Tuller made the all-state team. But their talents and contributions extend farther than the foul lines. Woelmer and senior outfielder Ashlyn Brososky claimed academic all-state individual honors as the Bluestreaks earned team academic all-state recognition. This year's group boasted a grade-point average above 3.6, with no player below a 3.2. Forter also noted the group's well-roundedness, with a number of her players active in Ida's Young Life club and several participating in peer tutoring at the district's elementary school.
This was a banner softball season for the southeastern corner for the state. Not only did Ida win in Division 2, but Monroe County neighbor and Forter's alma mater St. Mary won its third straight Division 3 title. Ottawa Lake Whiteford, from bordering Lenawee County, was runner-up in Division 4.
Of that original 12 players on Ida's roster, eight had been playing together since they were about 8 years old. They usually teamed up for the annual age-group tournaments that are part of the Monroe County Fair, coming away with at least four championships over the years against tough competition.
Those no doubt also prepared them to hang tough when their dreams rested on one more possible strike two weeks ago.
"How things played out, I don't think I've ever been on an emotional rollercoaster like that as a player or a coach," Forter said. "I was part of a state runner-up and I played college ball as well, and this didn't compare to anything else I've experienced on a ball field."
Past Teams of the Month, 2016-17
May: Whittemore-Prescott boys track & field - Report
April: Frankfort baseball - Report
March: Flushing girls basketball - Report
February: Grand Rapids Forest Hills Central girls skiing - Report
January: Powers North Central boys basketball - Report
December: Dundee boys basketball - Report
November: Rockford girls swimming & diving - Report
October: Rochester girls golf - Report
September: Breckenridge football - Report
PHOTOS: (Top) Ida coach Dawn Forter and her players celebrate Brooklyn Woelmer (14) scoring the tying run during the seventh inning of the Division 2 Final. (Middle) The Bluestreaks, after winning an earlier round of the MHSAA Tournament.