Bronson Bounces Back to Clinch Repeat
By Jeff Chaney
Special for Second Half
BATTLE CREEK – Last year, the Bronson volleyball team swept its way to the Class C championship.
The Vikings found out early Saturday that this would be different, as Brown City offered an early wakeup call by winning the first game of their MHSAA Final match at Battle Creek's Kellogg Arena.
The Green Devils looked to have Bronson on the ropes again, leading for a good portion of the second set, including by three points late.
But behind the solid serving of sophomore libero Kiera Lasky, the Vikings fought back to win that second game with a late surge, on the way to claiming their second straight and third overall MHSAA championship, 23-25, 25-22, 25-11, 25-19.
Lasky had five straight service winners during the second set to help her team gain the momentum.
"Kiera is a great server, and she is a great libero," Bronson coach Jean LaClair said. "She is a competitor, she is a gamer and goes hard every game. She is not afraid of competition."
Luckily LaClair has a lineup full of gamers, including her two senior leaders, middle hitter Jill Pyles and outside hitter Allison Sikorski. They took control of the match after the Vikings got back into it at the end of Game 2.
Those two, along with freshman outside hitter Keona Salesman, hovered around the net and let Bronson cruise through the final two games.
Pyles said the early deficit was definitely a wakeup call, but still had confidence in her team.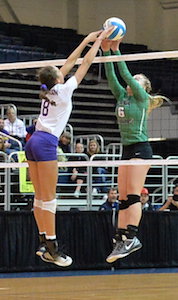 "Sometimes we start out pretty slow, and I wasn't upset. I just said that game is over with, we have the next one," Pyles said. "I just knew all we had to do was play our game and get that first one out of our mind."
And that game is solid serving, passing and attacking the net. Sikorski led the team with 13 kills, followed by Pyles and Salesman with 12 each.
"We have such good passers on our team, it was just a matter of communication," Pyles said. "At the beginning we were struggling, but then we started talking to each other."
LaClair, whose team finished with a 50-9-6 record, knew it was a matter of time before her talented athletes started to play.
"I told the girls (after Game 1) that they were playing really well, and we hadn't shown up yet," LaClair said. "I don't think (the start) was shocking, because they are a good team. (Brown City outside hitter Becki Krause) had a great match against us. We struggled to stop her, and did I wish we would have dropped one? No, but it wasn't shocking to me, either.
"These kids play well from behind," she added. "I still feel the pressure was on them, not us, because we weren't playing for last year, we were playing for this year. We weren't worried about last year. We didn't care we were the defending champions."
Krause did have a great match for the Green Devils with 12 kills and 12 digs, but it wouldn't be enough for Brown City, which took one step further this year after losing in the Semifinals in 2015.
"We just had a couple of mental lapses in that second game," said Brown City coach Jenna Welke, whose team ended its year 45-10-5 and was making its first appearance in an MHSAA Final. "We were rolling and feeling good at the end of (Game 1) there, but then we had a few service errors that got into our head a little bit. They are a great serving team, we knew that coming in, and we knew we needed to limit their runs. But we just got a little frazzled there at the (end of Game 2)."
A teary-eyed Krause was happy for her team's run to its first Finals appearance. She just wished the Green Devils could have kept building on that early lead.
"I'm really proud of how far we made it," Krause said. "It didn't end how we wanted it to, but like coach said, the program is going to do great things in the future."
PHOTOS: (Top) Bronson's Kiana Mayer (10) keeps a rally alive while Brown City's Becki Krause (3) prepares to receive. (Middle) Bronson's Keona Salesman (8) and Brown City's Alexia Mason meet at the net.