Clinton Joins Elite Group of Mat Champs
March 19, 2020
By Geoff Kimmerly
Second Half editor
Team wrestling has become the most difficult MHSAA sport for new contenders to break into the championship elite.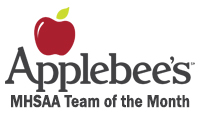 From 2010-19, 10 schools combined to win the 40 Finals championships over four divisions. Divisions 2, 3 and 4 all saw a decade's worth of titles split between just two teams.
In Division 4, Hudson or New Lothrop had won actually the last 11 Finals championships before this season. Those two teams arrived at Wings Event Center last month again as the top two seeds, respectively, in Division 4.
And that might have made the victory march by third seed Clinton – the MHSAA/Applebee's "Team of the Month" for February – even more memorable, if that's possible.
Clinton defeated New Lothrop 32-26 in its Semifinal on Feb. 29 and came back a few hours later to defeat the Tigers 36-27 to clinch its first Finals championship in the sport – and first MHSAA Finals championship in any boys sport in school history.
The Redskins finished this season 31-5 in dual matches.
"These 28 kids get that forever, no matter what happens in their lifetime," said Clinton co-coach Jeff Rolland, who finished his seventh season and second running the program with Casey Randolph. "(It's) something they get to have together as a group."
Clinton had been building to this. The Redskins advanced to Wings with their fifth Regional title over the last seven seasons. They reached the cusp of school history a year ago, wrestling in the title-deciding match for the first time before finishing Division 4 runners-up with a 45-19 loss to the Tigers.
This time, Clinton brought 13 Individual Finals qualifiers to Kalamazoo – and they went on to fare well again the following weekend at Ford Field. Nine of the 13 reached the podium with top-eight places at their weights in Detroit.
Sophomore Logan Badge won his second individual championship and finished a 37-0 run with the title at 189. Junior Brayden Randolph (171) and sophomore Kent McCombs (145) were individual runners-up at their weights, Randolph for the second-straight season. Freshman Connor Busz (third at 103), sophomore Chase Packard (eighth at 112), sophomore George Ames (third at 135), junior Spencer Konz (third at 160), junior Jack Voll (sixth at 215) and junior Will Felts (sixth at 285) also placed.  
Clinton had entered the 2019 Team Finals weekend as the top seed in Division 4 on the way to finishing runner-up, and actually finished No. 1 in Division 4 in the final Michigan Grappler rankings this winter before ending up with the third seed.
"I guess that's the key – you want to be the number three seed in Division 4. Hudson did it last year (and won)," Rolland said. "Bottom line, the top four teams (in Division 4) were even. I think all of the coaches said that. (The three seed) might have helped our kids refocus."

Past Teams of the Month, 2019-20
January: Caro girls basketball - Report
December: Hartland girls basketball - Report
November: Bridgman girls cross country - Report
October: Allegan boys tennis - Report
September: Ishpeming Westwood girls tennis - Report
PHOTOS: (Top) Clinton teammates and coaches congratulate Connor Busz after his win at 103 pounds against Hudson on Feb. 29 that clinched the Division 4 team championship. (Middle) The Redskins celebrate their first Finals title. (Click to see more from HighSchoolSportsScene.com.)