Covenant Christian Stands Tall in Class C
November 23, 2013
By Geoff Kimmerly
Second Half editor
BATTLE CREEK – Denise Uittenbogaard felt all season she had a special team. But not until Grand Rapids Covenant Christian eliminated No. 2 Morley-Stanwood in the Regional Final did the Chargers' coach begin to understand what could be accomplished.
Next fell No. 4 Unionville-Sebewaing in the Quarterfinal. Then top-ranked Mendon took only one game before succumbing to Covenant Christian in Friday's Semifinal.
By the time Uittenbogaard and her players reached Saturday's championship game against No. 3 Beal City, the No. 8 Chargers were used to playing – and beating Class C's best.
And after dispatching the rest, Covenant Christian finished Saturday standing alone with the champion's trophy. The Chargers finished their first trip to Finals weekend with a history-making four-set win over the Aggies – 25-21, 25-16, 21-25, 25-17.
"We did it. I don't know how. We weren't supposed to win. And we came in and we did," Covenant Christian senior Alyssa Scholten said. "Our coach is like, 'They are the same age as you. They play the same game as you. What are you afraid of? Go in and take it. It's yours to take.'
"We took it."
Covenant Christian finished 47-9 after entering the tournament coming off a pair of late losses to Class B Finalist Grand Rapids South Christian and Class A honorable mention Grand Rapids Christian – but with an imposing front line prepared to dominate after surviving a competitive regular season slate.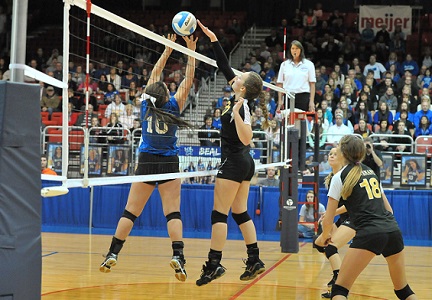 The 6-foot-2 Scholten had at least three inches on every one of Beal City's players Saturday and finished with 13 kills and eight blocks – the latter tying an MHSAA Finals rally-scoring era record.
Alongside her, 5-10 senior Shelby Lubbers also had 13 kills and 5-9 senior Cailey DeJong and 5-9 sophomore Makenzie Engelsma added eight and six, respectively.
The Aggies did lead the first set 21-18 at one point and the second set 11-10 before winning the third. And they had an all-state hitter as well in 5-10 Addie Schumacher, who finished with 15 kills and five blocks.
But together, the Chargers were just too strong at the net, with Lubbers getting four of her kills during the fourth set including the final on a cross-court smash.
"We had some crucial blocks to stop their offense; I think that was the key of the third game," Beal City coach Kelly David said. "But they found a way around our block, and that was tough on our defense."
"These girls have an amazing sense of determination. They encourage each other, motivate each other to play hard, practice hard, and that's what got us here," Uittenbogaard said. "That third game we had a little breakdown. We had to relax a little bit. ... (And) when it came down to it, they came out in that fourth game and they were not going to go home without this trophy."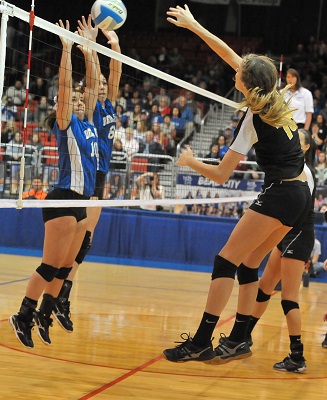 Covenant Christian took its first few minutes at Kellogg Arena this weekend to soak in the atmosphere for the first time. Beal City was in similar position only a season ago, when it made its first MHSAA Final before losing to Battle Creek St. Philip in Class D.
Whether in Class C again or back in D, the Aggies could be headed back to Battle Creek in 2014. Senior Melanie Schafer added 17 digs and six kills Saturday. But she and Schumacher are two of only four seniors on a team that finished 56-4-1.
Junior setter Jenna Theisen had 26 assists, junior hitter Jordan Schneider had seven kills and four blocks, and junior hitter Nicole Gross also had six kills.
"I just think they weren't satisfied with last year, so they really wanted to come in this year and win the state championship," David said. "We fell a little bit short. But they gave it all they had, and I'm proud of the way they played."
PHOTOS: (Top) Grand Rapids Covenant Christian players celebrate after clinching their first MHSAA championship. (Middle) Covenant Christian's Shelby Lubbers reaches over the net to block Beal City's Jenna Theisen (10). (Below) Theisen and Addie Schumacher (8) block a Chargers kill attempt.