Cowboys hoping to ride into Battle Creek
By Geoff Kimmerly
Second Half editor 
At least once a week, former longtime Detroit Western International baseball coach Ziggy Gonzalez stops in to Cowboys practice to offer a taste of the program's history.
"Big Dad" coached the 1972 team that fell 3-1 in the Class A Final and the 1973 team that advanced to the Semis. Among his former players was the late Todd Cruz, who earned a World Series ring as part of the 1983 Baltimore Orioles.
"I tell these guys, we don't know where we're going if we don't know where we've been," current coach Juan Carlos Sanchez said.
Detroit Western is attempting to go somewhere a Detroit Public School league team hasn't been in a while – and hoping to accomplish a feat no PSL school has attained before.
The Cowboys, recipients of this week's Second Half team High 5, are 22-4 heading into this afternoon's PSL Semifinal matchup against Detroit Cass Tech. Western hasn't lost a league game in at least five seasons – but took that success to the next level last season when it came within an out of advancing to the MHSAA Division 1 Semifinals at Battle Creek's Bailey Park.
Western led Temperance Bedford 2-0 in their Quarterfinal before falling 3-2 and ending the season 18-13 overall. Remembering that day, the Cowboys break huddles now with "3-2, Finish!"
"It's been their focus and drive all year," Sanchez said. "They've been determined to get back, and once I explained the magnitude of making history like that (as potentially the first champion from the PSL) … that's something they want to be a part of."
And the Cowboys have a number of reasons to anticipate this final month of the season.
Of 16 players, 14 were on the team during last season's run. They are led by a strong core which will be back in 2013 as well – juniors Hector Gutierrez Jr. and Jose Ramon Morales, and sophomore Luis Chapa, the team's top three pitchers and 2-3-4 hitters in the lineup. Gutierrez and Morales man the middle of the infield for the second straight season.
Their only losses this season were to No. 10 Macomb Dakota during spring break and then to top-ranked Bloomfield Hills Brother Rice. Sanchez purposely has tried to fill the schedule with strong competition, and the Cowboys should get a look at more top teams at Saturday's Warren Mott Invitational.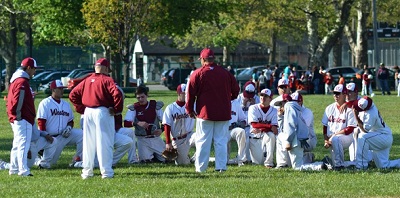 They put in the work. Sanchez said he got texts all offseason from players asking for the key to the school's batting cage. Seniors and juniors have led conditioning on off-days.
And they've got tradition and support. While the state rankings are filled with teams from suburbs and small towns, those from the state's biggest cities frequently struggle. But southwest Detroit is a baseball community. There's a thriving men's league, and Sanchez – who grew up there, attended Detroit Catholic Central and played baseball at the University of Detroit – said it's common to find pick-up games on Saturdays and Sundays.
"(Baseball) is something bred in us," he said. "It's passed down from generations, not just from dads but moms as well. It gets fed to them every day."
Before last season, the Cowboys had come close to breaking through to the season's final week during Sanchez' decade coaching in the program – and last season's run sent the players' confidence soaring.
Next month, they hope to take another championship step. 
"We set the expectations high early," he said. "We're not just content to be a good city team. We want to win statewide."
PHOTOS: (Top) Sophomore Tratez Henton stands in against a Detroit Martin Luther King pitcher this season. (Middle) Coaches speak to the team after its win over King. (Photo courtesy of the Detroit Public School League.)