D1 Baseball: Pilots Fly High Again
By Geoff Kimmerly
Second Half editor
BATTLE CREEK – When Warren DeLaSalle began this season 3-14-1, coach Matt Cook had little choice but to simply look ahead to the next practice, the next game.
But he promised the Pilots if they stayed the course, the tough times wouldn't last forever.
Kevin Carroll and his classmates made sure of it.
DeLaSalle is 17-8 since, and will play for its fourth MHSAA championship Saturday thanks to a 3-2 win over Howell in Friday's Semifinal.
"No one's going to stop this team right now. We're playing better than we ever have," said Carroll, who gave up five hits and struck out six in getting the pitching win. "Everyone's here to play. Everyone's here to win. There's not one person who doubts it.
"I don't know what the turning point was or where it was, but I think that definitely it was because of the seniors. The seniors decided we were done losing. We didn't like it."
DeLaSalle (20-22-1) faces No. 6 Hudsonville at 12:30 p.m. Saturday for the title. Data isn't readily available to confirm the Pilots could become the first team to win an MHSAA championship with a losing record.
But it's fair to believe this run is bordering on unprecedented.
"These guys did a heck of a job putting it together and doing things the right thing," said Cook, who as a player caught for the Grand Ledge team that fell in the 2001 Division1 Final to Grosse Pointe South. "I kept telling them to play their game. You play baseball the right way, it's going to turn around."
The Pilots scored one run apiece in the tops of the fourth, fifth and sixth innings. Howell came back with a run in bottoms of the fifth and sixth. But sophomore second baseman Dominic DiPuma's home run in the top of the sixth ended up being the game-winner when the Highlanders (30-11) failed to scratch one more across.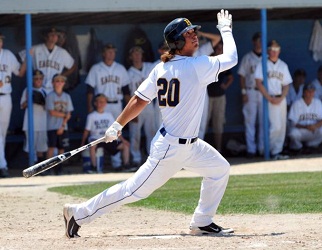 "We've battled through. That's been our thing all year; our kids have never given up," Howell co-coach Jason Ladd said. "We were down 7-1 in the Regional, battled back and won. And I think these kids expected we were going to win this one."
Senior outfielder Reed Carnagie had two hits and an RBI for the Pilots. Senior Josh Vyletel fell to 15-3 on the mound despite tossing a complete game and striking out four for Howell. Click for a full box score.
Hudsonville 4, Saline 3
Hudsonville earned its first championship game berth with a two-run rally in the fourth inning and shutdown pitching by senior Blake Hibbitts and sophomore Logan Magsig. Saline had just one more hit after opening up a 3-0 lead.
Magsig, playing shortstop before he moved to the mound, also drove in the first run of the go-ahead rally before scoring what became the winning run later in the fourth inning.
Senior first baseman Hunter Prince also had two hits for No. 6 Hudsonville (32-5). Junior second baseman Andrew White, sophomore rightfielder Michael Hendrickson and senior catcher Patrick Price all had a double and an RBI for No. 9 Saline, which finished 30-11. Click for a full box score.
PHOTOS: (Top) Warren DeLaSalle players celebrate sophomore Dominic DiPuma's home run that proved to be the game winner against Howell. (Middle) Hudsonville senior Hunter Prince connects during his team's Semifinal against Saline.