D2 Baseball: Memories Pay Off in Motivation
June 15, 2012
By Geoff Kimmerly
Second Half editor
BATTLE CREEK – Grand Rapids Christian's line-up returned nearly intact this season after finishing runner-up in Division 2 a year ago.
And every player on the field after that 4-1 loss remembers St. Clair piling on each other in celebration of the ultimate championship.
On Saturday, the Eagles will get another chance to do the same.
Junior Alex VandeVusse and senior Kurt Hoekstra combined for a three-hitter Friday as Grand Rapids Christian advanced again with a 4-0 Semifinal win over Dearborn Divine Child at Bailey Park.  
"This was always our goal," VandeVusse said. "Last year, we remember looking and seeing St. Clair partying on the field and enjoying it, and we knew we wanted that. We were looking forward to this. We knew our goal, knew we could do it, and we came to this game ready."
Grand Rapids Christian (35-5), ranked No. 2, will take on No. 3 Bay City John Glenn in Saturday's 3:30 Final. Neither has won an MHSAA title; the Eagles have finished runners-up twice, and John Glenn will be making its first Final appearance.
The Eagles patiently chipped away at Divine Child (22-16), scoring one run each in the third, fifth, sixth and seventh innings. Falcons senior Justin Chandler struck out four and gave up only six hits, but they were spread among five Grand Rapids Christian hitters. Senior infielder Taylor Pruis had two and scored a run.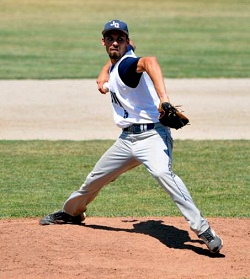 VandeVusse gave up three hits and struck out two before Hoekstra came on to get the final four outs on 14 pitches. Click for a full box score.
"We're one away," Eagles coach Brent Gates said. "We didn't want to come here for this game. We're here to win this whole thing."
Bay City John Glenn 6, St. Joseph 5 (8 innings)
Senior centerfielder Aaron Martin scored on junior Zach Olszewski's single in the bottom of the eighth inning to put the Bobcats in a championship game for the first time.
John Glenn (35-7) also needed an earlier rally after falling behind 4-0 heading into the bottom of the sixth inning.
Senior third baseman Brendan Seymour had three RBI and drove in a run, and senior leftfielder Jack Frederick had three hits. Olszewski went the distance on the mound to get the win, striking out eight.
Senior centerfielder Joseph Fratzke and sophomore third baseman Anthony Montoya each had two hits for St. Joseph (32-10). Both were among five pitchers used by the Bears. Click for a full box score.
PHOTOS: (Top) Grand Rapids Christian's Kurt Hoekstra fires a pitch as he closes out the Eagles' win over Dearborn Divine Child. (Middle) Bay City John Glenn's Zach Olszewski threw all eight innings of his team's Semifinal win over St. Joseph.