D3 Baseball: All Eyes on Saturday
June 15, 2012
By Geoff Kimmerly
Second Half editor
BATTLE CREEK – As Lansing Catholic finished off its 8-1 MHSAA Semifinal win over Mancelona on Friday, the Cougars quietly shook hands, congratulated each other, and moved on.
A more boisterous celebration might've been expected, given the team advanced to its first championship game since 1996.
But this group of Lansing Catholic athletes is used to winning and being around champions – the Cougars boys track and field and girls golf teams won MHSAA titles this school year along with a boys individual cross country championship, and the football team played in the Division 5 Final at Ford Field.
"It's a very calm team. For the most part, they stay pretty even-keel," Lansing Catholic baseball coach Mike Scott said. "They gave themselves the opportunity to get to the state finals, and they were just shaking hands after the game and wondering who we had in the next game."
That said, expect a much more emotional reaction if the Cougars can beat reigning champion Madison Heights Bishop Foley in Saturday's 6:30 p.m. championship game.
Lansing Catholic will enter that contest with innings left for both of their top pitchers. Junior Dillon Rush will be fresh after last throwing in Tuesday's Quarterfinal, and senior Mike DeClarke has four innings left after striking out five and giving up five hits against the Ironmen (29-6).
DeClarke also had the hot bat Friday, with three hits and two RBI. But eight Cougars hit safely and five drove in runs as the team extended its lead in workmanlike fashion.
Lansing Catholic (31-6) has had high hopes quite a few seasons recently – this is the third time in eight it has reached the final week of the tournament, although this was the first Semifinal appearance since 1997.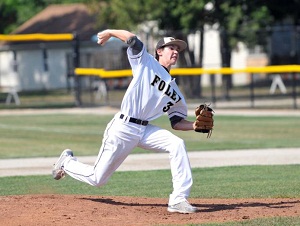 "(The difference is) the confidence we're going to do well when we go out there," DeClarke said. "We have confidence in every one of these 15 guys who step on the field. We all trust each other no matter who's out there."
Mancelona, ranked No. 10 and a return guest at the Semifinals, pushed its run across in the sixth inning. Junior Kevin Schepperley had two hits to lead the Ironmen. Click for a full box score.
Madison Heights Bishop Foley 6, Saginaw Nouvel Catholic 2
Top-ranked Bishop Foley (37-3) rode a five-run second inning into the championship game.
Five Ventures had multiple hits, with sophomore Garrett Schilling also driving in three runs and striking out seven while tossing all seven innings.
Senior pitcher Josh Buchalski and junior centerfielder Alex Valasek both had two hits and an RBI for Nouvel (29-10). Click for a complete box score.
PHOTOS: (Top) Lansing Catholic junior Eric Plaehn drives a pitch during Friday's Semifinal win over Mancelona. (Middle) Bishop Foley pitcher Garrett Schilling threw a complete game in beating Saginaw Nouvel.