D3 Semis: Aces Lead Final Advance
June 13, 2014
Geoff Kimmerly
Second Half editor 
EAST LANSING – Cody Huston was covered from neck to forearm in ice bags Friday afternoon after Decatur's 2-1 Division 4 Semifinal win over Gladstone at McLane Stadium.
Eight innings of near-flawless pitching takes a toll – although the Raiders junior said he "could've gone as many as my team needed me to go." 
It's tough to imagine Huston giving his teammates much more.
Not only did he allow just one hit in the longest start of his career, he also drove home the game-winning run in the bottom of the eighth inning after Gladstone elected to intentionally walk junior Matthew Botti before him. 
"I was having a little off day with the hitting. Right time to do it, I guess," Huston said. "I thought it was just my time to step up and help my team out. They had my back the whole game. It was my turn to step up and show them what it was all about."
Decatur (24-6), long a Division 4 power but playing in Division 3 this season, will face Grosse Pointe Woods University Liggett at 5 p.m. Saturday in hopes of winning its fifth MHSAA title and second in three seasons.
Huston is part of seven-player junior class that's played together since Little League. Five juniors started Friday, along with two sophomores and two seniors.
Junior first baseman Joby Kawaski doubled home junior second baseman Carter Smith in the fifth inning for the game's first run. And with Huston dominating, it looked like that would be enough.
But Gladstone didn't need a hit to knot the score in the seventh inning – just some smart base running a hard-hit grounder.
With his team down to its final two outs, senior centerfielder Christian Groleau walked, stole second base and advanced to third on an error. Senior pitcher Sam Pouliot – himself throwing a gem – hit a sharp ground ball that glanced off Huston's glove and took just enough time rolling toward the second baseman that Groleau made it home without drawing a throw.
The score stood 1-1 when Smith singled to open the bottom of the eighth inning and moved to second on a Kawaski bunt. After a groundout came Botti's walk – he had singled in his previous at bat – and Huston came to the plate.
"Cody's been swinging the bat really well. (But) Matthew has been swinging the bat really well, and I probably would've walked him too," said Decatur coach Ben Botti, also Matthew's father. "I had all the confidence in Cody. I said get something on the (grass), and Carter is going to score. I just knew he was going to be able to get the job done."
Pouliot also threw a complete game, striking out nine and giving up only one earned run. Despite the loss, it was an impressive end for a Braves program that was restarted in 2013 after being discontinued in 1960. Gladstone finished its first Semifinal run 29-5, and should be primed for another graduating only a handful of key contributors.
Next season looked like it would be the big one for the Raiders. But like Huston's big hit, it appears his team arrived in East Lansing not a year early, but right on time.
"They've been playing together for a long time. We started them with travel ball when they were little, and there's not a kid on there who we didn't coach in Little League and coming up," Ben Botti said. "We've just played from the time they were that big. Are we here a year early? I don't know, maybe. But we might be better next year."
Grosse Pointe Woods University Liggett 7, Reese 1
Matthew Gushee started this season as University Liggett's number three starting pitcher, and didn't throw much during the first weeks when the weather was still wintery.
But the sophomore showed enough as the season went on to move up to second in the Knights' rotation – and plant himself on the mound for Friday's Semifinal against Reese.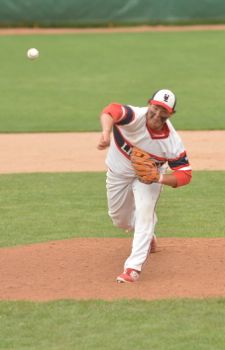 Gushee improved to 4-1 this spring by giving up only four hits and a walk in getting the reigning Division 4 champion back into an MHSAA Final – this time in Division 3.  
"He has the best stuff probably of anyone we have, with the cutter, change and curve, and he pounds the zone," Liggett coach Dan Cimini said. "He's got a good grip. He's got a good mental attitude. He plans well. He prepares well. And he wants the ball in the big game."
The Knights gave Gushee a quick cushion, scoring two runs in the first inning, one in the second and three more in the third. Senior outfielders Ian Clark and Adam Fiema both had two hits, with Clark scoring twice and Fiema driving in two runs. Senior first baseman Anthony Simon also scored twice and drove in a run.
Reese senior Cody Peyok allowed only one earned run after taking the mound in relief during the third inning – but by then the damage was done.
This wasn't Gushee's first stunning performance. He also got the win in the Regional Final against top-ranked Madison Heights Bishop Foley, the three-time reigning Division 3 champ.
"He's been a horse for us," Cimini said, "and I'm glad we have him."
PHOTOS: (Top) Decatur players celebrate after Carter Smith scores the winning run in their Semifinal. (Middle) Matthew Gushee fires a pitch while throwing a four-hitter for Grosse Pointe Woods University Liggett.