D4 Baseball: Decatur Strikes Late
June 15, 2012
By Geoff Kimmerly
Second Half editor
BATTLE CREEK – Decatur baseball coach Ben Botti knew from experience his team likely would need to "dodge a bullet" to have a chance to win this season's MHSAA Division 4 championship.
That moment came in Friday's Semifinal against Muskegon Catholic Central. And senior shortstop Theo Rufo responded by firing a shot of his own.
The No. 2-ranked Raiders trailed by a run going into the top of the seventh inning when Rufo hit a drive nearly to the wall in left-centerfield. He arrived at third base for a triple, but the throw behind him sailed into MCC's dugout, allowing Rufo to score the go-ahead run.
And that's all Decatur ace J.T. Kawaski needed to finish a 3-2 win and get Decatur to its first MHSAA championship game since winning back-to-back titles in 2002 and 2003.
"Our coach said the two times he did win state, they had to dodge a bullet. We knew if we wanted to make it that far, we haven't dodged a bullet yet," Rufo said. "We knew coming in we had it (in us) because we've come back a couple times this season. So we weren't down on ourselves. We knew we could come back."
Decatur (35-6) will face top-ranked Grosse Pointe Woods University Liggett at 9:30 a.m. Saturday.
The Raiders had cruised through the playoffs until Friday, winning the last three games by a combined score of 23-5. But MCC put a run up in both the second and third innings, and led 2-1 heading into Decatur's final at bats.
Freshman Joby Kawaski opened the seventh with a walk, then scored when Rufo turned on a fastball on the inner half of the plate. J.T. Kawaski got MCC 1-2-3 in the bottom of the inning.
"We thought we had it in the bag after that," Rufo said of his run. "We knew we could shut it down with J.T. our ace on the mound."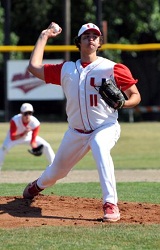 Junior outfielder T.J. Stambeck also had two hits and an RBI for Decatur, and Kawaski gave up only two hits and struck out four.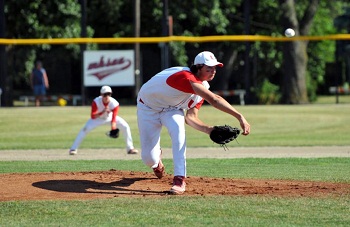 MCC freshman Nick Holt also threw a complete game, striking out six and giving up just one earned run. He had one of two hits for the Crusaders (26-9). Click for a full box score.
Grosse Pointe Woods University Liggett 15, Rudyard 3
The reigning champion University Liggett (25-3) scored 10 runs in the third inning to break open a game that lasted only five innings.
Junior Connor Fanton was one of four Knights to drive in at least two runs, and he also scored twice and had two hits while throwing all five innings on the mound and striking out nine. Junior outfielder Kevin Allen hit a three-run homer during the big rally.
Rudyard (20-17) got one hit each from five batters and RBI from junior first baseman Justin Kruger and senior third baseman Kyle Roe. Click for a full box score.
PHOTOS: (Top) Decatur senior J.T. Kawaski drives a ball during Friday's Semifinal win over Muskegon Catholic Central. (Middle) University Liggett junior Connor Fannon pitched all five innings and got the win over Rudyard in his team's Semifinal.