D4 Semis: Finalists Seize Opportunities
June 13, 2014
By Geoff Kimmerly
Second Half editor
EAST LANSING – Beal City baseball went viral this week, thanks to a trick play that played a small part in its Regional Final win over top-ranked Muskegon Catholic Central last weekend.
But the Aggies showed again Friday morning that they are nothing if not opportunistic – and fun to watch.
Fakery wasn't necessary like the hidden-ball trick against MCC that has been viewed more than 300,000 times on YouTube and made national headlines with coach Brad Antcliff and two of his players interviewed on Fox News.
But Beal City had a run before it had a hit against Kalamazoo Christian, stole six bases and took advantage of five errors and getting hit by three pitches on the way to an 11-1, six-inning Division 4 Semifinal win at McLane Baseball Stadium.
"We like to stay aggressive on the base paths and in the batter's box. We've been talking about that all year," said sophomore shortstop Tucker Gross, who scored two runs and stole three bases. "It's a lot of fun, being aggressive, not holding back. We're just being ourselves and having fun.
"The stakes are higher, but we stay true to who we are and play our kind of ball."
Beal City (36-3), ranked No. 2 entering the tournament, will play Saturday against No. 5 New Lothrop for its first MHSAA title since 2010. The Aggies were runners-up a year ago to Grosse Pointe Woods University Liggett, a semifinalist in Division 3 this weekend.
Aggies pitcher Ty Rollin did use an ounce of trickery to end Kalamazoo Christian's opening rally, faking a pick-off attempt to third base in the first inning and wheeling toward first base before catching a runner trying to advance to second. He got that out and struck out the next batter, and it was all Beal City until the Comets scored their lone run in the sixth inning.
The Aggies scored one run in each of the first three innings before adding six in the fourth. In addition to eight hits, they executed a squeeze for one run, plus a double steal and some hit-and-run to move around the bases and earn a comfortable advantage that allowed Antcliff the luxury of pulling his ace after the fourth inning so he can use him again in the championship game.
Only three of Beal City's runs were earned.
"We're going to make the other team make plays. The kids played great baseball; they did exactly what we wanted them to do today," Antcliff said. "We were going to score as quickly as possible and as many as possible, because I've got Ty for six (innings Saturday).
Rollin, who threw all eight innings in last season's one-run Final loss to Liggett, allowed only two hits in four innings Thursday and also scored twice. Reliever Kurt Gross finished the game and knocked in two runs in his only at bat. Senior Ryan Tilmann had two hits and scored three runs.
Junior rightfielder Greg Harris drove in the lone run for Kalamazoo Christian (18-18).
It probably won't make national news if Beal City finishes this run with the Division 4 title Saturday. But that certainly will be the most memorable moment for the team and community, even if the recent national hype was a fun highlight along the way.
"It's cool, but the main thing is we've gotta stay focused," Gross said. "We can't let it get into our heads. We can't let it become a distraction. We can talk about it a little bit, but that's all."
New Lothrop 3, Maple City Glen Lake 1
Both teams playing in the second Division 4 Semifinal were in a similar history-making position – New Lothrop was playing for its first championship game berth ever, and Glen Lake was playing for its first in forever (1984).
The Hornets have had a lot of success in athletics in 2013-14, and maybe some of that savvy rubbed off on sophomore pitcher Cameron Pope.  He struck out 11 and gave up only six hits before yielding to junior reliever Grant Steinborn with one out in the seventh inning.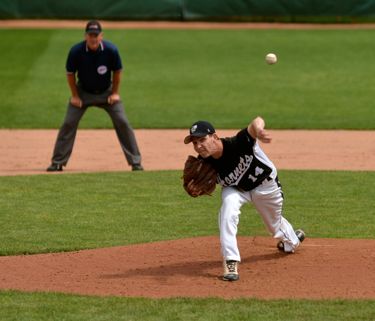 New Lothrop has risen from Quarterfinalist in 2012 to Semifinalist last season, and now has its firt opportunity to climb the last rung on the historical ladder.
"It's the chemistry. It's a small school. Everybody has classes with each other. We just all get along and we love playing with each other," Pope said of why this year's team became the first baseball finalist.
"It's tradition. New Lothrop's a winning school. It's just what we do." 
Sophomore rightfielder Quentin Taylor scored two of New Lothrop's runs and drove in the third. He was the only hitter with more than one for the Hornets, who had only six hits total to Glen Lake's 11.
The Lakers had one last opportunity in the seventh inning. With runners on first and second bases, two drives down the leftfield line fell foul, one by mere inches. One runner would've scored, and the second would've had a shot at tying the game as well. But Steinborn was able to pick up the final two outs without incident.
Senior shortstop Tristan Williams had three hits for Glen Lake and scored the lone run. Senior Thomas Waning was steady on the mound, giving up only the three hits and striking out five. 
"There's nothing we did or didn't do in terms of mistakes or anything like that. At the end they got two big hits when they needed to get two big hits, and we didn't get those hits when we needed to have them," Glen Lake coach Kris Herman said.
"We felt like we had a real opportunity to do good things here, and we're very disappointed. We said we'd celebrate when the season was over, and we will, but now is not going to be the time because we felt an opportunity got away from us." 
PHOTO: (Top) Beal City's Carson Salisbury scores as part of a six-run rally in the fourth inning Friday. (Middle) Cameron Pope unloads a pitch in earning the win for New Lothrop.