Dakota, Mercy Set Up Top-Ranked Match-up
By Bill Khan
Special to Second Half
EAST LANSING — Kendahl Dunford started summer softball last year with a team that wasn't operating at full strength.
While Dunford was beginning her travel season, some of her teammates were still busy trying to win MHSAA championships with their high school teams.
Dunford's own postseason dreams with her Macomb Dakota team ended in the Pre-District round for the second straight year, despite a 30-6 regular-season record.
"It was not a good feeling," Dunford said. "We had some girls (from the summer team) who were still here. We were like, 'Wow, we could've really been here.' Now this year, being here, it's the best thing ever."
Dunford's high school season will extend to the last possible game after she pitched top-ranked Dakota to a 4-2 victory over Midland in the MHSAA Division 1 semifinals on Thursday at Michigan State University.
The Cougars (38-2), who hadn't won a District since 2000 and had never advanced beyond Regionals until this season, will face Farmington Hills Mercy at 10 a.m. Saturday for the Division 1 title at MSU's Secchia Stadium.
"It's surreal," senior second baseman Sarah Fringer said. "I never thought we were going to get here. We have such a great team. Not getting out of Districts the past couple years has been really tough. Finally being here is an amazing feeling."
It was Fringer who made the defensive play of the game to thwart Midland's final threat.
The Chemics (36-8) had runners on first and second with two outs in the top of the sixth inning, trailing 4-2. Nicole Miiller hit a grounder to the left of Fringer, who made a diving stop, got up and made the throw to first to end the inning.
"It was really huge," Fringer said. "They had runners on first and second with two outs. I was just trying to do anything I could to keep the ball in front of me and not let a run score. I just saw the ball coming and got it. It was a huge relief. We only had three more outs left after that. It was really a big confidence booster that we really had it. We really were going to get the win."
Fringer's play left Midland wondering what could have been.
"We squared it up quite a few times," Midland coach Robin Allen said. "Some of the times when we did, they made a nice play or it went right at them. If that second baseman doesn't make that diving play, that's a whole new ball game. It might have got in the gap. If that gets in the gap, we might have scored two there."
Against Dunford, teams don't get many opportunities to put runs on the board. She retired the Chemics in order in the seventh, ending the game with back-to-back strikeouts. Dunford had nine strikeouts total, allowing six hits and no walks.
Dunford, a junior who has verbally committed to Florida International, entered the game with five straight shutouts. She had allowed only one run over 37 innings in six tournament games, as Dakota outscored its opponents 53-1.
Dakota struck first when Kattie Popko doubled and scored on a single by Claire Hamlin in the second inning.
The Cougars built a cushion in the third, scoring three unearned runs. With one out and nobody on, Corbin Hison reached first base when third baseman Zoe Manary threw high to first base. With two outs, Kelcie LaTour singled home Hison to make it 2-0. After a single by Dunsford, Julia Salisbury stepped up and lined a double to the fence in left-center field to score two runs.
"I just imagine that I'm going to hit it out to left field," Salisbury said. "Before I bat, I look to left field and say, 'I'm driving it out there.' That's what I thought when I hit that."
Dunford's scoreless inning streak ended at 35 in the fourth inning, as Midland cut the Cougars' lead in half.
Pitcher Maya Kipfmiller singled with one out to begin the rally. Julia Gross then hit a ball that eluded the center fielder and rolled to the fence for a triple. Gross headed home when the throw to third was wild. It appeared she would be easily cut down at the plate, but the throw home sailed high.
"We had a little defensive hiccup there," Dakota coach Rick Fontaine said. "I don't think we've made that many errors in the entire postseason. We got them out of the way on one play, so I guess that was a good thing. Defensively, we've been great all year."
Midland went down 1-2-3 in the fifth and seventh innings, failing to score in the sixth because of Fringer's diving stop and throw on the grounder by Miiller.
Dunford had two of Dakota's six hits off of Kipfmiller, who walked four batters, none of whom factored into the scoring.
Kipfmiller and Gross had two hits each for Midland.
"We have one senior," Allen said. "We're a young team, but they don't play like they're young. They all play like seniors. They've been around the program for a long time. It's a special season. It's something these girls will remember the rest of their lives. I'm really excited for them. It's memorable."
Farmington Hills Mercy 9, Mattawan 6
Cari Padula came just a foot or so away from hitting a grand slam down the right field line in the second inning. 
She had to settle for a three-run double to left after her long foul ball, but she isn't complaining. Padula's hit highlighted a five-run uprising that carried No. 2 Mercy (42-2) into the championship game for the second time in school history. The 2002 team lost in the Division 1 Final, 4-0 to Portage Northern.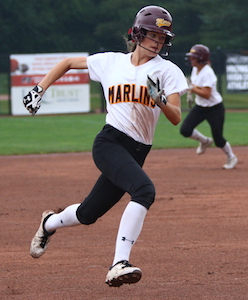 "It would have been awesome if it went out," Padula said of the near-miss to right. "I just knew I needed to recoup. I took a deep breath. I have this little saying. I say, 'See ball, hit ball.' That's exactly what I did." 
Padula had a run-scoring single as part of a three-run sixth inning, giving her four RBI.
"I was really happy for Cari," Mercy coach Alec Lesko said. "Cari walked away from our last game thinking she didn't contribute enough, but she had a couple sac flies. Today she missed a grand slam by about a foot and came down the other line for a bases-emptying double. We're excited for her. She's a senior, and she's been a great leader. I'm glad she had a chance to do something big today." 
Fourth-ranked Mattawan (32-9) jumped out to a 2-0 lead in the bottom of the first inning before Mercy responded with the five-run second. After Mercy extended its lead to 6-2 in the third following a 54-minute rain delay, Mattawan cut the deficit to 6-5 with two runs in the third and one in the fifth.
Anna Dixon's second double and third hit of the game ignited a three-run sixth inning that gave Mercy some breathing room. Mattawan scored a run in the sixth, but couldn't get closer. 
"We gave up too many, but we fought hard and never gave up," Mattawan junior Joanna Bartz said. "We just tried to play our game and fell short."
Andrea Elmore allowed nine hits and struck out eight for Mercy. Shannon Gibbons was 3 for 4, nearly getting a fourth hit in the sixth, only to be denied by a diving catch by left fielder Sarah Hillsburg.
PHOTOS: (Top) Macomb Dakota celebrates its first MHSAA Finals berth in softball. (Middle) A Farmington Hills Mercy runner rounds third base during her team's Semifinal win.