Dundee 'Team X' Takes Back D3
February 24, 2018
By Jeff Chaney
Special for Second Half 
KALAMAZOO – Brandon Whitman and the Dundee wrestling team quickly changed into Team X T-shirts as the clock wound down Saturday night on the MHSAA Division 3 Team Wrestling Final at Wings Event Center.
The shirts were in honor of the Vikings' 10th team title won in the program's incredible history.
Dundee clinched it by beating long-time nemesis Richmond in the championship match 40-15 in front of a loud crowd.
"This is very exciting; we have been working our butts off," said Whitman, who is a three-time individual champion as well. "This is the closest group of people I have been with since I started in high school, and I am glad it is paying off."
Dundee coach Tim Roberts echoed those sentiments on how close-knit this team is, and how important that was to winning the title this year.
"I told these guys at the beginning of the year that they would be the 10th team to win a championship, they would be Team X," said Roberts, whose Vikings ended the season with a 17-3 record. "I thought we had the talent and the drive, and this team had a lot of doing it for each other. This was not a selfish effort. I have been doing this 28 years now, and this may have been one of the most fun seasons I had. It was fun to watch kids work for something bigger than themselves."
The talent on both teams was on display in the opening match.
Starting at the 215-pound weight class, Whitman, the top-ranked 215-pounder by Michigan Grappler, took on second-ranked Colton McKiernan. And in a hard-fought match, Whitman defeated McKiernan 6-3 to set the tone for the rest of the Final.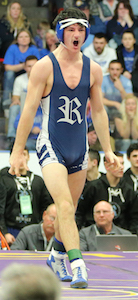 After the Blue Devils tied the score at 3-3 with a decision by heavyweight Tyler Marino, Dundee went on to win five of the next six matches wrestled to take a 24-6 lead entering the 140-pound weight class.
The last in that run came from super freshman Stoney Buell, who pinned his ranked opponent in one minute.
In the end, Dundee won 10 of the 14 matches wrestled.
"In all, we gave up three falls, and the rest were close decisions," said Richmond co-coach Brandon Day, whose team ended with a 21-6 record. "We have a bunch of tough grinding kids, but they have some very talented guys. It is what it is; we will get back to work tomorrow for next year."
And next year could very well be like 10 of the past 13 years. That's how many times these two teams have met for the Division 3 championship. 
The Blue Devils have eight titles, including last year's tie-breaker criteria decision win over Dundee.
"We talked about that regularly," Roberts said. "We wanted to fix a wrong."
Now Day and the Blue Devils have some added motivation for next year, and maybe even a little more.
"We are who we are, and they are who they are, and we knew this was going to be a fist fight," Day said. "We went at each other, they are just a better team, but we will remember all the fist pumping they did."
Click for full results of the weekend's Division 3 matches.
PHOTOS: (Top) Dundee's Jonathon White celebrates a win during the Division 3 Final while his team's fans cheer in the background. (Middle) Hayden Bastian rallies his team after his pin at 140 pounds. (Click for more from HighSchoolSportsScene.com.)