Early Bumps, Smooth Landing for DeLaSalle
June 18, 2016
By Andy Sneddon
Special for Second Half
EAST LANSING – A bunch of young Warren DeLaSalle Pilots earned their wings Saturday.
And from the looks of it, DeLaSalle baseball could be flying high for a while.
Sophomore Bryce Bush put the Pilots ahead to stay with a sixth-inning two-run single, and another sophomore, Nino Puckett, pitched out of a bases-loaded jam to notch the save as DeLaSalle defeated Saline, 7-6, in the MHSAA Division 1 baseball championship game at Michigan State University's McLane Baseball Stadium.
It was the fourth MHSAA crown for DeLaSalle (28-13), which entered the tournament unranked. Second-ranked Saline (35-7) lost in the Final for the fifth time in school history.
Two other sophomores, starting pitcher Easton Sikorski and catcher Mac Graybill, played key roles in the Pilots' victory.
"At the beginning of the year, we knew we might take our lumps a little bit and we did early on, but we grew from it," DeLaSalle coach Matt Cook said. "We lost a lot of close games, a lot of one-run games. You learn from it and you chalk it up as experience and you move on and you try to get better every day.
"Our seniors, they kept this team together. You need leadership when you have a young team and five seniors – you couldn't ask for better leaders. I didn't name captains this year because all five of them were captains in my mind. They were the guys."
The Pilots led 4-0 after two innings, but Saline chipped away and used a three-run sixth – highlighted by Sean O'Keefe's two-run homer – to seize a 6-5 lead.
DeLaSalle responded in the bottom of the sixth as Matt Kostuch was hit by a pitch leading off. Brett Sandora pinch ran and was sacrificed to second. Graybill was then hit by a pitch, prompting Saline to go to its bullpen for O'Keefe.
An O'Keefe pitch was in the dirt and Sandora stole third, sliding in under the tag, while Graybill moved up to second. Bush then delivered a hard single back through the box, scoring Sandora to tie the score and Graybill with the go-ahead run.
"They read ball-in-dirt," Cook said of his base runners. "We're not a big stealing team, especially with Bryce Bush and (cleanup hitter) Rob Zurawski, we know they can drive guys in, so I don't want to run into outs.
"We tell our guys read ball-in-dirt, and as soon as (Sandora) saw the ball go in the dirt he instinctually took off like he should. Thank goodness he was safe because that put Bryce in a great position. Bryce comes through time and time again."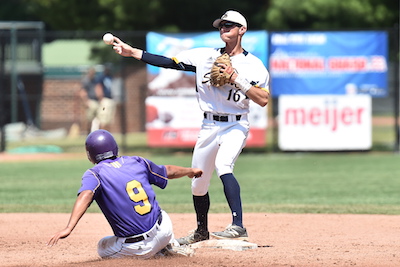 Puckett relieved Sikorski to start the top of the seventh inning. Three walks – one intentional to O'Keefe – and a sacrifice bunt loaded the bases with one out. Puckett induced a 4-6-3 double play to end the game.
Sikorski allowed six hits, walked two and struck out two in earning the victory.
Josh Nelson, Saline's second pitcher, took the loss. He allowed three runs on two hits, walked three and struck out three over 4 1/3 innings. He had also entered Thursday's Semifinal in relief, earning the win over reigning champion Hartland. 
The Pilots entered the tournament with 21 wins against 13 losses – hardly an attention-grabbing win percentage. But few teams across the state can lay claim to having played the type of schedule that De La Salle did.
"Every Wednesday and Saturday, when we have our league doubleheaders, we're facing some of the best teams in the state," said Cook, who rattled off some of the Pilots' opponents, a list that reads like a who's who of the state best programs, including the likes of Orchard Lake St. Mary's, Birmingham Brother Rice, Dearborn Divine Child, Detroit U-D Jesuit and Detroit Catholic Central.
In addition, the Pilots' schedule this season included Sterling Heights Parkway Christian and Grosse Pointe Woods University Liggett, both of which played for MHSAA championships Saturday.
"It's state-championship caliber baseball every game you play," Cook said. "It puts you in position where you're ready.
"We never played bad baseball this year; we always played good baseball. We were just learning to finish a day. We'd split doubleheaders, we'd win by a couple runs, we'd lose by one (run). We just learned to finish, play a complete day of baseball, and we started to do that and things started to roll and the kids were confident."
PHOTOS: (Top) A Warren DeLaSalle hitter gets around on a pitch during Saturday's Division 1 Final. (Middle)  Saline shortstop Thomas Miller turns to throw to first base for a potential double play as DeLaSalle's Ben Hyndman slides into second.