Escanaba Delivers Memorable D2 Encore
June 15, 2019
By Perry A. Farrell
Special for Second Half
EAST LANSING – Two rarities happened in the first inning of the MHSAA Division 2 softball championship game Saturday at Michigan State's Secchia Stadium.
The first was Escanaba all-state pitcher Gabi Salo allowed a walk against Stevensville Lakeshore. The second was Salo gave up a run.
Salo entered the championship game with a 25-2 record, 0.24 earned run average and 337 strikeouts and just 21 walks.
If that's not enough, she had given up only six earned runs all year.
She gave up three runs – two earned – in the championship game, but contained the Lancers enough to secure a 7-3 victory that clinched the Eskymos' second straight Division 2 title.
"I thought I had my best stuff today,'' said the junior pitcher. "I thought I went out strong.
"This means so much. Our school went without a state title from 1981 until last year. For us to bring home another one, I don't have words. This one feels even better than last year.''
The Lancers surprisingly struck early when Salo surrendered a two-out walk and Meghan Younger drove her home on a double just out of the reach of the centerfielder. It was just the seventh earned run Salo had given up this season.
She finished Saturday with 11 strikeouts while allowing seven hits. Escanaba finished the spring 34-3, while Lakeshore ended 33-11.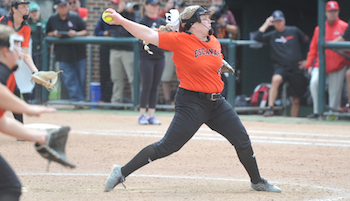 Salo helped her own cause in the second inning with a game-tying sacrifice fly, scoring Lexi Chaillier, who had walked, stolen second base and was sacrificed to third.
Escanaba took advantage of two walks and a bounce out to first by Chaillier to take a 2-1 lead in the bottom of the second inning.
Younger was able to solve Salo with two singles and a double, but her teammates mostly were stifled until the sixth.
Meanwhile, Escanaba loaded the bases in the bottom of the fourth inning with one out on a walk and singles by Heather Bergstrom and Carsyn Segorski. Chaillier popped out, but Nicole Kamin and the Eskymos took advantage of a fly ball dropping out of an outfielder's mitt that allowed three runs to score and gave the reigning champ a 5-1 lead.
A four-run cushion with three innings left was all Salo needed.
Lakeshore put together a threat in the top of the sixth inning on a single by Younger and fielder's choice and error by Salo.
Shelby Grau singled, but rightfielder Chaillier threw out a Lakeshore runner at home to negate a potential run. However, Anna Chellman came through with a two-run single to left field to make it 5-3. Salo got out of trouble with a strikeout with two runners on.
"Originally, I was going to throw it to first because I've gotten a few girls out at first on those kinds of hits,'' said Chaillier. "I saw the girl running from third, and I knew I had to go home with it.''
Said winning coach Gary Salo: "(Chaillier) better be on some all-state teams. I'm going to be upset if she isn't. She does everything for us. That was a great throw."
Escanaba sealed the win in the bottom of the sixth inning when a Lakeshore wild pitch allowed two runs to score.
"All week we just kept saying we're three wins away from going to Wienerlicious (restaurant in Mackinaw City) … (then) we're two wins away," Gary Salo said. "We're going to go back home and celebrate there. We haven't been home all week."
PHOTOS: (Top) Escanaba's Georgia Lehto connects with a pitch during Saturday's Division 2 Final. (Middle) The Eskymos' Gabi Salo fires toward the plate.