Expectations High for Battle-Tested Gaylord
January 5, 2018
By Dennis Chase
Special for Second Half
GAYLORD – During the winter of 2001, Davison's Chase Metcalf was in the process of winning a second consecutive MHSAA individual wrestling title.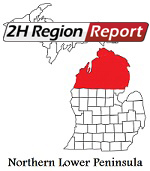 Jerry LaJoie, the wrestling coach at Gaylord, was quite familiar with Metcalf and his younger brother, Brent, who would finish 228-0 as a prep and win two NCAA championships.
"I knew the family," said LaJoie, whose nephew Tony was a two-time MHSAA Finals champion at Clarkston during those days. "The Metcalfs are a staple in Michigan wrestling. I got to watch the Metcalfs grow up in front of me. They were little kids coming on to the wrestling scene when I was a young coach."
So when the LaJoies welcomed a baby boy on Christmas Day in 2001, they named him Chayse after Chase Metcalf.
"We wanted to make it our own (first name) so we added a 'y' to it," said LaJoie.
Chase Metcalf went on to wrestle at the University of Michigan, then tragically died in an auto accident in 2005 at the age of 21.
As for Chayse LaJoie, he's making his own mark on the mat. As a freshman last season, LaJoie captured the Division 2 individual title at 103 pounds. That same day, his brother, Dominic, claimed 125 pounds. Only a one-point loss at the 2016 Finals prevented Dominic from becoming a four-time state champ, matching Brent Metcalf's feat.
It was a proud day for Jerry LaJoie, who has built the Gaylord wrestling program into one of the state's best, as he watched his sons realize dreams on the same day.
"As a coach, it was awesome," said LaJoie. "As a dad, it was very special. They were drill partners. All the hard work paid off."
Athletic director Christian Wilson savored it, too.
"It was a special deal because not only are they outstanding wrestlers, but they're great kids," he said. "Anytime you have kids come through your school, and they're able to see their goals achieved, it's pretty neat. Not just for our wrestling program and school, but for our community."
Dominic is now wrestling at Cornell University. Still, the Blue Devils return the nucleus of a team that lost a two-point match to St. Johns in the team Regional Finals a year ago, this after two consecutive MHSAA Semifinal berths. Four Individual Finals placers are back.
"We have high expectations because we have a veteran squad," said senior captain Joe Markham, who took sixth at 285 last year. "We expect great things out of each other. We want to get back in the running for states."
Gaylord, ranked No. 3 in Division 2 by Michigan Grappler, opened this campaign with tournament wins at Marquette and Greenville. The Blue Devils placed third at the Goodrich Tournament of Champions over Christmas break with 10 wrestlers.
Gaylord is especially strong in the lower weights with Chayse LaJoie, senior captain Derek Giallombardo and sophomore John Henry Sosa. The three are rotating, depending on style matchups, in the 119, 125 and 130 weight classes. Giallombardo finished fourth at 119 a year ago, while Sosa placed fifth at 112.
"We're flexible," said Jerry LaJoie. "We can move our lineup around, and our kids are still capable of performing at high levels."
The lineup also features Will Sides at 112, Rico Brown at 130-135, Dmitri Smith, Cody Starks and Seth Gregory at 140-145; Jacob McKnight at 145, Kenny Smith at 152, Brady Schulz at 160-171, Cade Foster at 171-189, A.J. Krumholz at 215 and Markham at 285. Foster and Markham won the 171 and 285 weight classes at Goodrich. Giallombardo placed second to Utica Ford's Terrin Machart at 125, while Chayse LaJoie was third at 119.
"It's tough to find a couple holes in our lineup that we can't protect or move around, and that's what makes us tough," said LaJoie, who entered the season with a 632-131-2 career record.
Over the holidays, five former Blue Devils returned home to work with the team, including three who are wrestling in college (Dominic LaJoie, Jon Martin at Central Michigan University and Trevor Giallombardo at Ohio University).
"We use the Christmas break to correct some of our mistakes and work on the finer things," said LaJoie. "Plus, the college kids come in and show their techniques."
Chayse LaJoie and Derek Giallombardo are training partners this season. Previously, they worked with their brothers.
"Coach likes to say, 'iron sharpens iron,'" Giallombardo said.
Chayse LaJoie appreciates facing good competition in practice. After all, working with his brother in the past helped him develop his work ethic and focus.
"You don't have to push Chayse to work hard," his father said. "He's a goer. He'll battle with anybody. Dom was more technical. Chayse is more physical."
LaJoie said his captains, Giallombardo and Markham, lead by example. Both are capable of winning Finals titles this winter, he said.
When asked what his most memorable moment has been on the mat, Giallombardo said that chapter has yet to be written.
"I'm hoping to make that moment happen at the state meet this year," he said.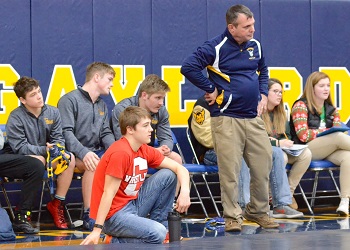 Markham, meanwhile, is motivated by how he finished 2017. He injured his ankle at the Individual Finals and had to default his last match.
"I felt kind of empty afterwards," he said." I'm using that to drive me."
Markham likes the makeup of this team.
"I like our work ethic," he said. "You're not born with that skill, you have to work at it – and we have it."
Still, he added, the Blue Devils must avoid complacency.
"Just because we have state medalists doesn't mean anything coming into this season," he said. "We have to keep working, keep building off what we have.
"And we have to stay mentally tough. It's a long season, and we're going to have to stay mentally strong if we want to finish the way we expect."
The Blue Devils will be put to the test Saturday in a highly competitive six-team tournament at Grand Ledge.
"We'll see some tough teams," said Giallombardo, who has signed with Ohio University. "We need to do well for seeding."
Chayse LaJoie can't wait for the challenge.
"It excites me," he said. "I love competition."
After Grand Ledge, Gaylord will begin pursuing another Big North Conference crown. The Blue Devils have won 10 consecutive league titles.
"Both Traverse City teams are getting better, and Petoskey is always tough," said Jerry LaJoie. "We'll have to be on our game."
But the Blue Devils have goals beyond that.
"If we stay healthy, I think we can get back to states," said Chayse LaJoie. "But that's if everybody stays healthy and dedicated."

Dennis Chase worked 32 years as a sportswriter at the Traverse City Record-Eagle, including as sports editor from 2000-14. He can be reached at dennischase@charter.net with story ideas for Manistee, Wexford, Missaukee, Roscommon, Ogemaw, Iosco, Alcona, Oscoda, Crawford, Kalkaska, Grand Traverse, Benzie, Leelanau, Antrim, Otsego, Montmorency, Alpena, Presque Isle, Cheboygan, Charlevoix and Emmet counties.
PHOTOS: (Top) Joe Markham's arm is raised in victory during a triangular meet Dec. 21 against Ogemaw Heights and Sault Ste. Marie. (Middle) Derek Giallombardo, (top) and Chayse LaJoie are another pair of standouts for this season's Blue Devils. (Below) Gaylord coach Jerry LaJoie, and graduated son Dominic (kneeling) watch one of their wrestlers compete during the tri-meet. (Photos courtesy of the Gaylord Herald Times.)