Farmington Aims to Repeat, Perfectly
February 18, 2019
By Geoff Kimmerly
Special for Second Half
Seniors on the Farmington United gymnastics team haven't lost a dual meet during their high school careers.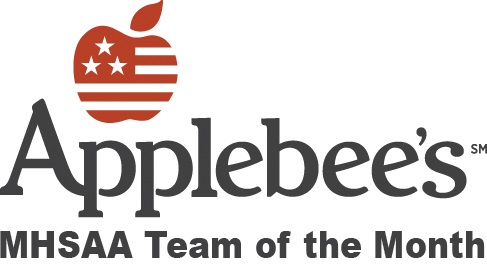 So when longtime coach Jeff Dwyer rested some of his standouts against Grosse Pointe United two weeks ago, and his team then found itself locked in a meet too close to call until the very end, well …
"They were not happy," Dwyer recalled.
Farmington United – a co-op of Farmington High, North Farmington and Farmington Hills Harrison, and the reigning MHSAA Finals champion – did manage to pull out the win that night. And Dwyer now knows his athletes have made a perfect season one of their goals this winter.
Perfection is not a goal he sets for his teams. But it's one he certainly can appreciate.
"When a team is driven like that, I know they're talking amongst themselves," Dwyer said. "When you have a core group that works hard and knows they can be one of the top teams in the state, and they go hard, that's awesome."
And Farmington United has been awesome – and then some. The MHSAA/Applebee's "Team of the Month" for January will enter Wednesday's dual against Salem with the opportunity to finish a perfect regular season, and should be the favorite to win Regional and Finals championships next month.
United closed January with its third straight championship at the Jeanne Caruss Invitational at White Lake Lakeland, scoring a season-high 147.325 – nearly three points more than last season's MHSAA Finals-winning total.
The following weekend, United won the annual Canton Invitational, generally considered a preview of the Finals, by more than three points.
United graduated two-time Division 2 individual champion Elisa Bills and another strong contributor in Emily Stecevic last spring, but has been keyed in part by junior addition Elena Vargo – an expected contender for the Division 1 all-around championship next month.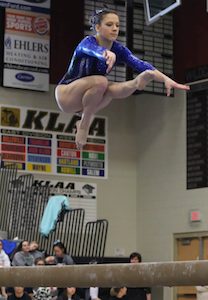 She joined a veteran group of standouts paced by senior Kacey Noseworthy (tied for third in Division 2 in 2018), senior Ava Farquhar (seventh), sophomore Sydney Schultz (12th) and sophomore Allison Schultz (20th), plus senior Shelby Smith, who posted two top-20 event finishes in Division 2 in 2018.
"They got the experience from last year, which was huge," Dwyer said. "That's invaluable. That makes life a lot easier, because they know what it takes and they're pretty serious about it."
Dwyer has coached at the high school level since 1987 and took over the Tri-Farmington program in 1994. He led Tri-Farmington to three straight MHSAA championships from 2004-06.
As his current team goes for a second straight title, he's noticed similarities to last decade's champs in his current gymnasts' competitiveness, determination and work ethic.
"This group, to carry over from last year to this year, it's not just the coaches but the girls were determined to make something happen again this year," Dwyer said. "It helped a ton getting Elena. But you still gotta count four scores in every category."
Past Teams of the Month, 2018-19
December: Warren Woods-Tower wrestling – Read
November: Rochester Adams girls swimming & diving – Read
October: Leland boys soccer – Read
September: Pickford football – Read
August: Northville girls golf – Read 
PHOTOS: (Top) Kacey Noseworthy is among high Finals placers from 2018 hoping to lead Farmington United to a second straight team championship next month. (Middle) Elena Vargo, here competing on beam, has added plenty of big scores to the mix this winter. (Photos by Roger Playle.)