Fear Not; Caledonia Continues Record Run
By Geoff Kimmerly
Second Half editor 
EAST LANSING – Everything about Thursday afternoon should have been at least a little intimidating for Caledonia and pitcher Samantha Gehrls. 
The Fighting Scots were playing in their first MHSAA Semifinal. They were facing a Farmington Hills Mercy team that had hit 27 home runs.
Did you know Gehrls is only a freshman? 
Could've fooled everyone at Michigan State University's Secchia Stadium. Gehrls threw pitches that showed she was downright fearless, holding the Marlins' big bats at bay in leading Caledonia to a 5-2 win and its first appearance in an MHSAA softball championship game.
The Scots will take on Warren Regina at 12:30 p.m. Saturday.
"I went in with the mentality that we're here right  now. The farther you get in the tournament, the better the hitters are going to be," said Gehrls, who struck out eight and walked one. "I just have to face the fact and know that I can't be intimidated because my team needs me. Obviously, it's definitely in back of my head, 'I can't hang this over the plate.' (I was) just trying to stay concentrated on each and every pitch." 
Mercy did get nine hits as both teams drove balls all over the park. Marlins sophomore Nicole Belans hit a home run that stayed inside the fence; Caledonia senior McKenzie Butgereit drove her homer over it and also had a double as her team tallied nine hits as well.
Butgereit scored the first run of the game off that double in the second inning, when senior Danielle Oracz doubled her home. Caledonia (34-4) scored two more runs in the fifth inning when senior Ashley Miller tripled in a run and then scored on an error, and then one more each in the sixth and seventh – on Butgereit's home run and then Miller singling and scoring, respectively. 
That set the most daunting scene Gehrls would face all day.
Mercy (27-4) had gotten its two runs on Belans' drive in the sixth inning, and the score stood 5-2 with Caledonia needing three outs to advance. Gehrls struck out the first of the seventh inning, but Marlins senior Alex Sobczak and sophomore Sophia VanAcker followed with singles. The tying run came to the plate – junior Abby Krzywiecki, she of a .594 average, 12 home runs and 56 RBI this spring heading into the week. 
"I'm thinking 'Oh my gosh, we have to get this girl out.' I don't even really know," Gehrls said of the thoughts spinning through her mind at that moment. "I focused on every single pitch. … And I knew that once we get this batter, we've got to focus on the next. If we get this girl, we're one step closer to getting that win."
The titanic matchup could be repeated on this field a year from now. But round one went to Gehrls, who kept the ball on the outside of the plate to draw a fly out to third base. The next batter flew out to second base to end the game. 
"She's well beyond her years as a freshman," Caledonia coach Tom Kaechele said of Gehrls. "She's strong. She lives in the weight room. She's just a great basketball player. She's just a great athlete, and I'm fortunate to have her on my team.
"Her older sister (Alexa) went on to play at Saginaw Valley (State University), and she leans on her too. But I think one of the neatest things is my junior pitcher who is out in centerfield has been a great mentor to her. Taylor (VanZytveld) has pitched in some big games. … Sami asks her for advice all the time. There's no competition, no jealousy, nothing like that, and that is so huge on a team when you have two kids, an older one and a younger one, that depend on each other." 
Miller, Butgereit, Oracz and junior Lexi Lieske all had multiple hits for Caledonia. Belans, Sobczak and VanAcker did the same for Mercy.
Warren Regina 7, Mattawan 1 
Regina's players chanted, "We're still hungry," after leaving the field at Secchia Stadium. They have room left for one more highlight from a season quickly filling up with them after an empty start.
The Saddlelites will play for an MHSAA title for the first time since 2007, and despite opening this season 3-11. 
Regina unloaded seven runs during the fifth and sixth innings to stay alive for one more game after Mattawan scored its only run in the fourth inning.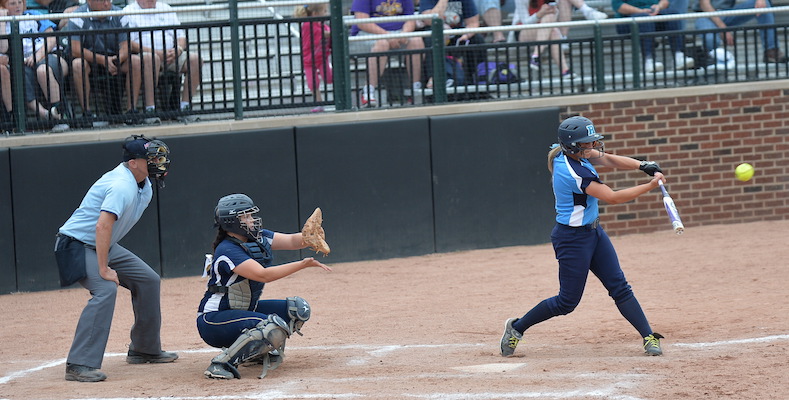 The Saddlelites had 12 hits – with nine came over the final three innings.
"We've been really working on our bunts and working on the little things, because in the beginning we weren't doing the little things, which really is helping us now," said Regina senior Riley Hison, who singled in the go-ahead run. "We've been working on our hitting too. We've been doing a lot more drills and more fundamentals than what we usually do."
Hison had two hits and three RBI total, and seniors Gina Munson, Marissa Tiano and junior Kristina Carlson all also had two hits apiece. 
Tiano was near-flawless from the pitching circle, giving up only four hits without walking a batter. Junior Amber Mazahem had one of those hits for Mattawan (30-13) and drove in the lone run.
Regina moved to 26-16, with 11 wins over its last 14 games. 
"We might as well win states now," Hison said. "We've come this far."
PHOTOS: (Top) Caledonia's Samantha Gehrls unwinds toward the plate during her team's Division 1 Semifinal win Thursday. (Middle) A Regina hitter connects for one of the team's 12 hits.