Flashback 1979: Detroit Dominates Diamonds
June 4, 2019
By Ron Pesch
Special for Second Half
The MHSAA Baseball and Softball Finals will join girls soccer's championship games in concluding the 2018-19 school year next weekend, June 13-15, at Michigan State University.
Forty years ago, baseball was concluding its ninth season with MHSAA playoffs, while softball was completing its fifth. The metro Detroit area emerged with six of the eight championships awarded, with the Detroit Catholic League earning four of those six titles as games were played at eight sites around the state.
Here's a flashback to those 1979 championship rounds:
BASEBALL
Among the tournament surprises was the defeat of Birmingham Brother Rice (23-3), winner of the Detroit Catholic League title and favorite to win Class A. Rice blew a 3-0 lead and fell to Flint Carmen 5-3 in a Regional Semifinal.  At the time, winners of Regionals immediately advanced to the MHSAA Semifinal round.
Twice beaten by Brother Rice during the regular season and runner-up to the Catholic League crown, Detroit Catholic Central posted wins over Center Line and then St. Clair Shores Lake Shore in Regional play to advance to the final round. A 7-4 victory over Adrian in the Semifinal meant the Shamrocks filled one side of the title-game bracket.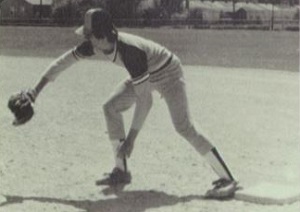 On the other side, Port Huron Northern cut down Flint Carmen, 4-2, in the Regional Final, then slipped past East Kentwood on a game-saving catch by future Oakland A's prospect Tony Moncrief. Trailing 2-1, East Kentwood loaded the bases in the seventh inning with only one out.  A bunt, fielded by Northern pitcher Steve Campau and relayed to catcher Scott MacReady, forced the second out of the inning. After two quick strikes by Campau, Kentwood's Jeff Bartoszek laced a shot to left-center, but Moncrief brought the crowd to their feet with a last-second diving catch to retire the side, and the Huskies advanced to the championship contest.
In the Final, DCC scored single runs in both the first and third innings off starter MacReady, then added two runs in both the fifth and sixth innings off reliever Norm Fretenborough for a 6-1 lead. Junior Chris Sabo, a future National League Rookie of the Year and three-time all-star with the Cincinnati Reds, had a triple and two singles and drove in a pair of runs for the Shamrocks. A seventh inning rally by Northern loaded the bases with nobody out. The Huskies scored three runs to pull within two, 6-4, before running out of steam. 
Craig Herberholz, a late-round draft pick of the Kansas City Royals, entered the game for Catholic Central in the fourth inning after starter Jeff Evans was struck in the leg by a line drive. Herberholz earned the win, finishing the year with a 9-3 mark. The final round games were played at Battle Creek's Bailey Park.
Southgate Aquinas' all-state southpaw, Paul Assenmacher, allowed three hits and struck out nine as Aquinas grabbed a 5-1 victory over South Haven in Class B, hosted at Pontiac Northern High School. Runner-up in 1978, Aquinas ended the year 25-11. South Haven committed an uncharacteristic seven errors during the game, but the biggest blow came in the third inning when starting pitcher Paul Dulik was hit by a line drive just below the knee. A bruised shin meant he was done for the day. With the game scoreless through four innings, Aquinas scored three times in the fifth and twice in the sixth, while South Haven scored its lone run in the sixth.
Assenmacher, who went on to a 14-year MLB career as a relief pitcher, allowed 35 hits and seven earned runs over 86 innings that season, while striking out 113 batters. With the win, he ended the spring with a 10-3 record.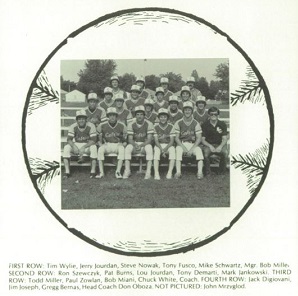 In Class C at Marshall High School, Allen Park Cabrini picked up its first MHSAA Finals baseball title behind the arms of righthander Pat Burns and Steve Nowak. Burns, a senior slinger, won five of the Monarchs' seven tournament games including an 11-1 two-hit victory in the Semifinal over Lansing Catholic Central. Novak allowed four scattered hits and struck out eight in the title game, a 2-0 win over Clare, before a crowd of 400. The fourth inning provided all the scoring needed as Jerry Jourdan drove home Tim Wylie with a single to left, followed by Chuck White coming home on an error.
It was the third trip to the final rounds for Cabrini and coach Don Oboza. The team posted a 118-47 mark over the previous six seasons, falling in MHSAA Semifinals in 1976 and 1978.
In Class D, Pete Worchester went 3-for-3 in Grosse Pointe University Liggett's 4-3 win over Frankfort, played at Wyoming. Kevin Wohlfield pitched five innings, while Jack Roberts tossed the final two for the winner.
SOFTBALL
In Class A at Southfield, coach Gary Bryce's Royal Oak Dondero squad slipped past Grand Ledge 2-1 in extra innings. With the game scoreless through three, Grand Ledge's Kelly Lawrence singled to open the fourth inning, then star pitcher Bonni Kinne doubled to left to drive in Lawrence, breaking the deadlock. Dondero's left fielder Kathie Bell ran down a pair of fly balls, followed by a spectacular diving catch by second baseman Beth Fistler to close out the inning, stranding Kinne.
Fistler got Dondero on the scoreboard in the fifth with a single, stole second then advanced to third on a dropped third strike. She scored on a sacrifice to center by first baseman Mena Reyman, knotting the game at 1-1. Dondero's Sue Larke reached second on an error in the ninth, then scored on another error for the win. It was the first state title for the Oaks since the fall of 1935 when the school, then known simply as Royal Oak, claimed a state title in football (according to media rankings; MHSAA Football Playoffs weren't introduced until 1975).
Dondero's Sandy Taylor dealt a four-hitter, picking up her 25th win against two defeats, and with catcher Diane Ashcraft earned all-state honors.
Bryce, who coached Dondero for five seasons, compiling a 130-36 mark, was named Coach of the Year. He is now in his 38th season as head coach of the softball program at Wayne State University.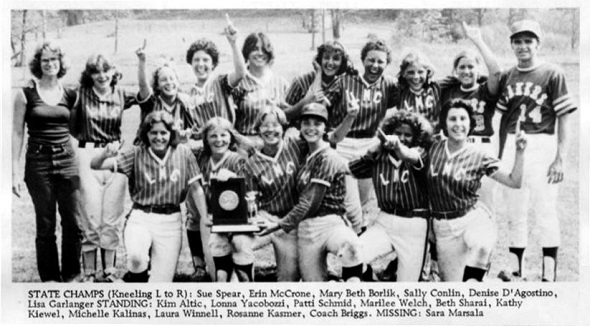 In a rematch of the 1978 title game, Fenton repeated as Class B champion, downing South Haven 10-4 in a game played at Ionia High School. Pitcher Barb Barclay upped her season mark to 25-2 with the win. She ended her high school career with a 61-5 record including a 45-game winning streak, four no-hitters, and mention in Sports Illustrated's "Faces in the Crowd." Dee Ann Moore went 5-for-5 in the contest, scoring four times and garnering five RBI. Pat Witt had a three-run homer for the winners. It was South Haven's third consecutive runner-up finish. Fenton, under coach Dave Lazar, would pick up its third straight title in 1980.
St. Joseph Lake Michigan Catholic scored three times in the eighth inning to grab a 7-4 win over Armada to earn the Class C crown, its first MHSAA Finals title in any sport. Catcher Mary Beth Borlik went 3-for-4 in the title game with three RBI. Catholic opened a first-inning 3-0 lead, featuring a triple by Borlik that pushed across two runs. Sophomore Beth Sharai picked up wins in both the semi and final contests, hosted at Clare.
In Class D, Ann Arbor Gabriel Richard's Ellen O'Keefe tossed a two-hitter in the morning's Semifinal, a 5-0 win over Mason County Eastern, and then held Morenci to four hits in its 4-2 title game win. O'Keefe swatted a three-run homer in the Semifinal, then doubled in a run in the championship game, played at Allendale. O'Keefe ended her college career as the winningest pitcher at Northwestern University, with 41 victories (including 16 shutouts). Today, her total ranks ninth in Wildcats history.

Ron Pesch has taken an active role in researching the history of MHSAA events since 1985 and began writing for MHSAA Finals programs in 1986, adding additional features and "flashbacks" in 1992. He inherited the title of MHSAA historian from the late Dick Kishpaugh following the 1993-94 school year, and resides in Muskegon. Contact him at peschstats@comcast.net with ideas for historical articles.
PHOTOS: (Top) Fenton's Barb Barclay fires a pitch in 1979 for the eventual Class B champion. (Top middle) Southgate Aquinas' Paul Assenmacher receives a throw at first base. (Middle) Allen Park Cabrini celebrated its first MHSAA title in baseball in its third trip to the final rounds. (Below) St. Joseph Lake Michigan Catholic softball earned the school's first MHSAA Finals championship in any sport. (Photos gathered by Ron Pesch.)