Frankfort Carries Perfect Start into May
May 12, 2017
By Geoff Kimmerly
Second Half editor
It's no secret in the small town of Frankfort that longtime coach Mike Zimmerman plans to retire after the 2018 season.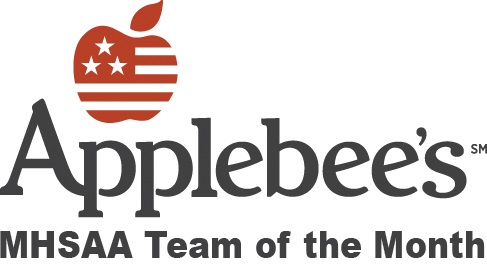 In the meantime, his Panthers – most of them juniors who will finish up next spring as well – are off to an incredible start to what is shaping up as a long and successful farewell tour.
The MHSAA/Applebee's Team of the Month for April, Frankfort's baseball team is now 25-0 – its best start under Zimmerman, who took over the program in 1994 after six seasons as an assistant coach.
Included in its April victories were a pair over Maple City Glen Lake – a Northwest Conference rival which eliminated the Panthers in the District last spring. A 10-0 win over McBain three days later on April 21 gave Zimmerman the 500th win of a coaching career that's seen him lead Frankfort to five Regional titles and four MHSAA Semifinal appearances.
He plans to be done after next season so he'll be able to watch son Brett – one of those juniors – play at Wayne State University. But of course, that's down the road a bit. For now, his Panthers are top-ranked in Division 4 and enjoying their time together that started when the current seniors got to high school and were joined the next spring by six current juniors who started as freshmen – but really, it all began much earlier than that.
"I've coached these kids since they were 5. I've always been their coach," Zimmerman said. "I know their personalities. They know my personality. And that all helps.
"It's not like I have one son on the team. These kids hang out at my house; it's like I have a whole team of sons. And that makes it special too."
Two seniors and seven juniors start, with a third senior working through an injury. From the outside, that might make this team seem young – but as Zimmerman points out, many of his players have 60 varsity games under their belts.
Junior Jack Morrow noted to the Traverse City Record-Eagle after the McBain sweep three weeks ago that he and his teammates had a feeling at the start of high school that they'd eventually put together this kind of success. The Panthers took a step with a solid 23-9 in 2016.
This spring Morrow and junior Kirk Myers together have combined to pitch for more than half that many wins already. Morrow is 6-0 with a 0.87 ERA and Myers, also the shortstop, is 7-0 with a 0.65 ERA.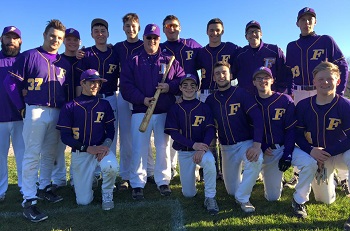 They also hit .422 and .415, respectively, with Brett Zimmerman pacing the offense at .529 and junior Griffin Kelly at .439. Zimmerman, the catcher, also has thrown out an incredible 15 of 18 would-be base stealers.
Perhaps more importantly, at least to the players, the tall guys lead the homer contest 7-4. That's just another way these guys are having fun – Panthers 6-foot and taller are trying to hold off the sub-6ers in a longball derby.
Frankfort has clinched a share of the Northwest Conference title – especially impressive again as Glen Lake also is ranked, at No. 7 in Division 4. The Panthers can claim the championship outright Tuesday against Mesick.
And then comes a tournament road with some notable obstacles – if Frankfort makes it through the District, No. 5 Muskegon Catholic Central is a possible Regional opponent while seeking its second Division 4 title in three seasons.
But Zimmerman said he players aren't looking that far, focusing first on improving so they'll be ready for whatever opportunities this postseason might hold.
"They've been together so long, they know each other well, they trust each other," Mike Zimmerman said. "They don't care about stats. They care about trying to win."
Past Teams of the Month, 2016-17
March: Flushing girls basketball - Report
February: Grand Rapids Forest Hills Central girls skiing - Report
January: Powers North Central boys basketball - Report
December: Dundee boys basketball - Report
November: Rockford girls swimming & diving - Report
October: Rochester girls golf - Report
September: Breckenridge football - Report
PHOTOS: (Top) Frankort's Kirk Myers (5) watches a teammate cross the plate during a win this season over Suttons Bay. (Middle) The Panthers celebrate coach Mike Zimmerman's 500th win. (Photo courtesy of Frankfort baseball program.)