Gabriel Richard Makes Name, Earns Renown
October 22, 2015
By Chip Mundy
Special for Second Half
ANN ARBOR – It was early in the volleyball season when Ann Arbor Father Gabriel Richard went to the Novi Invitational as the only Class B team in a talent-rich tournament full of highly-ranked Class A teams.
"We really hadn't made a name for ourselves yet," Fighting Irish junior setter Emma Nowak said, "and I don't think any of us expected to win it because we knew of the talent on the other teams that were there."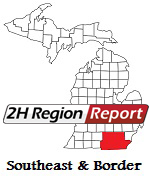 Gabriel Richard pulled off the shocker, winning all six matches without losing a set. Among the victims was host Novi, the top-ranked team in Class A then and also in the latest ranking.
Gabriel Richard had made a name for itself: Novi tournament champion. The Fighting Irish added more names as the season progressed: No. 1-ranked team in Class B and only undefeated team remaining in the state.
However, at 33-0, the name that everyone at Gabriel Richard wants is Class B champion, something the Fighting Irish have not done in volleyball since winning the 1991 Class D title. But nobody expects it to be easy.
"I think there are a lot of expectations of us to go to states and win, and I would be upset if we didn't get that far," senior middle blocker Sydney Burton said, "but I would still be happy that we got this far without losing after beating some of the best Class A schools."
Turning point
Gabriel Richard has not been a perennial power statewide in volleyball until recently. The Fighting Irish took a huge step forward last year when it won its first Class B Regional title since 1994, and the fashion in which they did it made it all the more impressive.
In the Regional Semifinal, Gabriel Richard defeated New Boston Huron, which had eliminated the Fighting Irish rather easily at the Novi Invitational two months earlier. Then, Gabriel Richard had to face Chelsea, which had easily defeated the Fighting Irish three times earlier in the season.
The run ended in the MHSAA Quarterfinals, but the performance in the Regional certainly was a turning point for the program.
"I would say the Regional was a key," Gabriel Richard coach Mayssa Bazzi said. "It was a tremendous confidence-builder, but not having been to the state tournament before, last year the girls seemed a little shell-shocked.
"I don't think we performed, but I do think the Regional definitely was a kick start to this year."
Something to build on
Although Gabriel Richard had its best season since 1994 last year, Bazzi felt the team had underachieved.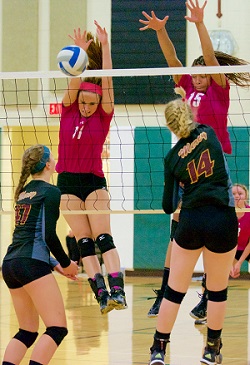 "I believed we had this talent last year," she said. "We saw the level of talent on the team, and we felt at times they were underachieving.
"It's just a matter of this year we have the confidence to make it happen."
The only real way to gain confidence is by being successful, and everything came together at Novi on Sept. 12. Nineteen Class A teams and one Class B team does not offer much hope for the lone Class B competitor.
"It was a tournament we went into believing we would do well," Bazzi said. "This was our third year going, and every year we did a little better. We made it to the Gold playoffs every year but got knocked out in the first round, and this year something happened to the girls in the playoffs."
In pool play, Gabriel Richard defeated Livonia Stevenson, Clarkston and Canton in straight sets, earning a match with strong Birmingham Seaholm in the quarterfinals. The Fighting Irish advanced with a 25-14, 26-24-victory.
"None of us expected to win it, but once we won our three pool play games and we beat Seaholm in our first bracket-play game, we had belief that we could win," Nowak said.
That set up a match with top-ranked Novi, the Class A runner-up in 2014, and Gabriel Richard had little trouble in a 25-16, 25-15 victory. Lake Orion, another highly-ranked team, was next in the championship match, and the Fighting Irish scored a 25-22, 25-21 victory.
At that point, the season changed dramatically.
"I did not think that we were going to win because they were all Class A schools, and we're a Class B school," senior defensive specialist Sarah Brooks said. "But once we won, I was like, 'This team is going to go really far together.' "
Senior leadership
The recipe for success – at least according to some of the players – is almost as simple as they have made the season appear. A close, tight team with solid senior leadership has provided an atmosphere for the players to realize their potential.
"We all come from different backgrounds," senior libero Rachel Dunlavy said. "My freshmen and sophomore year, I felt like the varsity team had a lot of cliques on the team – the team was really divided – and last year and this year we've had a lot of team unity, and I think that's because some of the captains we've had have tried to bring that together."
Senior Emily Tanski, the team's top performer and one of 10 finalists for Miss Volleyball in Michigan, had similar feelings.
"Our closeness is the key," she said. "We're able to take each other's constructive criticism, and also, in the halls in school we're all like, 'This is our family,' and we don't leave people out.
"The new sophomores on the team are part of us now, and we're shaping them to be how we want them to be when the seniors are gone."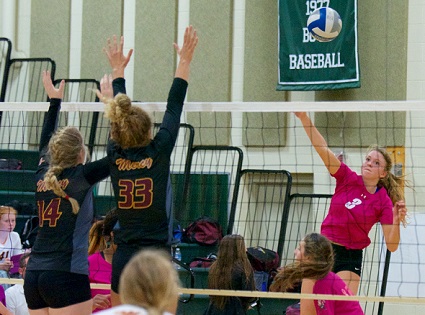 Tanski is one of three Gabriel Richard players headed east to play on the collegiate level. She has agreed to play at the University of New Hampshire, while Burton is headed for Northwest Missouri State and Dunlavy is bound for Stonehill College in Massachusetts.
Tanski is a three-time Class B all-state selection while at Gabriel Richard, making first-team last year after being a third-team selection as a sophomore and earning honorable mention as a freshman.
"She is easily our best all-around player," Bazzi said. "She brings the experience of having played at a high level for a long time. I know the girls look at her as a leader, and she has a calming effect on the team.
"As long as we get that great pass, and Emily gets set up, she is hitting close to .400 this season."
Missing piece
Last year, Gabriel Richard had a pressing issue: It did not have a setter in place to take over for its setter who had graduated in 2014. So Bazzi turned to Nowak, who had never been a setter during her short playing career.
It was a gamble in more ways than one.
"We needed somebody desperately," Bazzi said. "I just looked at the girls who were in the program and felt she was one of our best athletes, and I said, 'You either learn to set and you will get playing time, or you can continue to fight for a hitting position, and you might find yourself on the bench a lot.'
"She's a kid who wants to be on the court and will be upset if she's not on the court, but there was a little bit of resistance."
Nowak said the resistance was more a concern that she would not be able to do the job effectively.
"My initial reaction was, 'I don't know how I will do at this position but the team needs a setter and I want to play, so if the team needs a setter, I'll be the setter,' " Nowak said.
And now, she is successful and happy as the team setter.
"It's really nice to have a part in every play in the game," she said. "I love it."
And it helps to have players like Tanski and junior Jurnee Tipton – a potential Miss Volleyball nominee in 2016, according to Bazzi – ready to turn those sets into kills.
"It's amazing," Nowak said. "Even if I struggle some games with my sets, they're just all so talented that they make up for it. They're awesome."
Targeted team
Being the lone undefeated team in the state comes with some challenges. One of them is facing the other team's "A" game every night. It is something very real for the Fighting Irish and something they had not experienced in previous seasons.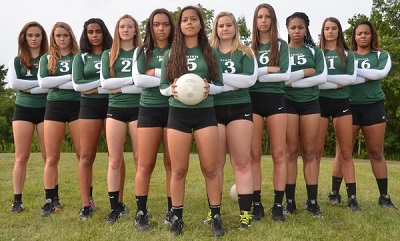 "At the Novi tournament, I felt like a lot of teams didn't expect us to come out that strong, so we kind of took them by surprise," Burton said.
That all changed last weekend in the strong Beast of the East tournament, which Gabriel Richard won by again beating some of the top Class A teams in the state.
"At Beast of the East, I felt like we had a big target on our back," Burton said.
The Beast of the East was more grueling than Novi as the Fighting Irish had to play 17 sets over a 12-hour span. On the way to winning the championship, the Fighting Irish knocked off rated teams like Birmingham Seaholm, Lake Orion and Grand Rapids Christian. And, unlike the Novi tournament, Gabriel Richard had to rally to win some matches after losing the first set in a best-of-three.
Bazzi said those tough matches will prove beneficial to her team down the road.
"It was more difficult than Novi, but the girls got it done," she said. "We had some teams that really pushed us, and we needed it. We played three teams where we dropped the first set, and tournaments it's best of three. Our team, maybe for the fourth time this season, came back from a major deficit to win.
"I believe these tight matches will give us what we need to help us make it to where we should."
In the championship match against Grand Rapids Christian, the Fighting Irish squeezed out a pair of two-point victories to win the sets.
"We had played a lot of matches, and it was late," Tanski said. "I think how we played in that last game, strong and hard, and how we continued to play that way was something I will remember.
"That final match was an emotional battle, and that will stick with me."
Wednesday night, Gabriel Richard earned a spot in the championship match of the Detroit Catholic High School League. The Fighting Irish will play Pontiac Notre Dame Prep on Monday at Madonna University.
It is a chance to add another name to the growing list.
"I think we have the total package," Bazzi said. "Our defense is great, but I would not say we have the best defense in the state. Our setter works her tail off, but she's not the best setter. I would say she's in the top 10 setters in the state.
"We have hitters who are great, Emily and Jurnee. They are our main go-to hitters, but we have other girls in our front line who help take the pressure off of them."
Bazzi and her assistant coach, Ashley Williams, said as great as this season has been, working with the players has been even greater. And they know something about team togetherness: They were teammates while playing at Wayne State University more than 10 years ago.
"The wins are awesome, but they're just great girls," Bazzi said. "They're wholesome, smart, loving, great, great kids, great teammates, very respectful. They have fun on the court. The girls are good girls."
They also are unbeaten girls. Top-ranked girls. Tournament championship girls.
Yes, they certainly have made names for themselves. And they are hoping to add the biggest one of all: Class B state championship girls.

Chip Mundy served as sports editor at the Brooklyn Exponent and Albion Recorder from 1980-86, and then as a reporter and later copy editor at the Jackson Citizen-Patriot from 1986-2011. He also co-authored Michigan Sports Trivia. E-mail him at chipmundy@comcast.net with story ideas for Jackson, Washtenaw, Hillsdale, Lenawee and Monroe counties.
PHOTOS: (Top) Ann Arbor Gabriel Richard volleyball players celebrate during a match earlier this season. (Middle) Sydney Burton (11) and Jurnee Tipton put up a block against Farmington Hills Mercy. (Middle below) Emily Tanski drives a kill past two Mercy blockers. (Below) Gabriel Richard's varsity line-up. (Photos and video below courtesy of Gabriel Richard volleyball.)