Gabriel Richard Savors Flawless Finish
December 4, 2015
By Geoff Kimmerly
Second Half editor
All that the Ann Arbor Gabriel Richard volleyball team accomplished this season is still sinking in.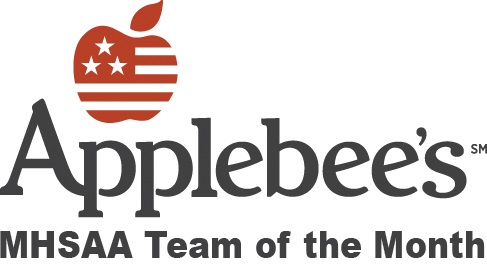 The Fighting Irish became the first Michigan high school team since Marysville in 1998-99 to finish as an undefeated MHSAA champion, rolling to a 42-0 record on the way to winning the Class B title. They achieved this milestone despite playing a schedule loaded with 21 teams ranked at some point in either Class A or Class B – including eventual Class A champion Novi.  
And Gabriel Richard did more than just win every match – it dominated, with a set record of 102-6. The Irish won all eight of their MHSAA Tournament matches 3-0. For the season, they beat teams by an average of 9.5 points per set; during the tournament, that average margin of victory bumped up to 11 points.
The program, which last won an MHSAA title in 1991, in Class D, finished a solid 22-7-1 in making the Class B Quarterfinals in 2014. But the jump to history-making, and in this dominating fashion, was extraordinary – and in addition to other accolades, earned Gabriel Richard the honor as November's Applebee's Team of the Month.
"I've been thinking back to all of those matches that were really, really close, and easily could've gone the other way. There's something very special about this group of ladies," said Gabriel Richard coach Mayssa Bazzi, a former standout at Dearborn High and Wayne State who finished her third season coaching the Irish. "Every single one of them is very humble. First and foremost, they're just good girls. And I just think that helps."
Each month during the 2015-16 school year, Applebee's will recognize a Michigan high school team or teams not only for performances on the field of play, but also in the classroom and community.

Over the last two weeks, Bazzi has received congratulations from coaches throughout the state, and especially Gabriel Richard's Detroit Catholic League. An observation by one who saw her team multiple times has stuck with Bazzi most.
The Irish had plenty of star power – senior Emily Tanski and junior Jurnee Tipton made the Class B all-state first team, while seniors Sydney Burton and Rachel Dunlavy made the second. But that opposing coach noted that the Irish didn't have one player "full of herself," but instead all of the players were "full of our team." That selflessness was something Bazzi knew to be true, but this coach put it into words she'll continue to cherish.
That quality showed as the Fighting Irish took the opportunity to cheer on a former opponent only hours before playing for the Class B title. After word got out that Novi's fan bus was unable to make the trip to Battle Creek for the MHSAA Finals because of snowy weather, the Gabriel Richard players filled in parts of two rows of the Novi student section at Kellogg Arena to help root on the Wildcats during their match against Romeo.
The successes continue off the court. The Irish carry a grade point average of 3.68, which earned them academic all-state honors from the Michigan Interscholastic Volleyball Coaches Association, and three seniors earned academic all-state individual honors as well.
A number of Gabriel Richard players also are involved in athletic director Hally Yonko's school health club that spreads awareness and education on health-related topics. As part of those efforts, they helped raise nearly $3,000 for the school's annual cancer scholarship fund, led the prayer service after an all-school Mass and helped with the annual walk as well as participated in an activity for the American Cancer Society's Great American Smokeout, which encourages smokers to quit.
"Their success brought us all together … our coaches, athletes, student body, parents, staff and community members," Yonko said. "We would always say a prayer after each game as a team, and in the playoffs the whole student section began joining in – even during the state semi and finals behind the student section bleachers. It was great to witness and see our students supporting each other and the girls play for each other, their school, their families and God."
Past Teams of the Month:
October: Benton Harbor football – Report
September: Mason and Okemos boys soccer – Report

PHOTO: Ann Arbor Gabriel Richard celebrates last month's Class B Semifinal win over Goodrich.