'Girls Night Out' Takes over Stadium
September 19, 2012
By Geoff Kimmerly
Second Half editor
A crowd of roughly 1,200 fans – including more than 700 students – loaded into Muskegon Mona Shores' football stadium on Sept. 5.
Batman, Captain America and the Cat in the Hat were there among cheering sections out in full force. Festivities included plenty of sun and live music to keep the crowd rolling. 
It was a typical football night. And this was a typical football crowd. But Sept. 5 was a Wednesday. And the four teams playing on this night were a little bit "outside" of their natural element.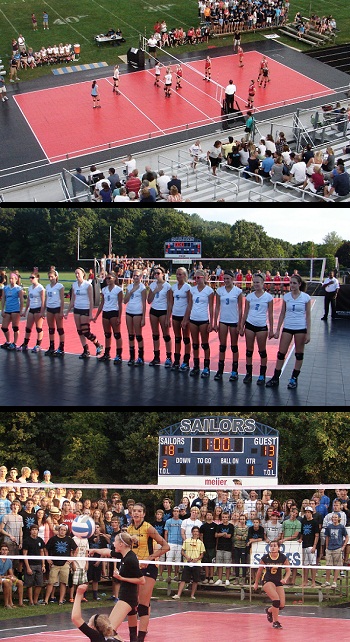 Mona Shores hosted the Grand Haven, Fruitport and Spring Lake volleyball teams for "Girls Night Out," a quad match that began with two rounds on portable courts in the football stadium and finished before a raucous crowd inside the Sailors' gym.
"The energy was outstanding. The student athletes playing loved the fact they were treated like football players on a Friday night," Mona Shores athletic director Ryan Portenga said. "We had the adults in the bleachers facing the kids, and portable bleachers closed off (the court) with student sections yelling back and forth. It was wild."
The idea was sparked some by a similar match between Grand Rapids Forest Hills Central and Grand Rapids Christian last season, when those teams played on a portable court on top of a high jump area.
But the additional challenge at Mona Shores was building two courts so four teams could play, sitting mostly on the track but also partly on the grass near the football sideline. The 12-by-12 inch plastic tiles, supplied by Illinois-based NetLynx, were pieced together like a puzzle by a crew that worked until 10 p.m. the night before.
Organizers waited out a forecast calling for thunderstorms. And given the significance of these matches, conditions had to be as close as possible to perfect – at the time, Grand Haven and Mona Shores were honorable mentions in Class A, while Fruitport (in A this fall) is the reigning Class B MHSAA champion and Spring Lake was a semifinalist in Fruitport's district last season.
But it came off with barely a hitch. The first matches began at 6 p.m., and the football stadium lights were turned on about an hour later. The third matches were played in the school's gym in front of all four student sections cheering throughout the final points.
Mona Shores finished 3-0, while Grand Haven was 2-1. Fruitport ended 1-2 and Spring Lake fell in their three matches.
With the help of a forklift and workers who stayed late, the courts were cleared from the football field by 1 a.m.
"It takes a lot of parental involvement to pull of that kind of event," Portenga said. "We had a lot of helping hands."
Click for additional match coverage from the Muskegon Chronicle. 
PHOTOS courtesy of the Muskegon Mona Shores athletic department.