Grandville, Dakota Follow Veterans' Leads
By Geoff Kimmerly
Second Half editor 
EAST LANSING – A powder puff football game was not going to keep the Grandville softball team from making history this season.
Ellie Muilenburg made sure of that. The Bulldogs had big plans, but needed her to keep them.
Sporting a white head band, maroon hair bow and black plastic brace on her left knee, Muilenburg took the pitcher's circle for Grandville's first MHSAA Semifinal since 1982.
Less than a year after tearing a knee ligament, seven months after surgery to repair it and about 30 games after she returned to the circle, the Bulldogs' senior ace allowed two hits and struck out nine in a 2-1 win over Clarkston at Secchia Stadium.
On Saturday, Grandville will play for its first MHSAA softball title.
"After my ACL injury, I thought it was going to be a really tough battle coming back, and it was. But I've come back stronger than I've played my whole career," Muilenburg said.
"It was mentally, emotionally, physically draining. But I knew I could do it for my team. We've been saying since day one this was the state championship team. We knew we could make it."
The Bulldogs (32-7), an honorable mention in the final regular-season poll, will face top-ranked Macomb Dakota (35-2) at 12:30 p.m. Saturday.
Muilenburg also helped pitch Grandville to league and District titles last season and is a four-year varsity player. But she suffered a knee injury during a powder puff football game in the fall and had surgery just five months before her softball team's first games of this spring.
"There were times when she'd go, 'I'll be back,' and I'd go, we'll see," Grandville coach Troy Ungrey said. "Ten games in she said, 'I'm testing it out next week.' When she said she was ready to go, of course I said, 'Yes!'" 
Muilenburg did indeed return for the team's 11th game, a 14-3 win over Holland West Ottawa where Ungrey noticed "she had a smile on her face like the first game she threw for us" freshman year.
With Thursday's win, Muilenberg moved to 17-1 since her return. But a young Clarkston team nearly put Grandville's good times to an end.
With only one senior on the roster, the Wolves (32-10) – also a rankings honorable mention – matched zeroes with the Bulldogs through five innings. Grandville scored its runs in the top of the sixth, both on errors. Clarkston came back in the bottom of the inning and loaded the bases, scoring on freshman Sierra Kersten's sacrifice fly with two outs – but Muilenburg came back to get a swinging strikeout to end the rally. She also got the final out on strikes before being engulfed by her teammates.
"As a pitcher, it's really a mental game. And so mentally, I just have to think I'm better than you – I'm going to get this; this is my game," Muilenburg said. "And so I just turn around and throw how I do."
She struck out nine and gave up only two hits, while Clarkston sophomore Olivia Warrington didn't yield an earned run and struck out six while allowing four hits.
Macomb Dakota 6, Mattawan 3
Dakota was in a similar spot as Grandville last season, making a championship game for the first time before falling to Farmington Hills Mercy in the Final.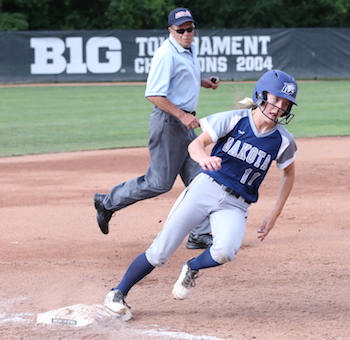 It's been tough for the Cougars this spring to not look ahead to mid-June. But putting up four runs in the first inning Thursday provided a deserved reward for their self-discipline leading up to that point.
"All year, it's been come back here, do work and stay focused," Dakota junior centerfielder Olivia Patton said. "Each game, we knew that each inning counted and everything matters … (but) we knew that we wanted to come back here all season."
Patton had one of the hits and scored the second run of that first-inning rally, which included senior first baseman Julia Salisbury driving in one, senior pitcher Kendahl Dunford doubling home two and sophomore catcher Sam DiCicco knocking in the fourth.
For the game, Patton, junior shortstop Corbin Hison and senior leftfielder Kattie Popko all had two hits. Patton's second was a triple.
Fifth-ranked Mattawan (32-8) did get to Dunford for one run in the first inning and two in the third. But she retired the final 12 batters in order, giving herself and a number of contributors from last season another chance to win the program's first title.
"The first time we were here was very nerve-wracking, and obviously it still is," Patton said. "But knowing we can do it, and staying positive, is very helpful."
Mattawan junior pitcher Emily Koperdak also had two hits and scored twice. Senior third baseman Joanna Bartz drove in two runs.
PHOTOS: (Top) Grandville's Ellie Muilenburg unloads a pitch during Thursday's first Division 1 Semifinal. (Middle) Dakota's Lauren Bobowski rounds third base on the way to scoring one of her team's six runs.