GRCC, St Mary's Soak in D2 Success
By Matt Schoch
Special for Second Half
EAST LANSING – Grand Rapids Catholic Central's Brenden Leonard said Thursday that teammate Joe Collins had ice water in his veins.
Funny, because while he said that, Leonard had ice and freezing cold water all over his body.
The ninth-hitting senior, who came into the night with three RBI on the season, was a catalyst for his team's 3-2 victory against Trenton in the Division 2 Semifinal at Michigan State's McLane Baseball Stadium.
Leonard reached base three times, playing a hand in all three runs, and Collins shut the door, striking out the side in the seventh to preserve the win.
"That kid (Collins) is made for those moments, ice in his veins, cool as a cucumber," Leonard said, shortly after getting the Gatorade water bath from his teammates while doing post-game media interviews. "He's built for those moments – level-headed and he's always making the plays."
Leonard could've been referring to himself after his RBI single in the second inning opened Catholic Central's scoring, and pinch-runners off his hard-earned walks provided the other runs.
"Everyone on this team is just a gamer," Collins said. "When we need a big hit, a big play – this whole tournament, whoever has been up at the plate, they've made the play for us.
"That's kind of defined our tournament, in my opinion. Just big plays when we need them from everyone."
Ben Joppich earned the win, allowing two runs over six innings and improving to 9-1 in his senior season. 
Joppich gave way to Collins for the seventh, where the reliever shut the door, setting down one Trenton batter looking and the other two swinging.
"I had to settle myself down during warmups a little bit, but once I threw that first pitch, it was just kind of a normal game, just got settled in," Collins said. "We needed three outs and then we're going to the state championship. That got me settled down."
Coach Tim MacKinnon and the Cougars (27-10) will play Orchard Lake St. Mary's at 11:30 a.m. Saturday for what would be the program's second Finals championship and first since 1985.
In the loss, Trenton junior right-hander Kyle Richey allowed two earned runs in six-plus innings, striking out six. 
Gabe Cavazos opened the scoring for Trenton (32-10) with an RBI single in the first inning.
Catholic Central took the lead on a pair of two-out RBI singles, first by Leonard in the second inning to tie, and then by junior Kyle Tepper in the fifth for the lead.
Trenton tied it on a schoolyard play in the bottom of the fifth. A runner stole second, drawing a throw from the Catholic Central catcher. After Trenton's Brenden Donovan broke for home, the throw to the plate was high, and the junior scored his second run of the night.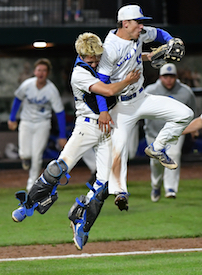 Catholic Central responded in the top of the seventh, as another throwing miscue led to the winning run.
Myles Beale singled pinch-runner Matt Moore to second after Leonard's walk, and Trenton coach Todd Szalka went to sophomore Micah Ottenbreit to relieve Richey.
Ottenbreit struck out the first batter he faced, and then Luke Passinault's grounder to second base looked like a potential inning-ending double-play ball.
However, an errant throw after the force out at second allowed Moore to score.
Collins, who also had a hit, took it from there.
"It's something that Catholic Central is not really used to – we're mostly a football school, but we're a baseball school too," Leonard said. 
"We can play a little ball. So I guess we'll play a little ball Saturday."
Orchard Lake St. Mary's 10, Muskegon Oakridge 0 (6 inn.)
Junior left-hander Logan Wood threw a complete-game, two-hit shutout to earn the win.
Wood struck out 10 batters and walked two, and closed his pitching season with a 10-0 record.
"Just one more," Wood said. "We had a great game. The team hit the ball, I pitched well, a great game overall. I was feeling pretty good right from the start coming out of the bullpen."
OLSM (33-9-2) stayed unbeaten over its last 28 games, a stretch that includes two ties.
Wood struck out five batters in the first two innings, and coach Matt Petry said his ace needed just 69 pitches in six innings.
"Logan did an excellent job," Petry said. "For his standards, he struggled last time against St. Clair, but kept us in the game. But today, I think he almost took it personal about his last outing.
"He wanted to be great today, and he was."
The Eaglets will be going for their fourth title Saturday and kept Oakridge at bay, as Eagles coach Brandon Barry was going for career win No. 500 and the school's first Final appearance.
Senior pitcher Koleman Wall kept Oakridge (26-8) in the game early, stranding four runners in the first two innings, and allowing just one run through three.
But OLSM sophomore Alex Mooney broke the game open with a two-out, two-run double to the wall in the fourth inning to make it 4-0. He had three hits and three RBI.
"I knew we were going to hit the ball," Wood said. "We've got a great-hitting team top to bottom."
Cole Sibley's two-run triple highlighted a four-run fifth inning, and OLSM scored twice in the sixth to end the game.
For the Eaglets, Sibley had three hits and three RBI, freshman Nolan Schubart had two hits and two RBI, and senior Ryan DuSang and freshman Jack Crighton also both had two hits.
Kolbe Stewart had a triple in the second inning, and Joe Terpenning added a single for Oakridge.
PHOTOS: (Top) Orchard Lake St. Mary's Logan Wood (11) and Steve Essig (15) join their teammates in celebrating a Semifinal win Thursday. (Middle) GRCC catcher Luke Passinault and pitcher Joe Collins go airborne after shutting down Trenton.