Hartland Goes 10 to Land 1st Title
June 13, 2015
By Andy Sneddon
Special for Second Half
EAST LANSING – Brett Oliver delivered when it mattered the most.
John Baker did it all day long.
Baker struck out 11 and walked three in going the distance Saturday as Hartland won its first Michigan High School Athletic Association baseball championship with an epic 2-1, 10-inning win over Portage Northern in the Division I title game at Michigan State University's McLane Baseball Stadium.
"Getting over the quarterfinal hump was huge for our program because we've been getting there, we've been pretty successful," said Hartland coach Brian Morrison, whose team had made it as far as the MHSAA Quarterfinals – but never beyond – in four of the last seven years. "We kept knocking on the door and finally broke through. You get here and anything can happen."
The Eagles (28-16-1) knocked on the door all game long against Portage Northern, stranding 16 runners and outhitting the Huskies, 10-5. Hartland went down in order just once in the game.
Hartland used a walk, a bunt and a Baker double to seize a 1-0 lead in the first inning, but didn't score again until the 10th.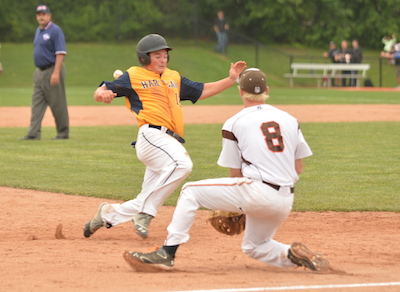 Richard Bortle and Thomas Rivet hit back-to-back singles to open the frame, then Oliver, the No. 9 hitter, drilled a fly ball over the head of the right fielder to easily score Bortle from third with the winning run.
"We had plenty of chances throughout the whole game," said Oliver, who was 0 for 3 with two strikeouts and a walk to that point. "I myself left runners on base. But we just kept battling as a team, we stayed together, we didn't get down on each other.
"My thought was just get my pitch, swing at my pitch, swing hard, make sure it gets out of the infield. That was probably the best pitch I saw all day, and I got ahold of it. I didn't even know where it went. I just put my head down and sprinted."
Baker allowed five hits and was dominant early, outlasting Portage Northern starter Tommy Henry in a classic pitchers duel between two juniors.
Had the game gone to the 11th inning, Baker would have had to leave the mound because of the 30-out pitching limit.
"Unbelievable," Morrison said. "He's done that all year. I think that was his fifth win of this postseason. He's tough, and his pitch count wasn't outrageous. He's not going to let you take him out."
Henry, a left-hander, allowed seven hits, walked six and struck out eight over eight innings, continually wiggling out of trouble. Reliever Max Schuemann took over in the ninth and worked out of a two-on, none-out jam. He wouldn't be able to repeat the feat in the 10th.
"(Henry) got in trouble several times and kept battling out of it, and that's what he can do," said Portage Northern coach Chris Andrews. "He pitched his heart out. It was two first-team all-state Dream Team pitchers going at it. Shouldn't be any other way."
Portage Northern (30-8-1) also was making its first appearance in an MHSAA baseball championship game. The Huskies tied the game 1-1 on Brady Young's sixth-inning RBI single. Ryan Beadle led Portage Northern with two hits.
"It's tough; you feel for the seniors," Andrews said. "But this is the best team Portage Northern's ever had and I'm proud of that. These guys played their hearts out. Probably one of the best high school baseball finals of all-time. Just a great game, great group of kids."
PHOTOS: (Top) Hartland players celebrate a 10-inning win and their first MHSAA baseball championship. (Middle) Max Cadman (13) slides into third base ahead of a throw as Portage Northern's Thomas Scheffert prepares to tag.