Heritage Rises to Top of New Division
February 10, 2016
By Bill Khan
Special for Second Half
SAGINAW TOWNSHIP — Conventional wisdom suggests that Saginaw Heritage received an easier path to an MHSAA hockey championship with its drop from Division 2 to Division 3 this season.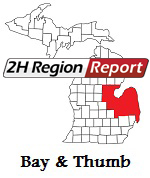 While competing against smaller schools might improve a team's championship hopes in other sports, that scenario doesn't apply to hockey.
All three divisions in the MHSAA Tournament are loaded with traditional powerhouses. The big schools in Division 1, headlined by Detroit Catholic Central, obviously have strength in sheer numbers. In Division 2, Trenton and Birmingham Brother Rice hold their own against anybody year in and year out. Down in Division 3, the road to an MHSAA championship features formidable  roadblocks in the form of non-public school heavyweights like Bloomfield Hills Cranbrook Kingswood and any team strong enough to survive a brutal Upper Peninsula Regional.
So, it's pretty much a case of picking your poison.
"I don't think it matters what division you're in," Heritage coach J.J. Bamberger said. "We saw we were in Division 3, and it doesn't matter. Our first-round game against Flint Powers isn't anything different than us being in our first game against Midland High or Midland Dow the last few years. It's not like it gets any easier in any division you're in. In Division 1, 2 or 3, there are a lot of good teams. Hancock, the Division 3 No. 4 team, just beat the No. 1 team in Division 2. It's not any easier wherever you are."
What seemed like a break for Heritage quickly changed when the opening-round pairings were drawn. Right off the bat, the Hawks will face one of the premier Division 3 programs in the state in Flint Powers Catholic at 6 p.m. Feb. 29 at Saginaw-Bay Ice Arena, the Hawks' home rink.  Powers has been in the Quarterfinals 14 times in 16 years of Division 3 play, winning a record 32 Regional championships since the MHSAA began sponsoring a hockey tournament in 1974-75.
It will be Heritage's first postseason game in Division 3 after being a Division 2 squad ever since the MHSAA went to a divisional format in 2000. Heritage has made the Quarterfinals six times in Division 2, reaching the Semifinals three times.
Having home-ice advantage against Powers will be a boost for the Hawks, though they may not need one. They have already made a statement to the rest of Division 3, going into Powers' home arena on Feb. 2 and skating off with a decisive 5-2 victory over a team that was riding a 12-game unbeaten streak and No. 2 ranking in Division 3 at the time.
"They're pretty deep," Powers coach Travis Perry said. "Their top line has got a lot of speed, and they gave us a lot of problems. We have to find a way to get ready for them."
That victory put Heritage in sole possession of first place in the Saginaw Valley League, the only thing that mattered to the Hawks on that night. Any thoughts of the game being a postseason preview were brushed aside.
"It's a big win," junior goalie Danny Yockey said. "We haven't won the Saginaw Valley League in seven years; it's ours to lose now."
"It's part of our process of trying to win our league," Bamberger said. "We're taking it one game at a time. We're not worried about anything come playoff time. I told the guys, 'Let's not make this about anything other than tonight.'"
Perhaps an even greater statement was made the following weekend when Heritage ended Hancock's 11-game winning streak, beating the currently second-ranked Bulldogs 4-3 on Feb. 5 in Trenton. The next day, the Hawks won 3-0 over Grand Rapids Forest Hills Central, which was No. 14 in Division 3 last week.
A four-game winning streak following an 11-1 loss to Toledo St. Francis on Jan. 29 had the Hawks at 17-2 and ranked No. 6 in Division 3 entering this week. The most recent rankings, which came out Wednesday, saw Heritage climb to the top spot.
"It's the chemistry," junior forward Sam Spaedt said. "Most of us juniors and seniors mesh together. We're having fun in the locker room. We're having fun on the ice. The coaches are great, too. The leadership is good. That's what's getting the job done."
Spaedt is far and away Heritage's leading scorer with 42 points, but there's plenty of depth throughout the rest of the lineup. Devan Bayne has 27 points, Gavin Dietrich 26, Chris Cornford 21, Zach Dornseifer 20, Brandon Ashley 17, Hunter Parasiliti 17 and Spencer Vondette 16.
Dietrich's 15 goals and Spaedt's 31 assists are team highs.
"We have a lot of forwards who can really go and really skate," Bamberger said. "We get some different scoring from different lines. I don't consider our fourth line a fourth line, because a fourth line generally doesn't play. Our fourth line not only plays, but they contribute. Each line had a goal (against Powers). From a tenacity standpoint, our guys keep going, keep going; you're going to wear teams down."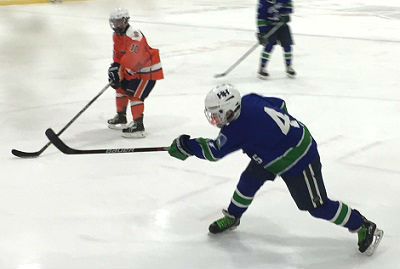 Spaedt has been the consummate setup artist for the Hawks, with his point total leaning heavily toward assists. He has 11 goals to go with his 31 assists. Three of those goals have come while shorthanded. His goals have come in bunches, with four two-goal games. He's had at least three assists five times.
"I'm always in a pass-first mentality," Spaedt said. "The guys are great. They bury the puck after I give it to them. If I have a chance to score, I'll take it. I'm happy if the guys give me the puck. The team really meshes well; that's part of the points, too."
For all of his playmaking prowess, Spaedt still ranks third on the team in goals.
"He scores, too," Bamberger said. "To be honest with you, I didn't realize that he's got (11) goals and 30-some assists. I think it's because he's a real smart player. More so than that, we have a lot of finishers on our team. We have a lot of guys who can put it in the net. Whoever he's giving it to, they're putting the puck in the net."
Yockey has played the majority of minutes in goal for Heritage, posting a 12-2 record, a 2.64 goals-against average and an .888 save percentage. In his last three games, all against state-ranked Division 3 teams, he has a 1.67 GAA and a .929 save percentage. Devin Wolfgang is 4-0 with two shutouts, a 0.57 GAA and a .966 save percentage as the backup goalie.
"The forwards are really good at back-checking and we're just smart in our zone," Yockey said.
Before Heritage can focus on the rematch with Powers, the Hawks will look to close out the Saginaw Valley championship with games against Mount Pleasant tonight and Bay City Central on Feb. 17. The pre-tournament tuning-up phase will include a game against Howell, the seventh-ranked team in Division 1, on Feb. 24.

Bill Khan served as a sportswriter at The Flint Journal from 1981-2011 and currently contributes to the State Champs! Sports Network. He can be reached at billkhan35@gmail.com with story ideas for Genesee, Lapeer, St. Clair, Sanilac, Huron, Tuscola, Saginaw, Bay, Arenac, Midland and Gladwin counties.
PHOTOS: (Top) Saginaw Heritage's Mitch Wise, right, prepares for a faceoff during a recent game against Flint Powers Catholic. (Middle) Leading scorer Sam Spaedt rips a shot for the Hawks. (Photos by Bill Khan.)