Hesperia Stars Guiding Whitehall's Title Drive
February 6, 2019
By Tom Kendra
Special for Second Half
Whitehall wrestling already had a solid infrastructure in place.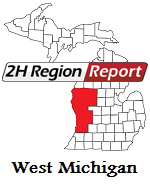 The Vikings have been the dominant wrestling program in the Muskegon area since George W. Bush was President, recently winning their 13th consecutive Greater Muskegon Athletic Association city wrestling championship.
On the state level, Whitehall also has been a fixture at the Division 3 Team Finals in recent years – losing to powerhouse Dundee in the Semifinals both last year and 2016, and bowing to Lake Fenton in the 2017 Quarterfinals.
Could this be the year Whitehall breaks through with an MHSAA championship?
The Vikings hope that the hiring of young, first-year co-coaches and brothers Justin Zeerip and Collin Zeerip – legends from nearby Hesperia who went on to wrestle at the University of Michigan – is exactly what the program needs to take that final step.
"Honestly, it's been an amazing experience being coached by them," said Whitehall senior Allen Powers (189 pounds), who has a 32-3 record on the season. "It gives us a bunch of extra confidence knowing that they were just Division I college wrestlers – and they're not afraid to get on the mat and show it to us."
Whitehall, which has a 24-2 dual record and is ranked No. 3 in Division 3, starts its drive to the Team Finals on Thursday at the District tournament at Shelby. If the Vikings prevail Thursday, they would host Team Regionals on Feb. 13. A win there would put them back in the Finals at Wings Event Center on Feb. 22-23, with a chance to prove they have closed the gap on Dundee and Richmond – which between them have won the past nine Division 3 titles.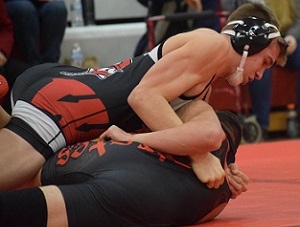 Last year's loss to Dundee was particularly one-sided, 67-3, a pummeling which has motivated Whitehall to improve throughout the offseason and so far this winter. The Vikings' only losses have come to Rockford and Hartland, both Division 1 schools.
"It's been awesome watching these kids grow – both in technique and in their confidence," said Justin Zeerip, the oldest of the three Zeerip brothers (Justin, Brandon and Collin), all of whom wrestled at Michigan. "My brother and I just want to bring that college wrestling atmosphere into the room. We've set high goals; we want to be wrestling on that final day. "
Suffice to say: when the Zeerips talk, the Vikings listen.
After all, Justin Zeerip, 30, brings instant credibility as a four-time Division 4 individual champion at Hesperia who graduated with a 260-0 record and 203 pins. He went on to win 100 matches during a five-year career at Michigan and now teaches middle school math at Hesperia.
Collin Zeerip, meanwhile, is 26 and was a three-time individual champion at Hesperia, graduating with 238 victories. He won 38 matches at Michigan before returning home to help run the family business, Heritage Farm Markets in Fremont.
While all three of his boys wrestled at Michigan, Justin and Collin's father, Craig Zeerip, was a four-year wrestler at Ohio State. Craig Zeerip is now the head wrestling coach at Fremont.
"Our family has always loved the month of February," said Justin Zeerip, who as a senior at Hesperia in 2007 became at that time the fourth wrestler in state history to finish a four-year career unbeaten and the 13th to win four Finals titles. "There's a whole different feel. I'm really enjoying it as a coach as well."
Whitehall's strong wrestling foundation began in the 1980s under Rick Champion and Craig Christensen, who are still coaching in the program. Cliff Sandee coached the Vikings for the past 11 years – a tenure which was highlighted by 11 city titles, nine Districts, five Regionals and four Final Four appearances – before leaving to take an assistant principal position at Muskegon Reeths-Puffer last August.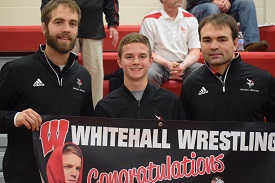 That departure opened the door for the Zeerips, who inherited a young, but well-rounded team with just three seniors – Sam Baustert (112), Trenton Blanchard (160) and Powers – in the normal 14-wrestler lineup.
The strength is in the upper weights, starting with freshman Ira Jenkins (152) with a sparkling first-year record of 27-6. Trenton Blanchard is 29-4, junior Kayleb Vennema (171) is 34-2 and junior Jarrean Sargeant (285) is 28-8.
The impressive records continue when the match swings to the lowest weights, with freshman Aiden Weiler (103) at 29-6 and Baustert at 29-4.
"I know they are going to be really good the next few years with all of our young guys, but I really don't see any reason we can't win state this year," said Baustert, an all-state track and cross country performer who will run at Grand Valley State. "The new coaches have given us all a whole new sense of hope. We all have learned a few moves that we haven't done before."

Tom Kendra worked 23 years at The Muskegon Chronicle, including five as assistant sports editor and the final six as sports editor through 2011. E-mail him at kendra.tom@gmail.com with story ideas for Muskegon, Oceana, Mason, Lake, Oceola, Mecosta and Newaygo counties.
PHOTOS: (Top) Whitehall senior Sam Baustert works toward a pin. (Middle) Trenton Blanchard is another Vikings senior standout this winter. (Below) Whitehall co-head coaches Collin Zeerip, left, and Justin Zeerip, right, flank Baustert after an invitational victory earlier this season. (Photos courtesy of the Whitehall wrestling program.)