Hitters Become Heroes for Division 2 Finalists
By Jason Schmitt
Special for Second Half
EAST LANSING – Sometimes all it takes is a slow roller, or maybe taking one for the team.
Finding a way to get to a dominant pitcher is never an easy task. But Thursday morning, Stevensville Lakeshore pretty much did a little bit of everything to find a way past No. 3 Eaton Rapids and star pitcher Grace Lehto, 8-1, in a Division 2 Semifinal matchup at Secchia Stadium.
The Lancers broke open a tight game with six runs in the fourth inning, using a hit by pitch, a pair of singles, an error, a gap-shot triple, another hard-hit double and a softly-hit fielder's choice to get the job done.
Junior Meghan Younger opened things up by being hit by a pitch. After freshman Gianna Kerschbaum reached based on an error and a groundout by sophomore Shelby Grau moved a pair of runners into scoring position, Lakeshore used back-to-back ground balls by freshman Anna Chellman and senior Nadia Amicarelli to plate a pair of runs and take a 3-0 lead. One out later, junior Sierra Ciesielski found the gap in right-center, scoring both Chellman and Amicarelli. Ciesielski would then score on a single by junior Isabella Najera.
The Lancers capped off their scoring on an RBI double by junior Laney Mead, scoring pinch runner Grace Connelly. 
"Coach (Steve) Spenner has just done a fabulous job with our hitters. We knew we couldn't just go up there and swing wild," Lakeshore head coach Denny Dock said. "We said, 'Every pitch is hit with two strikes,' and we really disciplined ourselves to do that. We told them to not go up there with the idea that you're just going to outswing this girl. Because history says that's not going to happen. (Lehto) is a good pitcher. We tried to just cut back a little bit and then once we got momentum going, holy cow, did we see it."
Lehto, an all-state pitcher who led her team back to the Semifinals for the second straight season, entered the game with a 30-1 record and a miniscule 0.34 earned run average. But on Thursday, she just didn't have her best stuff.
"It was surprising, how they hit the ball (off Lehto)," Eaton Rapids head coach Scott Warriner said. "But again, you've got to give them credit. They were well-prepared, and they drove the ball well on us.
"We had a couple chances to make a few plays that we didn't quite make. She hadn't been hit like that this year. The most runs she had given up this year was two runs in a game."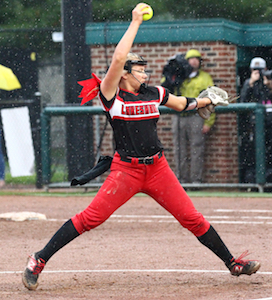 Ciesielski, Najera and Amicarelli all had two hits and two RBI each for the Lancers. Mead also collected a pair of hits.
"This was kind of a schedule win," said Dock, who credited a tough slate against some of the state's top pitchers for his team's success against Lehto. "We've seen the (pitcher) from Gull Lake. We've seen the girl from Penn (Ind.). We've played Caledonia three games. It's not like we don't see (this kind of pitching). Don't get me wrong, she's good. But our schedule, we build it to see kids like this. You hope you get a chance to play at this level and see if it all works. Today it worked."
Kerschbaum picked up the win in the circle for Lakeshore, which will face Escanaba in Saturday's Division 2 championship game. She pitched 3? innings of scoreless softball. Najera and Connelly finished the game up to help their team advance.
"We've got a pitching staff, and we're not afraid to put them in there," Dock said. "All three of them did a great job in their time. What a team. We used our roster."
Lehto finished with three hits at the plate to lead the Greyhounds (39-4). Junior Kendi Richardson drove in her team's lone run with her groundout scoring pinch runner Mallory Orr in the fifth inning.
Escanaba 2, North Branch 1
The celebration started when the ball left the yard off the bat of Escanaba sophomore Nicole Kamin. It continued when junior pitcher Gabi Salo struck out the last North Branch batter of the game. And it was certain to continue well into the afternoon Thursday, as the Eskymos were set to make a trip to the MSU Dairy Store to celebrate yet another appearance in the Division 2 championship game.
Kamin hit a two-run home run in the bottom of the sixth inning, and Salo pitched a one-hit gem to help lead their team over North Branch as they continued to pursue a repeat title.
"We battled, we battled, we battled," said Escanaba head coach Gary Salo. "Nicole's a basketball kid, just an athletic kid who finds her way to the top of the order with a swing that drops her hands, drops her shoulders. She caught the middle of that ball."
With her team trailing 1-0 and with two outs in the sixth, Kamin drilled a 2-2 pitch over the wall in left-center, sending the Eskymos' bench – and the entire crowd – into a frenzy.
"The nerves were kicking in for sure," said Kamin, who admitted not thinking too much when walking up to the plate. "I just went up there and swung it. It's just amazing, honestly. Such a big game like this, to bring us to a championship game. It's awesome."
Through five innings Thursday, Salo wasn't sure his team would get a chance to play for another title Saturday. North Branch scored an unearned run in the top of the fourth inning, thanks to an Escanaba error and RBI double by senior Reese Ruhlman, scoring senior Autumn Deshetsky.
"Our defense let us down just a little bit today, not bad," Salo said. "I kept peeking at the board thinking, 'You can't go home giving up one hit.'
"I told (Gabi), 'We're gonna get ya two. I don't know when it's gonna happen, but we're gonna get ya two.' "
North Branch head coach Alyssa Welling was proud of her team for battling back after a dominating start by Gabi Salo, who struck out 14 batters.
"We worked on hitting yesterday," Welling said. "This is the best pitcher we've seen all season. We knew what we were getting into coming into this game. They've never said no. They said, 'OK, I've got this next at-bat.' They never stopped."
Salo credited his team's recent deep playoff runs with helping it rally for the win over the Broncos.
"I told these ladies when we got off the bus – as a coach you even try to make up stuff at times – that we're the only team that this is the fourth year in a row (in East Lansing). I didn't check my facts, but the kids bought into it. I told them, 'Let's play our best game,'" the coach said. "We have not played our best game yet, and that's a scary thought. To get to a state championship game without playing your best game just puts a smile on our face. We're going to go out and have a ball."
PHOTOS: (Top) Escanaba's Nicole Kamin circles third base into a celebration after her go-ahead home run Thursday. (Middle) Lakeshore's Gianna Kerschbaum unloads a pitch against Eaton Rapids.