Inspired Notre Dame Prep Runs Streak to 4
March 4, 2017
By Dean Holzwarth
Special for Second Half
GRAND RAPIDS – The Fight for Four took on a whole different meaning for the Pontiac Notre Dame Prep competitive cheer team this season.
While the Fighting Irish pursued a fourth straight Division 3 title Saturday night, the squad also was committed to honoring a 2013 graduate, Kristy Malter, who died last summer after suffering from bacterial meningitis.
Notre Dame Prep carried a sign proudly that read, "Fight for Four" with "4K" in the corner.   
"We had one mission and one goal this year," said Fighting Irish coach Beth Campbell. "We lost a girl over the summer to bacteria meningitis and she was one of our alumni so we decided then that the season was going to be 100 percent for her.
"You see us doing the 4K and that's for Kristy. We kept our eyes focused on that and we wanted to represent our school, Kristy and her family. That was our main focus for the whole year."
Miss Malter would've been proud of her former team, as it won the MHSAA Division 3 Final at Grand Rapids DeltaPlex with a narrow victory over rival Richmond.
The No.2-ranked Fighting Irish finished with a final score of 315.90, while the top-ranked Blue Devils tallied a 314.70.
It was Notre Dame Prep's fourth consecutive MHSAA title.    
"I've never been more proud of how these girls came out here," Campbell said. "It was not one round; it was all three rounds. It was their best performance of the year, and I think they had the most heart I've ever seen out on that mat.
"We knew it was going to be a tough competition, but they were so determined to do this for Kristy. It was always our focus, and they knew that they had to give their best."
Five Notre Dame Prep seniors capped their high school careers with four Division 3 championships: Sarah Nantel, Grace Mackey, Jennifer Redoutey, Caroline Hauck and Anne Seyferth.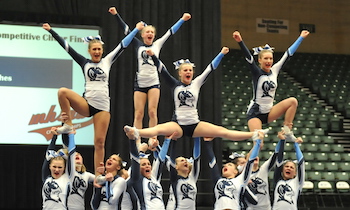 "It was for Kristy this whole time, but I think we just wanted to prove to ourselves that we could be better than we were," Nantel said. "It's all about beating yourself and proving what other people thought wasn't possible. We were going to be proud no matter the outcome, but we came out on top."
The Fighting Irish won the first two rounds by the slimmest of margins over Richmond before the decisive Round 3.  
"It felt so good to put our best on the floor, and we knew if we hit the way we know we could that whatever happens, happens, but I think we peaked today," Redoutey said. "Today was our best day, and we showed a lot of heart. If we could make our parents, our alumni and our Kristy proud … that was the goal this season. All of this just makes it sweeter."
Richmond, which won the Blue Water Area Conference, suffered another heartbreaking finish. It placed as Final runner-up for a third straight season.
The Blue Devils were poised for redemption, but a rare fall in Round 3 doused their hopes of regaining the crown they won in 2012 and 2013.  
"The season has been a dream season," Richmond coach Kelli Matthes said. "My kids have poured their hearts and souls into everything that they've done, and it's not the outcome that we wanted, but when you make a mistake that's what happens. And it doesn't just fall on that one stunt group that had an issue, there were tiny things in each round.
"I have 37 girls on this team, and they are a family. They have been working at this for a really long time, and I just wish for them that it could've happened."
Monroe Jefferson (772.62) took third after placing fourth a year ago, while Comstock Park (767.34) placed fourth. It was the Panthers' fourth top-four finish at the Final in the past five seasons.
PHOTOS: (Top) Pontiac Notre Dame Prep performs Saturday night on the way to earning a fourth straight Division 3 title. (Middle) Richmond finished second for the third straight season.