Leland Takes Title as St. Phil Streak Ends
November 21, 2015
By Geoff Kimmerly
Second Half editor
BATTLE CREEK – A championship trophy wrapped in her arms Saturday, minutes after one of the most memorable wins in recent MHSAA Volleyball Tournament history, Leland senior Maddie Trumbull said she would remember those post-match moments for the rest of her life.
And she'll surely recall from time to time what it took over the last two years for her Comets to end the longest volleyball championship streak in MHSAA history.
A year after falling in the Final that would give Battle Creek St. Philip its record ninth-straight Class D title, Leland ended the Tigers' dominance one win short of a decade with a 3-0 sweep – 25-20, 25-23, 25-23 – at Battle Creek's Kellogg Arena.
It probably wasn't the mix expected to take down mighty St. Philip, whose championship streak also was tied for 10th longest in national girls volleyball history. Surrounding Trumbull on the Kellogg Arena floor were a mix of seniors and juniors, but also a sophomore and two freshmen.
But from the first point Saturday morning, the Comets got a feeling they could be champions by the afternoon for the first time since 2006 – the last season before the Tigers' streak began.
"Being in the final four and losing in the state final last year gave us motivation right off the bat," said Trumbull, who also was a top hitter for teams that made it to Battle Creek in 2014 and 2013. "We started thinking last year, let's make it to the state finals (again). Let's beat them. Let's beat their streak. We've been working since day one; that was our goal, and we met our goal."
The championship was the fifth for Leland (49-7-4) to go with six runner-up finishes. The sweep was the Comets' six of this tournament; total, they won 24 sets and gave up only two over the last three weeks.
But the success wasn't without some adjustments – even between Thursday's Semifinal win over Crystal Falls Forest Park and Saturday morning's start.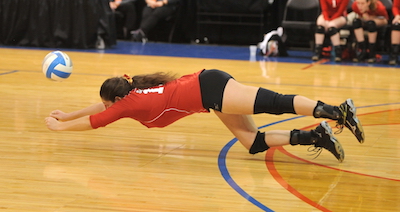 Leland, which came into the postseason ranked No. 3, didn't pass well enough against the Trojans to employ all of its offensive options. But they cleaned up the passing for St. Philip, and four players had at least five kills, let by Trumbull's 14 and six more apiece by freshman Allie Martin and senior ViAnna Hennig.
Freshman setter Ella Siddall found her groove leading the attack, and also had four of the team's eight aces.
Martin and Siddall were team managers for the Comets for two seasons before joining the varsity as players this fall. Both impressed longtime coach Laurie Glass again Saturday – Siddall for making the necessary adjustments to set a great match, and Martin for continuing to play "fearlessly."
"They had been in the gym. We felt there were lots of good things to come," said Glass, who completed her 21st season leading the program. "Did I think we could win a state championship with two freshmen? I sure was hoping we would."
The Tigers did all they could to rally at various points throughout the Final, be it during Vicky Groat's timeouts during Leland runs or senior Abby McKinzie's rallying of her teammates throughout.
The four-year St. Phil standout finished with 14 kills and 17 digs, but the Tigers never could get completely out in front. Siddall ended the two-point second-set win with an ace. Trumbull decided the two-point third-set win with a kill.
St. Philip, No. 2 entering the tournament, finished 46-17-2 after defeating top-ranked Plymouth Christian in its Semifinal. The Tigers won the title in 2014 after also entering the playoffs ranked lower than No. 1 – and Groat said the inevitable end of the streak was always in the back of her mind, going back to St. Phil's first repeat attempt nearly a decade a go.
"You never know. You can't take it for granted. And every team is different," Groat said "I'm thinking back the other day to the first team that started this; they're married and have kids. They're all different girls. They're all different individuals, and they all just come together as a team.
"The streak is going to end some time. ... There's no shame in losing for the championship. I think of all the teams, I've had the most fun with this group of girls. And I feel bad for that, that I'm going to miss that group. Abby feels bad like she let me down. Nobody let me down. If anything, I let you guys down because I didn't win it for you. I would never feel that they let me down, ever." 
PHOTOS: (Top) Leland players hoist the school's first volleyball championship trophy since 2006. (Middle) St. Philip's Morgan Luoma dives during a dig attempt; she finished with a team-high 20 digs.