Liggett Caps Memorable, Meaningful Run
June 18, 2016
By Andy Sneddon
Special for Second Half
EAST LANSING – Dan Cimini led Grosse Point Woods University Liggett to its fourth MHSAA baseball championship Saturday.
None of the previous three could come close to matching the emotion of this one.
Matthew Gushee fashioned a six-hitter as the Knights downed New Lothrop, 12-0, in the Division 3 title game at Michigan State University's McLane Baseball Stadium. The game was called after five innings because of the 10-run mercy rule.
It was Liggett's fourth MHSAA crown since 2011. But for Cimini and his players, this one was more meaningful.
Cimini, who is in his 13th year at Liggett, lost his father Danato to cancer on the eve of the District tournament.
"It's very emotional," said Cimini, who added that he began tearing up with New Lothrop down to its final out in the bottom of the fifth inning. "I was crying there with two outs, just thinking of my Dad. He'd have been sitting behind (the plate) screaming 'Come on Dano.'
"I'm going to miss that. I'm going to miss that the most. And I'll never get to hear that again. It's tough, but I know he's here with me, and he's here with this team."
University Liggett leadoff man Connor McCarron had three hits while teammates Sean Fannon, Noah Miller and Anthony George added two apiece. McCarron, Fannon and Alec Azar had two RBI each.
The Knights, who were ranked No. 1 throughout the season and finished 32-4, collected 12 hits off three New Lothrop pitchers. The Hornets, who won the Division 4 championship in 2014, finished 41-4.
University Liggett plans to move up to Division 1 next season.
Gushee struck out one and walked three. The Knights did not commit an error behind him and were the only team of the eight who played in the four MHSAA title games Saturday to finish errorless.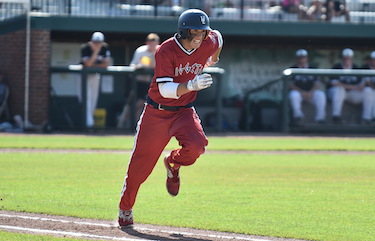 Quentin Taylor, Cam Pope and Carter Hamgesberg had two hits each for New Lothrop.
Liggett scored in every inning and its lead was 8-0 by the bottom of the third.
"This is a team (New Lothrop) that was down 5-0 the other day in the Quarterfinals and came back and won 6-5," Cimini said. "I told these guys 'You've got to get a lead, step on them.'
"For our team to do what we did this season and save their best game in the biggest game, it just tells you about these kids. To rise to the occasion in the biggest moment of their lives and play their best game of baseball for five innings against a really good baseball team – that was no joke of a baseball team right there.
"I think the game was won before it started (because of) the confidence that these kids had. Nothing was going to stand in their way."
Fannon, a senior, said the players kept their emotions in check, but were well aware of what it meant for Cimini.
"He deserves it so much," Fannon said. "He puts all of his time into us. He had to push some of his problems to the side, so it's really awesome that he got to do this. We did it for him, we did it for the team, we did it for the program."
PHOTOS: (Top) University Liggett celebrates its Division 3 championship that closed the 2016 season. (Middle) A University Liggett runner charges toward first base.