Liggett Scores 2nd Title in 3 Seasons
June 14, 2014
By Andy Sneddon
Special for Second Half
EAST LANSING – Hits? Who needs hits?
Grosse Pointe Woods University Liggett had just three hits Saturday. But it used just about every other conceivable way to reach base, move runners along, and get them home in downing Decatur, 9-0, in the MHSAA Division 3 Final at McLane Baseball Stadium on the campus of Michigan State University.
It was the second straight title for the Knights (25-8), who won Division 4 crowns in 2011 and 2013. They were runners-up in Division 4 in 2012.
"So proud of the guys, so proud of the program," said Dan Cimini, who is in his 11th year as Liggett's coach. "We just keep staying confident and expecting to win every time we step on the baseball field. Doesn't matter what division we're in, that's basically been our motto here."
Freshman Gehrig Anglin tossed a two-hitter for the complete-game victory. He struck out four and walked three. He stranded two base runners in the first inning and left them loaded with Raiders in the second, then settled in and set down 16 of the last 18 batters he faced.
Joby Kawaski singled in the first inning and Dale Mann singled in the fourth for Decatur's only hits.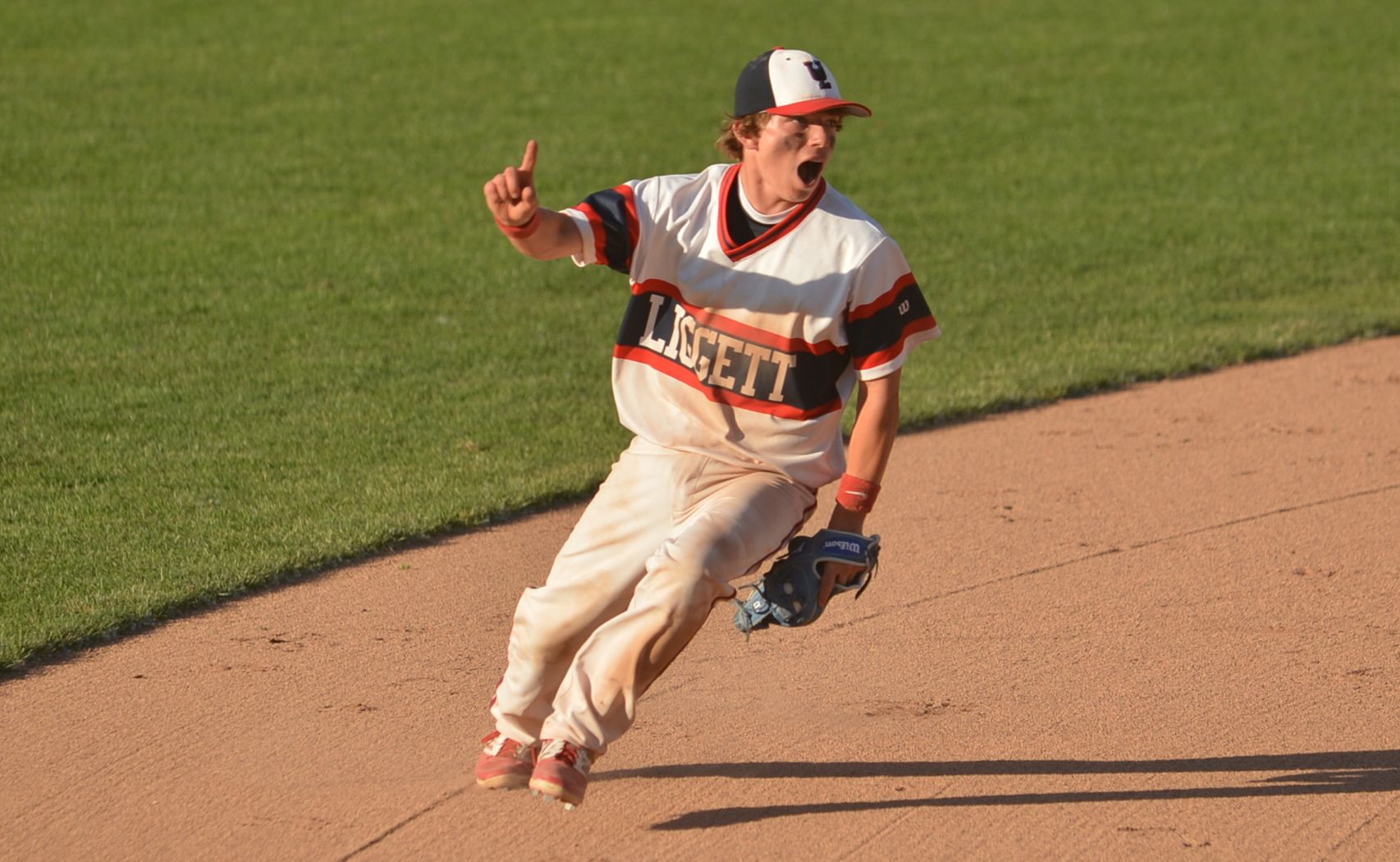 "He didn't have his best stuff," Cimini said of Anglin. "He didn't have his good curve ball, and he struggled with his control early. Our defense got us out of it, and then he settled down."
A second-inning visit to the mound did the trick, Cimini said.
"I said, 'Listen, I'm not going to sugar-coat it; if you don't get this kid out, I'm taking you out,'" Cimini said. "As soon as I said that he focused like nobody's business. He's a 14-year-old, but he plays like a junior or senior. He's been our ace all year. He did not have his best stuff all day. He struggled with his curveball, and his fastball was kind of all over the place.
"He may not say it, but I think he was a little nervous at the beginning."
Decatur's last legitimate chance came when it left the bases loaded in the second inning. After that, it was all Liggett, but the Raiders' lackluster defense played a major role.
Liggett used a hit batsman, a single, an error and a sacrifice fly to seize a 2-0 lead in the third, then blew the game open with a seven-run fifth during which the Knights got just two hits – RBI singles by Adam Fiema and Anthony Simon.
Liggett's turn at bat in the fifth inning included three walks, three errors, a hit batsman and a suicide squeeze.
Kawaski, Decatur's starter, did not survive the fifth and took the loss. He was charged with nine runs, just two of which were earned. He walked five and struck out six. Matthew Saylor finished up for the Raiders (24-7).
"He didn't pitch terrible in my opinion," Decatur coach Ben Botti said. "You know, we make a couple plays – did they get an earned run today? I don't think they did. I mean, we crushed the ball today and got nothing to show for it. Then we turn around and kick (the ball) around.
"The shortstop boots two, we drop one in center – that kid hasn't dropped one all year; we drop one at first base. We had another error in there somewhere. When you've got to pitch over all that kind of stuff, it's tough to do.
"We've been making those plays in the tournament. And today we didn't make any of them."
PHOTOS: (Top) University Liggett scored two runs in the third inning and seven in the fifth to build a comfortable lead in the Division 3 Final. (Middle) The Knights celebrated their second title in three seasons.