Lowell Begins Work to Extend Title Run
December 21, 2016
By Dean Holzwarth
Special for Second Half
LOWELL – Wrestling coach R.J. Boudro gets a chuckle every time he hears other people talk about Lowell High School athletes.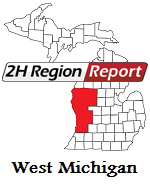 "Those kids are huge. What are they feeding those kids?"
It's a comment based on little validity.
"It's a myth that we feed our kids certain things, that they are big farm boys," Boudro said. "What I think gets lost is people think Lowell is good every year, and I think that's true in our football program, too.
"They think we're good because of where we eat and what we're feeding them, but we had seven of our 11 guys on the field for our football team at 170 pounds or below. They just work hard."
Work ethic and toughness are staples among Lowell wrestlers. Those qualities have catapulted the Red Arrows into one of the premier programs in the state over the last two decades.
"They think Lowell is good because we're Lowell, and we have to fight that," Boudro said. "You can't just walk in and be good because you put on a Lowell singlet. It takes a lot of work."
The Red Arrows' success is unprecedented.
They have captured six MHSAA Division 2 titles in program history, including the last three in a row. The Red Arrows have wrestled in 12 of the last 18 Division 2 championship matches, first finishing runner-up in 1999 and claiming their first title in 2002.
Lowell has made five straight Finals appearances, and after back-to-back losses to another perennial powerhouse, St. Johns, in 2012 and 2013, broke through in 2014 with a narrow 35-34 Finals win over the then four-time reigning MHSAA champion.
The Red Arrows defeated Eaton Rapids in the 2015 championship match, and St. Johns again last season. Lowell and St. Johns have met four times in the Finals over the last five years.
"It's a huge challenge trying to defend a state title, and we've done that twice now," Boudro said. "I don't think it gets any easier, and it gets harder each year. There a lot of people that would like to see Lowell lose. I don't think we're a disliked program, but when you're the guys at the top everyone is gunning for you."
Lowell began this season as the top-ranked team in Division 2, but a new set of challenges await as it makes a bid for four consecutive championships.
The Red Arrows boast 51 on this year's team; however, they graduated five all-state wrestlers and do not have any returning Individual Finals champions in the fold.
"This is new territory for us because that hasn't happened since I've been here," said Boudro, who is in his third season as head coach after previously serving as an assistant. "Usually we always have someone to look to who won a state title, and I could count on guys going out and getting six points almost every dual meet.
"We don't necessarily have that this year, and we're really young. We have a lot of freshmen we're counting on and a lot of sophomores and juniors. The senior class isn't big, but every junior and senior has been to the state finals three times and won."
Lowell will rely on the strength of five returning all-state wrestlers to lead the way. They include seniors Sam Russell (145), Bryce Dempsey (152/160) and Eli Boulton (215), junior David Kruse (189) and sophomore Avry Mutschler (140).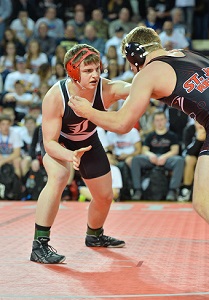 Dempsey, who placed sixth at the Individual Finals a year ago, believes the Red Arrows can be just as good this year.
"I think we're going to be better this year, actually," he said. "We have a lot of new lightweights, and I'm not worried about them being freshmen because we have great leadership on the team and they're all adjusting really well.
"We lost some hard-hitting seniors, but other guys have made progress in developing their abilities. I'm confident in our ability to get to the team state finals again this year."
Kruse, the starting quarterback on the one-loss football team, also has high hopes.
"I think we have a good team, and we had some big losses, but I think (we) can fill those spots because we have a lot of guys coming up big," he said. "I think we'll be all right."
The longstanding tradition of excellence at Lowell is something coaches and wrestlers take immense pride in.
Boudro said it begins with the support of the community.
"We have a community that gets it and stands behind us," he said. "We have businesses in this town and people in this town who really come together to help put together an awesome program, athletics in general.
"We have a ton of support, and I think we have guys who realize they are wrestling for more than themselves. They are wrestling for the community, the people before them and the team now."
Kruse began wrestling in Lowell's youth program when he was 10, and has seen how the community has rallied around the program.
"I take a lot of pride in being a Lowell wrestler and being a part of a special team and community," he said. "Our coaches teach us great things, and we have support from our community."
Dempsey moved to Lowell last year. He was impressed by the values the coaches instilled.
"I love everything the team stands for," Dempsey said. "It's not wins and losses. It's how we win or lose. We have a motto of 'Never Yield' and we follow that through practices and competitions.
"Everyone is there to support each other, and everyone is putting in the same amount of work you're putting in and everyone is working for the same goal. We're all equally passionate in achieving that goal."
While the Red Arrows have enjoyed past successes, the future looks just as bright.
The youth program continues to see record growth with 170 wrestlers registered this year.
"It is insane, and it's the most it's ever been," Boudro said. "I think of what we've done the last 20 years, and now I feel like it's the strongest it has ever been. It's pretty cool and exciting for our future."

Dean Holzwarth covered primarily high school sports for the Grand Rapids Press and MLive for 16 years, served as sports editor of the Ionia Sentinel-Standard and as a sports photojournalist for WZZM, and currently is a reporter for WOODTV. Contact him at dream100@comcast.net with story ideas for Allegan, Kent and Ottawa counties.
PHOTOS: (Top) Lowell's Sam Russell celebrates his win during last season's Division 2 Final. (Middle) Eli Boulton (left) wrestles to victory at 189 pounds last winter at Rose Arena. (Click to see more from HighSchoolSportsScene.com.)