Lowell 'Mighty' Again in 5th Straight Title Win
February 24, 2018
By Butch Harmon
Special for Second Half
KALAMAZOO – They begin their wrestling careers as little wrestlers in superhero costumes.
A little over a decade later they are dressed in the wrestling singlet of the Lowell Red Arrows and making wrestling history in the state of Michigan.
On Saturday, for the fifth consecutive year, Lowell won the Division 2 team wrestling championship – this time 43-17 over Gaylord in the title match at the Wings Event Center in Kalamazoo.
Lowell became the first Division 2 team to win five consecutive team titles, and the Red Arrows joined Davison and Hudson as the only programs in MHSAA history, regardless of division or class, to earn the accomplishment.
"This is a major feat," Lowell coach R.J. Boudro said. "People just expect we can win the state title every year. It's a difficult thing to do just one year.
"Of all five of our titles we won, we faced the same team just once. So much goes into winning a state championship. I don't think people realize everything that goes into winning a championship."
In Lowell, the seeds for a MHSAA title are sewn every year at the youth level, with those athletes nurtured on the up the ladder as they point toward eventually competing for the varsity.
Lowell junior Avry Mutschler is one of the many Lowell wrestlers who grew up in the program.
"I was in the seventh grade when Lowell won the title five years ago," said Mutschler, who won a decision at 140 pounds in Saturday's Final. "I was sitting up there in the stands with all the other youth wrestling guys. Our youth program is just awesome.
"The very first youth league is the Mighty Arrows," Mutschler added. "You start at age 4 or below. We wore Batman or Superman costumes and would learn to wrestle and play games at practice. I started in the Mighty Arrows with so many of my teammates, and we've all grown up together."
Those little Mighty Arrows have grown up to be pretty strong Red Arrows. Not only was the title the fifth in a row for Lowell, but it was the eighth team title in school wrestling history.
Lowell senior Dave Kruse has been a part of the past four.
"Only two other teams have won five in a row," Kruse said. "I am so happy to have been a part of these teams. As a senior, I'm also so thankful for the sport of wrestling and what it's gave me."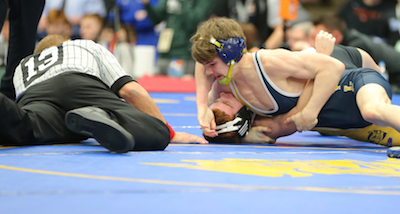 Kruse teamed up with fellow senior Austin Engle to win the final two matches of the dual. Lowell was up 34-17 when Engle battled back from a 5-2 deficit with 30 seconds remaining in the third period to claim a 7-5 win at 171 pounds. Kruse then won his match by injury default, giving the Red Arrows the 43-17 win.
"Our coaching staff tells us to never yield," Engle said. "They tell us to go and wrestle hard at practice every day, and if we wrestle the Lowell way everything will be fine. In the third period when I was down by however much, I just kept hearing 'never yield' in my head."
The Blue Devils (37-2) were making their first appearance in an MHSAA Team Finals championship match. The third seed entering the weekend, they upset second seed Warren Woods Tower in Saturday's earlier Semifinal to advance.
But along with never yielding, Lowell never trailed in the match. The Red Arrows jumped out to a 13-0 lead as Keigan Yuhas opened the dual with a pin at 215 pounds. Tyler Deloof followed with a decision at heavyweight, and Nick Korhorn won a major decision at 103 pounds to put the Red Arrows up 13-0.
Gaylord rallied with wins in the next three matches to cut the Red Arrows' lead to one point. Blue Devils sophomore Chayse LaJoie recorded a pin at 112 pounds, Derek Giallombardo followed with a decision at 119 pounds and John Henry Sosa added a decision at 125, cutting the margin to 13-12.
That was as close as Gaylord would get, as top-seeded Lowell (20-4) reeled off wins in the next five matches. Jeff Leach started the streak with a pin at 130 pounds, and freshman Doak Dean won a decision at 135. Mutschler picked up his decision at 140 pounds, followed by a major decision from James Fotis and a technical fall by sophomore and reigning Individual Finals champion Austin Boone at 152 pounds.
Kenny Smith of Gaylord picked up a technical fall at 160 pounds before Engle and Kruse closed out the dual for the Red Arrows.
"Each one of the five teams that won it are unique," Boudro said. "When we went up there to take the team picture, that is the last time this group will all be together. This is pretty special."
Click for full results of the weekend's Division 2 matches.
PHOTOS: (Top) Lowell coach R.J. Boudro and his team celebrate a match win during Saturday's Division 2 Final. (Middle) Gaylord's Chayse LaJoie works toward a pin at 112 pounds. (Click for more from HighSchoolSportsScene.com.)