Maroons 'Make Most' of 1st Finals Trip
June 18, 2016
By Andy Sneddon
Special for Second Half
EAST LANSING – When the cart wobbled, Mike Mokma grabbed the wheel.
Mokma allowed four hits and struck out 14 on Saturday as Holland Christian won its first MHSAA baseball championship with an 8-5 victory over Linden in the Division 2 title game at McLane Baseball Stadium on the campus of Michigan State University.
The Maroons, who finished 36-6 and entered the tournament ranked third, had never made it past the quarterfinal round of the tournament. But they did have the steadying influence of coach Jim Caserta, who led Holland West Ottawa to the Division I title in 2003.
"We tried to take the big experience of the state championship and focus it down to the task," said Caserta, who is in his third season at Holland Christian. "We told them, 'Focus on the ball, catch the ball, throw the ball; focus on the little things.'
"They did great and when bad things happened, we didn't quit."
Bad things did indeed happen for the Maroons in the fourth inning when they committed three errors and Mokma issued two walks – his only two of the game – and Linden took advantage, scoring all five of its runs for a 5-4 advantage.
Mokma, who has signed with Michigan State, slammed the door after that, setting down the Eagles in order in their final three at-bats. Of those final nine outs, five came on strikeouts. Mokma's strikeout total was one shy of the MHSAA Finals record 15.
Just two of Linden's five runs were earned.
"Mike's super competitive," Holland Christian catcher David Williams said. "He's going to grind it out every pitch. He just kept throwing the ball like he does.
"We let him down for a minute, but we got back on the horse. He was sharp today – more than adequate, he was fabulous. He gave us great chance to win, and the bats came around."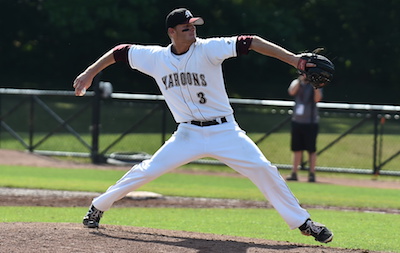 The Maroons tied it 5-5 in the bottom of the fourth inning on Brandon Riemersma's RBI single, then got the go-ahead run when Riemersma laid down a suicide squeeze to score Chris Mokma in the sixth.
Mike Mokma followed with a two-run double down the leftfield line.
"When we got down, when a couple bad things happened, our guys didn't panic, and that's what it takes," Caserta said. "All year long that's what we've done: Don't panic and keep grinding and make something good happen."
Jack Shore allowed nine hits, struck out four and walked two in taking the loss. The fifth-ranked Eagles committed four errors behind him and just three of Holland Christian's runs were earned.
Coby Curtiss led Holland Christian with three hits including a double.
The title was particularly gratifying for the six seniors on the Holland Christian roster, including Mike Mokma and Williams. The two combined to form a solid battery during all four of their high school seasons.
"We have a strong group of seniors on the team," said Williams, who is headed to Xavier. "We're great friends, and we were sitting in the dugout before the game and started looking at each other. It was, 'Well, we've played a lot of ball together. This is our last game as teammates. Let's make the most of it.'"
PHOTOS: (Top) Holland Christian celebrates its first baseball championship Saturday morning at McLane Stadium. (Middle) Mike Mokma prepares to deliver during another winning performance for the Maroons.