Meeting of Rivals Goes Richmond's Way
March 2, 2019
By Tom Kendra
Special for Second Half
GRAND RAPIDS – For four straight years, Richmond came up just short.
For four straight years, Richmond had to watch arch rival Pontiac Notre Dame Prep hoist the championship trophy and swallow the bittersweet pill of finishing No. 2.
That background is essential to understand the utter euphoria the Blue Devils and their followers experienced Saturday evening when Richmond finally broke through again as Division 3 champion at the Delta Plex.
"We just went through the roof," said Richmond senior Kendal Valentine, when asked about her emotions when Notre Dame was announced as the runner-up this year, leaving the Blue Devils as champs.
"My first three years we were second place every year, which starts to become repetitive. I'll never forget that feeling sitting there knowing you fell just a little bit short of the ultimate goal. I'm so glad I don't have to feel that again."
Richmond, which has battled back-and-forth with Notre Dame all winter (Notre Dame won the District, Richmond took the Regional), grabbed control of the Final in Round 1 and never relinquished that lead.
The Blue Devils posted the highest score of the meet in each of the three rounds, winning convincingly with a three-round total of 787.42, with Notre Dame second at 777.72. Monroe Jefferson placed third and Charlotte took fourth.
The exclamation point came in Round 3 as the Blue Devils score of 319.50 was four points better than any other team.
"We have a very difficult third round, and our focus was right where it needed to be," said 11th-year Richmond coach Kelli Matthes. "Our goal today was not to win. Our goal was to do our best in our last shot."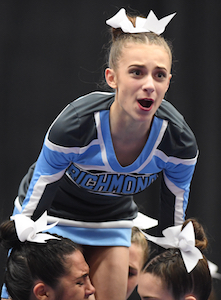 The title was especially sweet for Richmond's seven seniors – Jordan Anthony, Kylie Hinolosa, Hannah Lopiccolo, Megan McCallister, Olivia McCarroll, Jade Wolfe and Kendal Valentine.
While Saturday marked the end of Notre Dame's five-year championship streak, it did extend a different run of success.
The Fighting Irish have now finished either first or second for seven straight years – the same number of years that Beth Campbell has been the head coach.
"I am very proud of this team, because it's a lot of pressure at the top and a lot of people would like to see you lose," said Campbell, whose first team as head coach was runner-up in 2013 and she has never had a team finish lower than second. "I think our girls handled all of that well. We will be back."
Richmond, champion of the Blue Water Area Conference, has now finished either first or second in Division 3 eight of the last nine years. The Blue Devils previously won titles in 2012 and 2013 and took second in 2011 and 2015 through 2018.
Richmond showed remarkable consistency throughout this season, with a Division 3-best average of 779.8 per competition.
Matthes believes her team was able to take the final step this year because of preparation and practice changes her and assistant coaches Melana Fenwick and Lauren Riggs made going into this season.
"We changed how we did things around here," said Matthes. "We did a lot more mental preparation, and I really think that paid off.
"Without change there is no change, or the old saying is that the definition of insanity is doing the same thing over and over again and expecting different results. I guess you could say we were just sick of finishing second."
Paw Paw placed fifth, followed by Comstock Park, Howard City Tri-County and Alma.
PHOTOS: (Top) Richmond raises its championship trophy Saturday night at the Delta Plex. (Middle) A Richmond cheerleader is lifted by her teammates during a routine.