Michigan Center Seniors Finish 4 for 4
March 1, 2014
By Dean Holzwarth
Special to Second Half
GRAND RAPIDS – Four years, four MHSAA championships.
Not a bad way to remember your high school career in competitive cheer.
Michigan Center seniors Paula Stone, Paige Rochefort and Sierra Sharrer always will have those memories after the trio helped their team win an unprecedented fourth consecutive MHSAA Division 4 Final on Saturday at the DeltaPlex.
The Cardinals recorded a three-round score of 745.12 and hung on to edge runner-up Merrill (743.12) by a mere two points. Hudson (734.52) finished a distant third.
Stone, Rochefort and Sharrer have been on the varsity all four years and contributed to each title.
"It's the best feeling in the world," Stone said. "It's like everything you've ever worked for paid off. It didn't really hit me until I got off the mat after Round 3. It just hit me, and I was like, 'Wow', this is the last time I'll ever take the mat. I wouldn't want it any other way."
Michigan Center claimed last year's Final with only one senior. A group of six seniors mixed with talented juniors and sophomores to produce another banner campaign.
The Cardinals won nine consecutive meets to cap the season. 
"I really wanted it for this group of seniors," Michigan Center coach Jessica Trefry said. "Three of them have been on the other state championship teams, and they are a wonderful group of girls. I wanted this for them so badly."
The fourth didn't come without a few anxious moments.
Michigan Center built a sizable lead after two strong rounds. However, a bobble during its Round 3 routine put the outcome in doubt.
"They did their jobs in Rounds 1 and 2, but we faltered a little bit in Round 3," Trefry said. "It made me nervous."
Rochefort remained confident that the Cardinals would still prevail.
"I had faith in my team that we could clean it up at the end, and I was so glad that we still finished strong no matter what had happened," she said. "We pulled it together, and we didn't let it define us."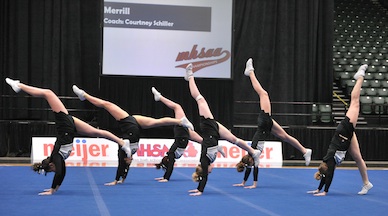 Trefry said the team's work ethic and determination factored into this year's success. 
"It's different every single year, but this group of girls were incredibly hard workers and very persistent with improving," she said. "They were not afraid to be challenged, and I told them leading up to today that if you just go out and do your job like you've been doing all season, then you will win. I knew we had what it took."
Merrill coach Courtney Schiller, whose team was making its sixth trip to the Finals, was equally elated with her team's finish – the highest in school history at the MHSAA championship competition. 
The Vandals, who had the smallest team in Division 4 with only nine girls, placed fourth the past two years. They finally got over the hump and into the top two for the first time.
"We've never finished this high so we're very excited about that, and we're very excited about how close it was," Schiller said. "We were two points from a state championship. We only have nine girls and we're always one of the smallest teams here, so to see these girls excel the way they did today was thrilling." 
Despite competing with only five girls in Round 3, Merrill delivered the highest score of the afternoon. A 298.1 put a scare into Michigan Center.
"We struggled a little bit at Regionals last week and came in fourth against teams that came in third and fourth today," Schiller said. "To see them come out of a tough position at Regionals and come back from that today just makes me extremely proud. We wanted to have our best three rounds today, and we did."
PHOTOS: (Top) Michigan Center performs its Round 1 routine during Saturday's Division 4 championship run. (Middle) Merrill, here during Round 2, posted its highest MHSAA Finals finish. (Click for action and team photos from Hockey Weekly Action Photos.)