New Holland Christian, Same Title Drive
April 1, 2017
By Dean Holzwarth
Special for Second Half
HOLLAND – The Holland Christian baseball team doesn't want to reflect too much on the accomplishments of last year.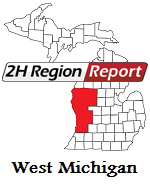 While they included winning the program's first Division 2 championship last spring, it's a new season with a fresh cast of experienced and youthful players.
"Last year was great, and it was a special season for sure, but a lot of people keep referring to it," Maroons coach Jim Caserta said. "We want to use that as confidence, but at the same time this team hasn't done anything yet so we have to make our own team and develop as this year's team. We're trying to compete every day, not worry about a state championship."
Holland Christian went 36-6 last year and capped the season with an 8-5 win over Linden in the Division 2 Final.
The Maroons graduated six seniors, including the talented battery of pitcher Mike Mokma, now playing at Michigan State, and catcher David Williams, now at Xavier.
The cupboard, however, isn't bare. Nine seniors are back, as well as a few underclassmen who were key components to last year's success.
"Several guys contributed to last year's success and we're excited about that," Caserta said. "This year is a totally different team. It's a different year, and the guys we have now haven't been in this leadership position yet, so we're going to be expecting them to step up and get the job done and really come through when needed. It will be exciting to see what kind of mark this group leaves in our program as well."
Senior pitcher Jack Huisman is one of several key starters back. He understands the hurdles that come with being reigning champions.
"The target on our back is pretty big and obviously people know we won the state championship last year," said Huisman, who has signed with Western Michigan. "This is a new year, and there are different guys that are going to have to step up. The biggest thing for us is to not dwell on the past. We have to keep looking forward and keep playing one game at a time, and see where that leads us."
Caserta said coming off an MHSAA-championship season can be looked upon in a couple different ways.
"It's a little bit of a two-edged sword," he said. "It does give our team motivation to come back from, but on the other end everybody you play is going to be ready for you. We try to make that into a positive because that keeps us sharp. We have to be ready to play every time."
Other key returnees include seniors Coby Curtiss (SS), Brady Brower (2B), Christian Koele (OF), Spencer Brewer (Pitcher) and Sam Wierda (OF).
Sophomore pitcher Chris Mokma provided significant contributions as a freshman.
"I think we have a good potential," Curtiss said. "We have some young guys who are getting better, and every guy will have to play their role and play their best to have another shot at a title.
"Winning a state title was our goal last year, and it's our goal this year, but we know how hard it is and how hard we have to work. We've been working for it in the offseason again."
Holland Christian hopes to rely on its pitching, a staple of last year's team.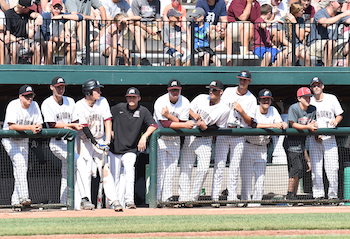 "We have good depth this year in our pitching, but may not be at the same individual level with a couple guys so they all need to contribute," Caserta said. "We won't have one or two guys to turn to all the time. We'll do it a little differently than last year."
The biggest question mark hinges on the Maroons' ability to score runs.
"A lot of guys batted down in the order a little but have to be the main guys this year," Caserta said. "We're unproven offensively, and when we get in pressure situations we will have to count on those guys this year."
The Maroons mirrored last year's club in terms of resiliency in only the second game of the season.
They trailed 3-1 in the bottom of the seventh inning with two outs before rallying for a 4-3 win over Rockford.
"Just like last year, we always fought and found a way to win," Curtiss said. "I think we have a little bit of that in us again this year. If we're down, we're always going to fight to come back."
Although Caserta doesn't want to make a habit of late-inning comebacks, he said it was a good early sign of the team's attitude.
"I felt good about the result and how we hung in there at the end," he said. "Those aren't games you're going to win all the time, but our guys didn't give up, and in a clutch situation we were able to get a couple key hits. We did some really good things, and I give them credit for competing and coming back. It's encouraging to see that we kept plugging away."

Dean Holzwarth covered primarily high school sports for the Grand Rapids Press and MLive for 16 years and more recently served as sports editor of the Ionia Sentinel and as a sports photojournalist for WZZM. Contact him atdream100@comcast.net with story ideas for Allegan, Kent and Ottawa counties.
PHOTOS: (Top) Holland Christian's Coby Curtiss follows one of his three hits during last season's Division 2 Final into left field. (Middle) This season's Maroons are a mix of veterans and newcomers, with some key players back from last season's championship team.