Notre Dame Prep Takes Final Cheer Step
By Dean Holzwarth
Special for Second Half
GRAND RAPIDS – Redemption was sweet for the Pontiac Notre Dame Prep competitive cheer team.
The Fighting Irish finished runners-up at last year's Division 3 Final, but topped the eight-team field Saturday at The DeltaPlex and collected the program's first MHSAA title.
Notre Dame Prep, making its fifth appearance at the Finals, registered a three-round total of 764.04.
Comstock Park placed runner-up with a 759.68, while Grosse Ile (749.69) was third. Two-time reigning champion Richmond (735.46) finished fourth.
"This feels great because the kids have done nothing but work every minute for this since this time last year," Notre Dame Prep coach Beth Campbell said. "They made up their minds that we were going to come back and win this year and they did just that. Once you get that close, you want the rest, and they were awesome."
Notre Dame Prep senior Maggie Crowe said the team used last year's narrow loss to Richmond as motivation.
"This is probably the best feeling I've ever experienced in all of high school," Crowe said. "We worked our butts off for 10 months, and everything we wanted to come true came true today.
"To come close last year, it was a ridiculous source of drive. It was a fueling fire, and we remembered how that felt."
Fellow senior Lauren Sadowski admired the shiny medal that signified the team's major accomplishment.
"I'm at a loss for words right now of how amazing this feels to be able to look at this gold medal in my hand and know that it's mine," Sadowski said. "Everything we have in our school says, 'runner-up', and it is so gratifying to see that it is going to change to 'state champs."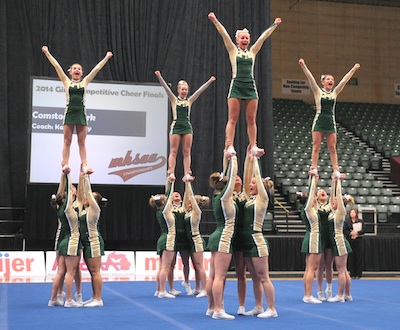 Comstock Park recorded its fourth runner-up finish in the last seven years under longtime coach Kathy Felty. The Panthers won MHSAA titles in 2009 and 2011.
"The girls performed great today," Felty said. "We had new uniforms and they looked awesome, and this was a very talented team with a lot of heart.
"People look and see them crying, but we're happy with how we did and they're crying because it's the last time they will be able to do this with the group together."
The push for the championship turned into a three-team race after the opening round.
Pontiac Notre Dame Prep tallied a score of 229.9 to grab the early lead, while Grosse Ile (226.5) and Comstock Park (226.4) were within striking distance.
"Our goal in Round 1 was to come out and set the tone," Campbell said. "It was great to see us up three right after Round 1." 
The Fighting Irish increased the advantage in Round 2, posting a high score of 223.84.
The Panthers recorded the second-highest score (220.88) and moved into second, while the Red Devils slipped to third. 
Comstock Park delivered a stirring Round 3 effort and scored a 312.4, putting the pressure squarely on Notre Dame Prep to duplicate.
The Fighting Irish responded with a 310.3 to secure the title. 
"I think we outscored everybody, but we just couldn't make up that six points," Felty said. "But we had three freshmen and a sophomore out there, so we're happy about that."
PHOTOS: (Top) New MHSAA Division 3 champion Pontiac Notre Dame Prep performs its Round 2 routine Saturday. (Middle) Comstock Park scored 312.4 points in Round 3 to finish runner-up. (Click for action and team photos from Hockey Weekly Action Photos.)