Peformance: Ida's Taylor Wegener
November 14, 2019
Taylor Wegener
Ida senior – Volleyball
The Bluestreaks' four-year middle and outside hitter had a career-high and state record book-qualifying 34 kills in Thursday's 3-2 Division 2 District Final win over Carleton Airport, earning the MHSAA "Performance of the Week." The previous weekend, Wegener became the 24th player in state history to go over 2,000 kills, and after Tuesday's Regional Semifinal win over Flat Rock has 2,098 – good for 16th most in MHSAA history since the move to rally scoring in 2004-05.
The 5-foot-11 Wegener has 630 kills this season – averaging 5.5 per game – and is scoring on nearly 50 percent (.489 kill percentage) of her attacks. She also has a career-high 93 service aces this season and is up to 287 for her career, just three shy of making the record book in that category. She has added 260 career blocks and made the Division 2/Class B all-state second team the last two seasons. The Bluestreaks are 41-7-1 and will face Dearborn Divine Child in Thursday's Regional Final at Airport with an opportunity to advance to the Quarterfinals for the first time since 2008.
Wegener's historic abilities are not reserved for the fall. She will play her fourth season of varsity basketball this winter and is 35 points from 1,000 for her career and 314 from setting the school scoring record; she averaged 18.4 points per game as a junior. Wegener also brings championship experience to those teams from a third sport – she played only one season of high school softball, as a freshman in 2017, but helped that team to the Division 2 title including going 3-for-4 in the championship game win over Richmond. She said her favorite sport is always the one in season, but it will be volleyball fulltime at the next level. Wegener – who carries a 3.78 grade-point average – will continue in that sport and academically at Saginaw Valley State University, where she'd like to study nursing.
Coach Bree Russow said: "Taylor brings so much joy and passion to the gym for all to see. That has really impacted how she has played over the past four years. Not only is she a fun player to coach, she is fun to watch. She loves the game and her teammates so much, she gives her all every time she steps on the court. Taylor is a great leader and has been team captain the last few years. Her teammates look up to her not only for her skill but as a teammate/friend/leader, which is so important – she wants everyone to have success, and her team comes first. I first started coaching Taylor in eighth grade during club season, and to see her growth has been truly amazing. She has worked so hard to get where she is today. She gets better every time she steps on that court, and she brings a little extra every day. Her teammates and younger athletes see that. No matter what she is playing – volleyball, basketball, and softball – she is there to battle. That says a lot, and others want to do the same." 
Performance Point: "I've been on varsity since I was a freshman, and just realizing that this is my last year playing for the Ida community, (now that) it's almost over it's just eye-opening how grateful I've been to be a part of such an amazing community and have had so much support," Wegener said. "I think that I've just been playing my heart out because I don't want it to end yet. I know all good things come to an end, but hopefully our end isn't coming that soon. We have a total of eight seniors, and I think just all of us realize that it's our last time playing together and you've gotta make the most of it."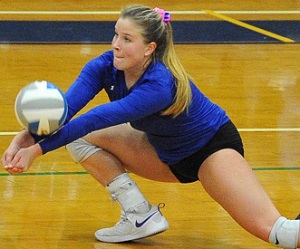 2,000 and growing: "I can't get a kill without a good pass and without a good set, so it's really my teammates that do all the work to make me look good. … I've never been one to count. People will come up to me and ask how many kills, or (for basketball) how many points did you have? I just say I have no idea. Those sports are all team efforts. The competitor in me just wants to win. If it's two kills versus 30 kills, and my teammates pick it up in those certain places, a win is a win at the end of the day for me. I think I've improved with confidence over the years, and that's why I've gotten those kills and I've taken advantage of the times when I've needed to get a kill."
Embracing the opportunity: "The last Regional was actually my cousin (playing), which is my assistant coach Ashley Begeman, so (to win this week) would be a huge thing for not only me personally, but my family. And looking at the banner, (for reaching) the final four, in the gym, it's always been a goal of mine. As a little kid, when you go in there and you see those letters up on that banner, it's like, I want to be up there someday."
Power player: "I've always been stronger in my grade. In basketball, it's ripping a ball from someone. With volleyball, it's slamming the ball as hard as I can. It's just the aggression in me that's like, 'I'm going to do what I have to do to win as strong and as hard as I can.'"
Bluestreak building: "As we're more successful in the state run, you just see that people from our community have just come out and been so supportive. The gym was so loud (Tuesday) night, and it was just an emotional time because right after the game you could just feel the happiness in the gym. People I hadn't seen in years had come to support Ida. It's just really amazing; it's going to hurt that I don't have that next year. … I've had that experience in softball too. When we won the state softball championship, it was that same feeling that brings tears to my eyes because I'm so happy to not only be proud of my teammates, but proud of my community. That self-pride, they're returning it right back to us. It's just an amazing feeling you can't describe."
– Geoff Kimmerly, Second Half editor
Past honorees
Nov. 7: Carter Solomon, Plymouth cross country - Report
Oct. 31: Jameson Goorman, Muskegon Western Michigan Christian soccer - Report
Oct. 24: Austin Plotkin, Brimley cross country - Report
Oct. 17: Jack Spamer, Brighton cross country - Report
Oct. 10: Kaylee Maat, Hudsonville volleyball - Report
Oct. 3: Emily Paupore, Negaunee cross country - Report
Sept. 26: Josh Mason, South Lyon soccer - Report
Sept. 19: Ariel Chang, Utica Eisenhower golf - Report
Sept. 12: Jordyn Shipps, DeWitt swimming - Report
PHOTOS: (Top) Ida's Taylor Wegener (6) rises for a kill attempt during a match at Carleton Airport. (Middle) Wegener also saves a ball from hitting the floor. (Photos courtesy of the Ida volleyball program.)