Performance: Carson City-Crystal's Jamison Ward
Jamison Ward
Carson City-Crystal senior - Wrestling
The reigning Division 4 champion at 130 pounds is closing in on the Carson City-Crystal all-time wins record while closing out his high school career. Over the last two weeks, Ward has eclipsed 200 career victories and this past Saturday won his fourth conference title, this one at 135 pounds, to earn the MHSAA "Performance of the Week."
Ward is bringing a 40-0 record this winter and 208-9 career mark into Saturday's Individual District at Bloomingdale. He finished Division 4 runner-up at 103 pounds as a freshman and placed fourth at 119 as a sophomore before climbing to the top of the podium a year ago. He's only two wins off the school career record set by two-time Division 4 Finals champion Dallas O'Green, who serves currently as Carson City-Crystal's co-head coach. So too does Jamison's father Trent, who formerly led the Eagles program and won a Class C Finals championship at 119 pounds in 1994. 
Jamison Ward also helped Carson City-Crystal to the Division 4 Team Quarterfinals his first two seasons and the Semifinals a year ago. He had two pins Thursday as the Eagles won their Team District in pursuit of another trip to Wings Stadium. Ward ran cross country his first three years of high school, making the MHSAA Finals his first two seasons, before switching to football this past fall and earning all-league while leading the Eagles in rushing. He is still finalizing his college plans but would like to study criminal justice and earth science in preparation for becoming a Department of Natural Resources officer.
Co-head coach Kacy Datema said: "Jamison has been a huge point scorer for our team for all four years of his career, and we have come to heavily depend on him in team competition. He has grown into a great leader for our team. He leads by example and works with every kid in the room to get the most out of them. He is approaching our school's career wins record and may have it by the end of this weekend. His father is our assistant coach, CCC alumni and a former state champion as well. It is awesome to be able to watch them share these special moments together. Our program is blessed to have had such a quality kid come through." 
Performance Point: "I'm just trying to soak it in more," Ward said of his final weeks of high school wrestling. "It's my last year wrestling here at Carson, and high school total. (I'm trying to) take it slow. Take it as it comes. (Thursday) night, the District, winning it for the eighth time, going into Regionals and I think we have a good shot of winning in Regionals. (The 200 wins) was definitely something I was looking for my whole high school career. Something I was gunning for is the school record, and that's just part of getting there. ... I wanted to go down as one of the best in Michigan. Four-time (champion) was on my mind coming into high school, but that was big-headed. I didn't quite get there, but I think I'm now becoming one of the greats in Michigan.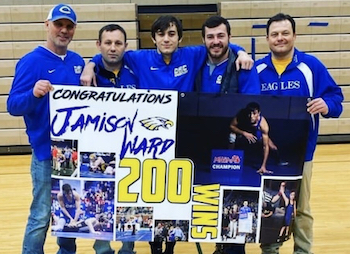 Full circle: "Growing up, with my dad being the coach, I would always be wrestling with everybody, and he would always teach me things. And there were things I'd pick up here and there from the good wrestlers. It was nice growing up and actually becoming one of those people that maybe someone looks up to."
Thanks Dad: "I think it's really helped me throughout my years, having him as coach telling me what to do, and a dad. Watching my weight is what he's doing now, but back then he would help me and critique me at home. We've recorded every wrestling match that I've had, and we look back on it and try to improve. ... He always rode legs (when he wrestled), and I ride legs too. But definitely skill-wise, I'm a lot more skilled than my dad is. He (knows). He calls himself the farm boy, and I'm the wrestler."
Gridiron great: "My freshman year I really wanted to (play football). I broke my ankle eighth grade year. My dad, he was like, 'I would stick with cross country and get in shape for wrestling.' I really wanted to do football, but listened to dad: If I wanted be a state champion, I had to do cross country. And then my senior year, I won it my junior year wrestling, and my dad said, 'You know what, you can play football if you want to this year. You've already got a state championship. If you get hurt, you'll still have time to recover and still be good.' … I thought it was awesome. I always wanted to play under the lights."
Destination Kalamazoo: "I was born into the sport, but I started when I was 4. … I understood where we were going (as a program). I knew once I got into high school we were going to make it far – I was hoping (Finals) four years in a row. We'll see this year if we make it there."
– Geoff Kimmerly, Second Half editor
Past honorees
Feb. 6: Elena Vargo, Farmington United gymnastics - Report
Jan. 31: Michael Wolsek, Trenton swimming - Report
Jan. 24: Kensington Holland, Utica Ford bowling - Report
Jan. 17: Claycee West, White Pigeon basketball - Report
Jan. 10: Seth Lause, Livonia Stevenson hockey - Report
Dec. 5: Mareyohn Hrabowski, River Rouge football - Report
Nov. 28: Kathryn Ackerman, Grand Haven swimming - Report
Nov. 21: Emily Van Dyke, Southfield Christian volleyball - Report
Nov. 14: Taylor Wegener, Ida volleyball - Report
Nov. 7: Carter Solomon, Plymouth cross country - Report
Oct. 31: Jameson Goorman, Muskegon Western Michigan Christian soccer - Report
Oct. 24: Austin Plotkin, Brimley cross country - Report
Oct. 17: Jack Spamer, Brighton cross country - Report
Oct. 10: Kaylee Maat, Hudsonville volleyball - Report
Oct. 3: Emily Paupore, Negaunee cross country - Report
Sept. 26: Josh Mason, South Lyon soccer - Report
Sept. 19: Ariel Chang, Utica Eisenhower golf - Report
Sept. 12: Jordyn Shipps, DeWitt swimming - Report
PHOTOS: (Top) Carson City-Crystal's Jamison Ward wrestles at Olivet earlier this season. (Middle) Ward celebrates his 200th win with, from left, Eagles assistant coach Jake Patterson, assistant and dad Trent Ward, co-head coach Dallas O'Green and co-head coach Kacy Datema. (Top photo by Alex Freeman/Greenville Daily News; middle courtesy of the Carson City-Crystal athletic department.)